Lot Content
COVID-19 Important notice
Read More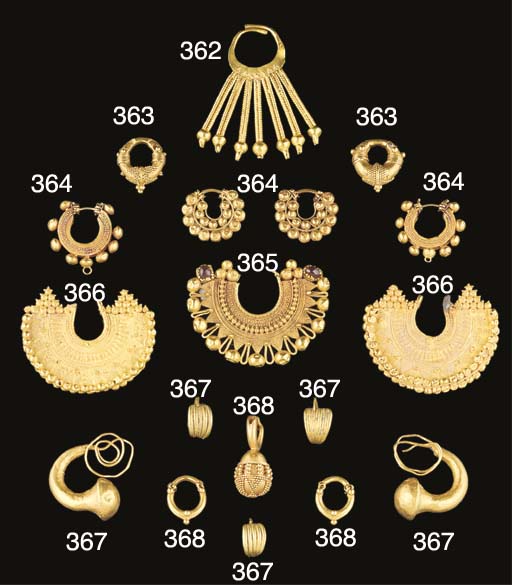 VAT rate of 5% is payable on hammer price plus buyer's premium
A PAIR OF WESTERN ASIATIC GOLD EARRINGS
CIRCA 3RD MILLENNIUM B.C.
Details
A PAIR OF WESTERN ASIATIC GOLD EARRINGS CIRCA 3RD MILLENNIUM B.C. Each of hammered sheet gold, the tapering hoop with domed terminal and long coiled ear wire, 1¼ in. (3.2 cm.) long max.; and three Western Asiatic gold earrings, each composed of a wire ear hoop broadening into a crescentic pendant of six wires, circa late 3rd/early 2nd millennium B.C., ½ in. (1.5 cm.) long av. (5)
Provenance
Sold Habsburg, Feldman, Gold, Geneva, 14 May 1990, lot 243 (item one); and acquired in 1974 (last three items).

Special Notice

VAT rate of 5% is payable on hammer price plus buyer's premium
Lot Essay
PUBLISHED:
Last three items: Antiker Schmuck, Gold und Silber, Galerie Heidi Vollmoeller, Zurich, 1982, no. 60.

;
More From

THE HEIDI VOLLMOELLER COLLECTION