Home page
Global notice
COVID-19 Important notice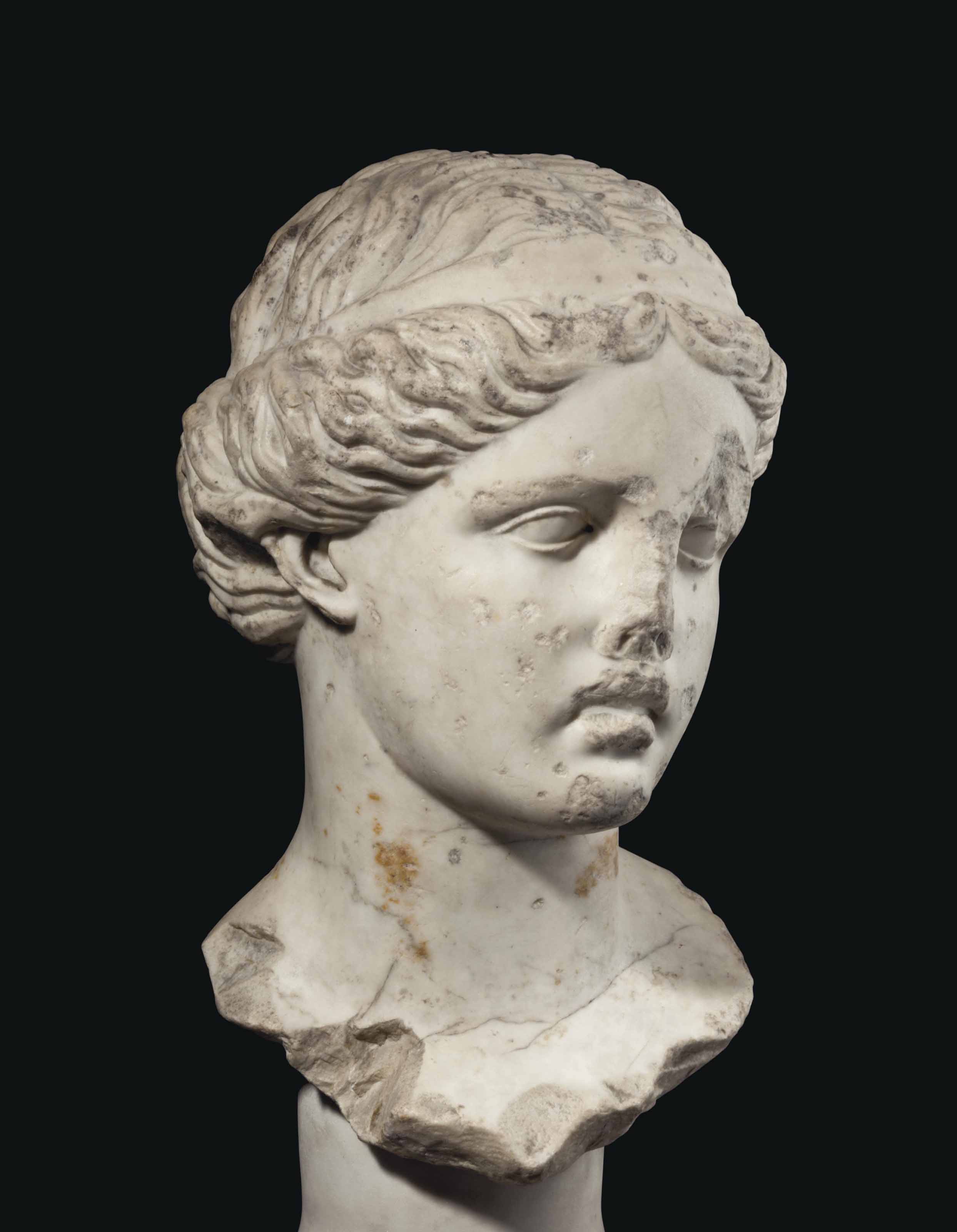 THE PROPERTY OF A MIAMI PRIVATE COLLECTOR
A ROMAN MARBLE HEAD OF A GODDESS
CIRCA 1ST CENTURY A.D.
Details
A ROMAN MARBLE HEAD OF A GODDESS
CIRCA 1ST CENTURY A.D.
Probably a version of the Athena Lemnia type, her oval face with a smooth forehead peaked at the center, her large almond-shaped eyes with defined lids and drilled inner canthi, her head turned to her left, with wavy center-parted hair bound in a broad fillet, pulled back over the tops of her ears and tied in a flat chignon
17 in. (43.1 cm.) high

Provenance
Emile Pares, New York.
with Joseph Brummer, New York.
with Le Passe, Galeria de Obras Maestras, Buenos Aires, 1968.
Carlos Luis Blaquier, Buenos Aires.
Acquired by the current owner, 2000s.
Post Lot Text
Pheidias' Athena Lemnia was a bronze sculpture dedicated on the Athenian acropolis during the mid 5th century B.C. The original does not survive, but the great scholar Adolph Furtwängler concluded that two headless figures of Athena in Dresden could be restored with the Palagi head in Bologna as the Athena Lemnia, based in part on the composition on a gem impression from the Cades collection. However, recent scholarship has concluded that the Dresden torsos and the Palagi head do not belong together, and that both are Roman classicizing creations rather than copies of a 5th century B.C. Greek original. The Cades gem is now also recognized as a 19th century creation. The head presented here resembles the Palagi head, and at least four others are known: one in the Ashmolean Museum; one in the Royal Ontario Museum; one in the Vatican; and another in the Villa Albani, Rome. See K.J. Hartswick, "The Athena Lemnia Reconsidered," in AJA, vol. 87, no. 3, July 1983, pp. 335-346.
Brought to you by
Check the condition report or get in touch for additional information about this
Condition Report
If you wish to view the condition report of this lot, please sign in to your account.
Sign in
View condition report