Lot Content
Global notice
COVID-19 Important notice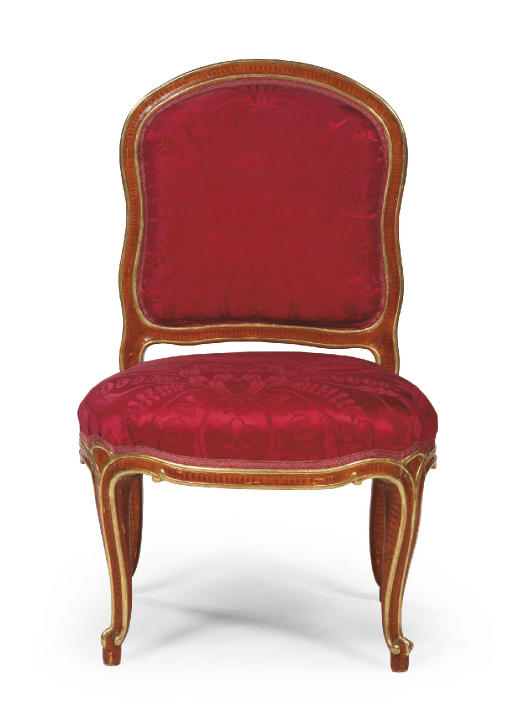 Christie's charges a premium to the buyer on the H… Read more
One of the main emphases of the Liechtenstein sale lies on 18th century chairs. As can be seen on the many interior photographs illustrated in this catalogue most rooms were furnished with a variety of chairs. The chairs in this sale amounting to some 300 spread over some 25 lots come from a variety of palaces ranging from Eisgrub to Sternberg and the Stadtpalais in Vienna. For the largest part the sets are based on a French model in the Transition style. This style whilst retaining the curvaceous lines of the rococo is more reserved in its decoration and allready shows signs of the new Neo-classical style. Accordingly we have dated most chairs to circa 1770-1775. Furthermore with these quantaties made in consistent quality it seems unlikely that these chairs were made anywhere else but Vienna, one of the main seats of the family. From this prototype with a bold cartouche shaped back, bow front seat and cabriole legs, there stem various models, all quite close to each other in conception yet set apart by their own distinctive motif. For example there are the chairs with stiff-leaf fan-shaped cresting (lot 260 & 274) and chairs with a floral cresting (lot 259). Further variations were made between straight backs (a la reine) and curved backs (en cabriolet). One of the most difficult challenges posed by this sale was attempting to sort through these 300 chairs in order to identify the true sets. Because some of the sets were dispersed to different rooms over time, some of the sets have different upholsteries and different decorations, resulting in lots with varying decorative schemes. The history of the upholsterers, gilders and decoraters is often recorded by stamps or pencil inscriptions to the inside of the seat-rails. It is therefore possible to firmly state in some cases: re-upholstered in 1940, or redecorated in 1940. One of the canapés from lot 274 has several of these inscriptions taking it through its history in a unique way. This canapé was re-upholstered in 1874 by Ludwig Liefs, and in 1929 by Eduard Ofner, aged 34, and finally by the firm of M. Wartha in Vienna. It was re-gilt in 1840 - the inscription reading: Im Jahre 1840 Zu feldsberg Vergolder. Andreas Bianko... and in 1940 by Kaufman. The decoration can be roughly divided into four themes: white with red accents, white with green accents, brown and parcel-gilt and grained in the lasur technique and parcel-gilt, the lasur decorated chairs, some with a decoration from the 1840's some re-decorated in the 1940's are those with a stylised graining with a transparant quality paint. It is a rare chance for the cataloguer and indeed the potential buyer to be able to bear witness to the history of these objects so easely, where most often this information is lost.
A SET OF EIGHT AUSTRIAN PARCEL-GILT AND FAUX-BOIS (LASUR) DECORATED CHAIRS
VIENNA, CIRCA 1770
Details
A SET OF EIGHT AUSTRIAN PARCEL-GILT AND FAUX-BOIS (LASUR) DECORATED CHAIRS
VIENNA, CIRCA 1770
Each with channelled moulded frame and cabriole legs terminating in scrolling feet, six upholstered in crimson and two upholstered in burgundy silk, with paper label inscribed Schloss Feldsberg Obj.-Nr. 120 Inv.-Nr. 2732-2739 and brass plaque stamped conformingly, re-upholstered in 1940
Together with a conformingly decorated set of four side chairs, each covered in crimson damask silk, with paper label inscribed Schloss Feldsberg Obj.-Nr. 115 Inv.-Nr. 2568-2571 and brass plaque stamped conformingly, re-upholstered in 1940 (12)

Provenance
Vienna, 1945.
Schloss Wilfersdorf, 1975.
Vienna, 1992.

Special Notice

Christie's charges a premium to the buyer on the Hammer Price of each lot sold at the following rates: 29.75% of the Hammer Price of each lot up to and including €5,000, plus 23.8% of the Hammer Price between €5,001 and €400,000, plus 14.28% of any amount in excess of €400,001. Buyer's premium is calculated on the basis of each lot individually.
More from

LIECHTENSTEIN: Property from the Collection of the Princely House of Liechtenstein.