Browse Lots
Global notice
COVID-19 Important notice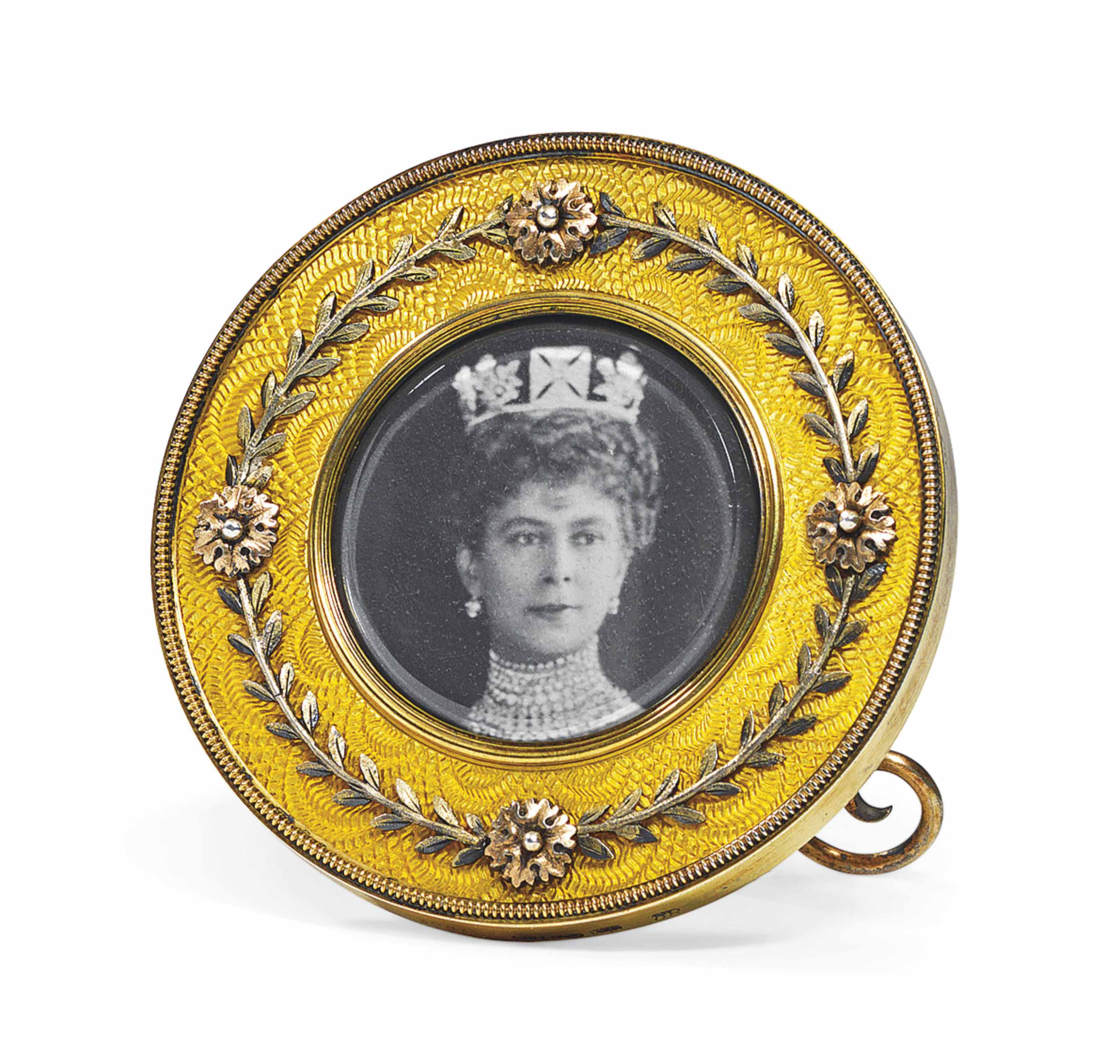 Prospective purchasers are advised that several co… Read more
A SILVER-GILT AND GUILLOCHÉ ENAMEL PHOTOGRAPH FRAME
MARKED FABERGÉ, WITH WORKMASTER'S MARK OF VIKTOR AARNE, ST PETERSBURG, CIRCA 1900, SCRATCHED INVENTORY NUMBER 3085
Details
A SILVER-GILT AND GUILLOCHÉ ENAMEL PHOTOGRAPH FRAME
MARKED FABERGÉ, WITH WORKMASTER'S MARK OF VIKTOR AARNE, ST PETERSBURG, CIRCA 1900, SCRATCHED INVENTORY NUMBER 3085
Circular, enamelled in translucent yellow over a scalloped guilloché ground, applied with circular cast laurel and rosette wreath, the circular aperture containing a picture of H.M. Queen Mary, reeded border, the ivory back with a scroll strut, marked on strut
2 1/8 in. (5.3 cm.) high

Provenance
Empress Alexandra Feodorovna (1872-1918), purchased on 11 June 1900 from Fabergé's St Petersburg branch for 50 roubles, and presumably by gift to her niece
H.R.H. The Princess Mary, Princess Royal, Countess of Harewood (1897-1965) and by descent at Harewood House, Yorkshire.

Exhibited
Yorkshire, Harewood House, Royal Harewood: Fabergé Exhibition, 31 March to 30 September 2012.

Special Notice

Prospective purchasers are advised that several countries prohibit the importation of property containing materials from endangered species, including but not limited to coral, ivory and tortoiseshell. Accordingly, prospective purchasers should familiarize themselves with relevant customs regulations prior to bidding if they intend to import this lot into another country.
Brought to you by
Sebastian Goetz
19th Century Pictures
Check the condition report or get in touch for additional information about this
Condition Report
If you wish to view the condition report of this lot, please sign in to your account.
Sign in
View condition report
Lot Essay
We are grateful to Dr. Valentin Skurlov for helping research the present lot.

More from

Harewood: Collecting in The Royal Tradition