Lot Content
Global notice
COVID-19 Important notice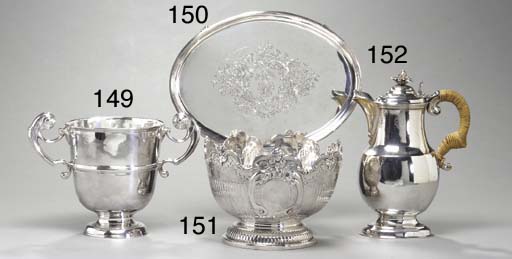 This lot is offered without reserve. This lot is e… Read more
A SILVER HOT WATER PITCHER,
BEARING LET IN MARKS OF THOMAS MASON, LONDON, 1718,
Details
A SILVER HOT WATER PITCHER,
Bearing let in marks of Thomas Mason, London, 1718,
on oval stepped foot, the body oval baluster-form, the handle with wicker covering, the hinged cover with pineapple finial issuing from foliage.
9¾in. (24.7cm.) high; gross weight 30oz.

Special Notice

This lot is offered without reserve.
This lot is exempt from Sales Tax.
Post Lot Text
Edward S. Whitney, Montclair, New Jersey, by gift 1936
;