Lot Content
COVID-19 Important notice
Read More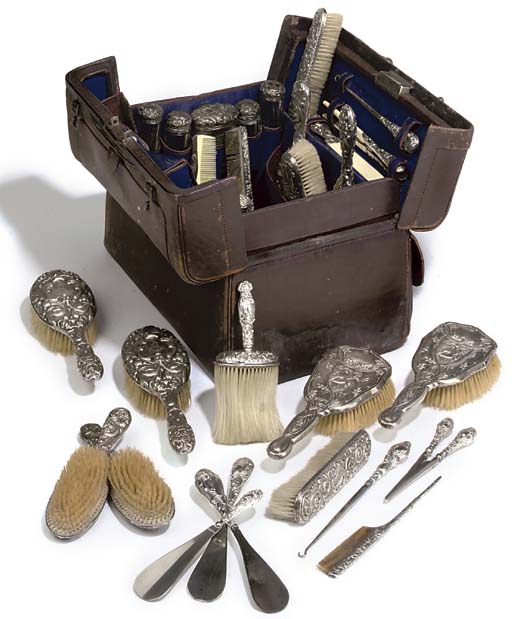 This lot is offered without reserve.
No VAT will be charged on the hammer price, but VAT at 15% will be added to the buyer's premium which is invoiced on a VAT inclusive basis.
This lot is subject to storage and collection charges. **For Furniture and Decorative Objects, storage charges commence 7 days from sale. Please contact department for further details.**
A TRAVELLING DRESSING TABLE CASE
Details
A TRAVELLING DRESSING TABLE CASE Containing a mixture of various items from several sets, most of embossed designs, some pieces engraved 'Mabel', one leather case initialled M.C.H.
Special Notice

This lot is offered without reserve.
No VAT will be charged on the hammer price, but VAT at 15% will be added to the buyer's premium which is invoiced on a VAT inclusive basis.
This lot is subject to storage and collection charges. **For Furniture and Decorative Objects, storage charges commence 7 days from sale. Please contact department for further details.**
Condition Report
If you wish to view the condition report of this lot, please sign in to your account.
Sign in
View Condition Report
More From

The Sunday Sale - Property Removed From a Scottish Fishing Lodge and a Sussex Country House