Lot Content
COVID-19 Important notice
Read More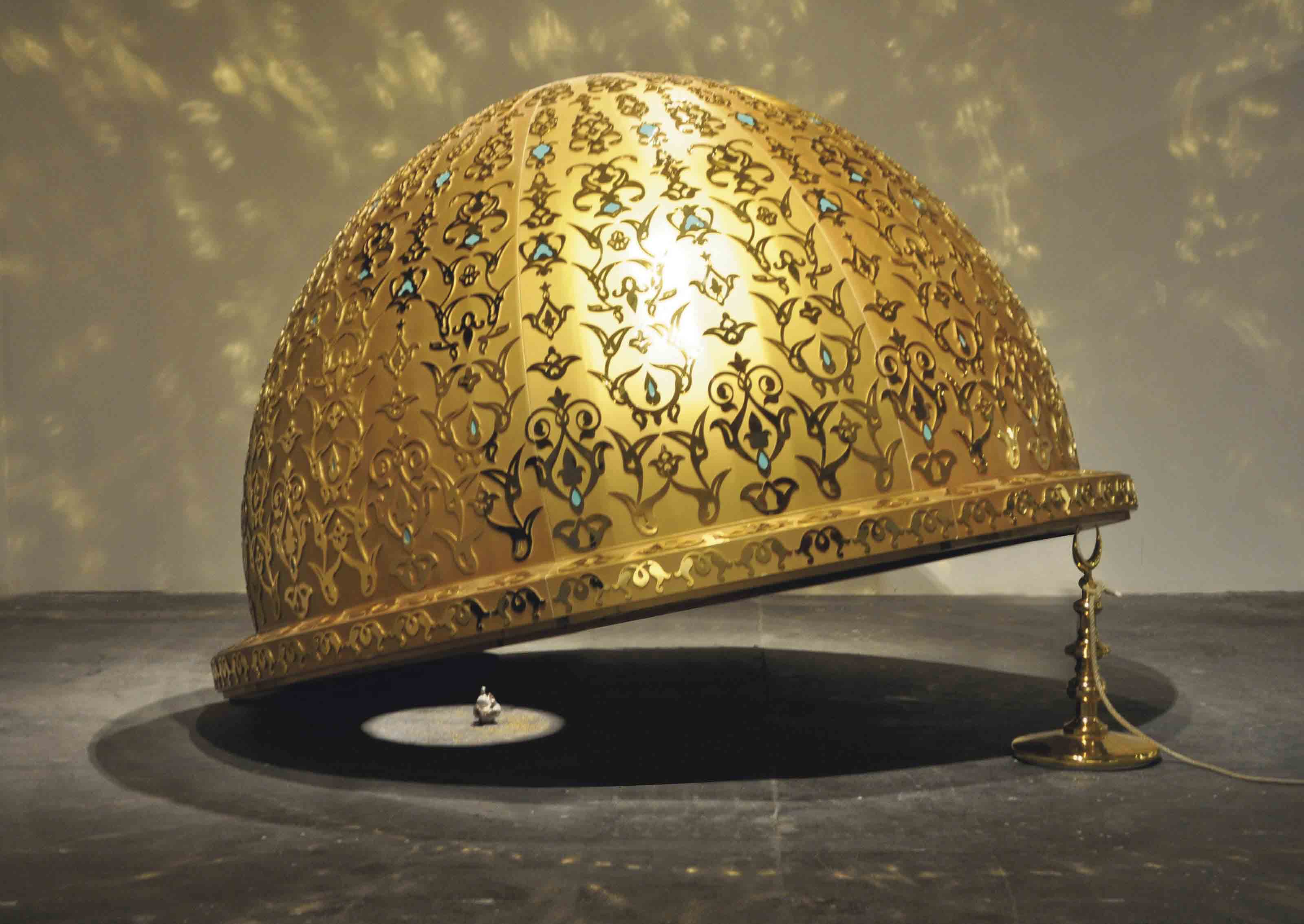 Lots are subject to 5% import Duty on the importation value (low estimate) levied at the time of collection shipment within UAE. For UAE buyers, please note that duty is paid at origin (Dubai) and not in the importing country. As such, duty paid in Dubai is treated as final duty payment. It is the buyer's responsibility to ascertain and pay all taxes due.
Edge of Arabia is a non-profit organisation offering a unique platform for the showcasing of contemporary art from Saudi Arabia. Founded in 2008, it is playing a significant role in enhancing international cultural relationships as well as developing regional creative industries and art education. At the heart of the project is a touring exhibition and accompanying education programme that has shed new light on the largely unknown contemporary art culture of Saudi Arabia. The artists in this sale include the founding members of the Edge of Arabia stable and are considered the pioneers of Saudi contemporary art. In a humbling act of appreciation, six artists have generously donated iconic works, previously shown in major Edge of Arabia exhibitions in London, Venice, Berlin and Istanbul, in order to support the expansion of an education programme targeting local schools and universities. Funds raised will support the delivery of youth art workshops and presentations in Jeddah, Riyadh, Makkah, Al-Khobar and Abha, and an international symposium in Jeddah in December to bring local and international Saudi art enthusiasts together for the first time. THE STORY Born from a chance encounter in 2003 between British and Saudi artists at the Al Meftaha Arts Village in Abha, Edge of Arabia has always been at its core a grassroots initiative. Edge of Arabia founder, Stephen Stapleton, explains: "We wanted to start a creative movement which would energise young artists and champion creativity at the centre of the Islamic world, as a means of peaceful communication and dialogue across borders." From the mountains of Aseer to the backstreets of Jeddah, Stephen and Edge of Arabia co-founding artists Ahmed Mater and Abdulnasser Gharem spent five years travelling the length and breadth of the country in search of other emerging practitioners, with the aim to form a collective showcase of contemporary Saudi art in London. The journey uncovered a disconnected and diverse community of artists who were often working in isolation and without support; Edge of Arabia developed as a direct reaction to the lack of opportunity that these artists faced at the time. Ahmed Mater clarifies, "We didn't just want Edge of Arabia to be a one-off art exhibition but a landmark event in the history of Saudi art. As a young Saudi artist, I want to be part of a creative movement which will inspire a new generation and give them something to aspire to." Edge of Arabia officially launched with a major exhibition at London's SOAS Brunei Gallery in October 2008. The exhibition attracted over 12,000 visitors, including curators, journalists and artists from all over the world and was accompanied by a publication and education programme that engaged over 50 schools and universities in the UK. In bringing together a new generation of Saudi contemporary artists for the first time, Edge of Arabia London witnessed the opening of a new chapter in the history of Saudi Arabian art. Building on this success, in June 2009 Edge of Arabia travelled to the 53rd Venice Biennale. The presence of Edge of Arabia in Venice created a powerful platform for introducing Saudi art to visitors from around the world. As a direct result of Edge of Arabia Venice, participating artists were selected for international shows and, for the first time, significant numbers of works by Saudi artists were included in prestigious museum collections, publications and high profile auctions. Following the success of the exhibitions in London and Venice, Edge of Arabia welcomed new Creative Director, Abdullah Al-Turki, a Riyadh- and London-based champion of Saudi Arabian contemporary artists. Abdullah's experience as a member of the Tate Museum's Middle Eastern and North African Acquisition Committee, co-chair of the Parasol [Future] Unit and a member of the Serpentine Gallery's Future Contemporaries, brought a fresh vision and energy to the project. Abdullah explains, "I want to use art to cultivate a deeper understanding of my country, which is so often misrepresented. We do have creative, talented people in Saudi Arabia. The problem is that these artists, or this creative industry, is not shared with the general public because there aren't enough platforms. There are few galleries, no museums, no art fairs and very few organizations to support or show these artists. Edge of Arabia aims not only to establish a positive impact on the international audience, but also to inspire others to become involved in the world of art for the benefit of my region and its peoples. This project achieves its goals by promoting a colourful and sympathetic image of the Kingdom of Saudi Arabia and its festive culture. I look forward to a bright future as this creative movement for Saudi artists continues to grow and flourish." WORLD TOUR In January 2010, Edge of Arabia announced the launch of an expanded programme of exhibitions and initiatives which aimed to amplify the voices of a new generation of Saudi artists and invest in the Kingdom's creative potential at a crucial moment in the region's cultural history. The Edge of Arabia 'World Tour' was launched with the support of founding partners, Abdul Latif Jameel Community Initiatives and the Saudi Arabian General Investment Authority (SAGIA) at a high profile exhibition at the 2010 Global Competitiveness Forum in Riyadh. Edge of Arabia continued to expand and reach new audiences in 2010 with a landmark exhibition entitled Grey Borders/Grey Frontiers in Berlin. The exhibition was curated by Rami Farook, founder of Dubai-based gallery Traffic, who commented, 'With borders becoming undefined and frontiers wide open these works take us through the way that societies and their individuals act and react, think and feel, perceive and comment. This show shares issues that aren't just relevant to Saudi society, but globally also'. In September 2010 Edge of Arabia launched a national Art & Creativity competition for 16-24 year olds, as part of SAGIA's Most Competitive Youth initiative. Encouraging vocational creativity amongst Saudi's next generation of young artists is central to Edge of Arabia's vision, so the 10 competition winners will take part in a creative journey of a lifetime to the UK this summer. Edge of Arabia concluded 2010 with 'TRANSiTION', its biggest and most ambitious exhibition to date, showcasing the work of 24 Saudi artists (50 women artists) as part of Istanbul's official programme for the European Capital of Culture. 'TRANSiTION' was co-curated by Progress Art, a Saudi-based arts organization founded by Basma Al-Sulaiman, and attracted over 30,000 visitors over two months, including H.H. Skeikha Mozah Bint Nasser Al-Misnad (first lady of Qatar) and other dignitaries. Edge of Arabia started 2011 with 'Terminal', a highly conceptual and experiential exhibition curated by Bashar Al-Shroogi. Bashar commented, "When approached to curate EOA Dubai I was confident that the artists that formed this collective were ready to take the leap to a new level. EOA Terminal pushes curatorial boundaries in dialoguing with audience via an experiential installation. It also marks a maturity in the relationship between artists and curators working within very tightly defined parameters. It is fantastic to see the artists of Saudi Arabia pioneering this curatorial relationship for the first time in the Gulf." As Edge of Arabia embarks on its third year, its approach is one of dialogue. In three years, Edge of Arabia organised five international exhibitions in London, Venice, Riyadh, Berlin and Istanbul; welcomed a total of 100,000 visitors; distributed around 4,000 books worldwide; counted over one million unique website visits; reached out to not only 200 schools and universities via workshops and resources, but also to over 10 million people through international and regional media coverage. With our integrated approach, we hope to inspire a positive and timely appreciation of contemporary art in Saudi Arabia and abroad, and ultimately bring what is at present quite an isolated arts community, into the mainstream conversation. Edge of Arabia is an independent not for profit Community Interest Company, Registered in England and Wales Company Number: 7203671 and with a registered office at 1 Gough Square, London, EC4A 3DE and a new branch on the Al-Madina Road in Jeddah. DONATED BY THE ARTIST FOR THE BENEFIT OF THE EDUCATION PROGRAMME OF EDGE OF ARABIA
Abdulnasser Gharem (Saudi Arabian, B. 1973)
Message/Messenger
Details
Abdulnasser Gharem (Saudi Arabian, B. 1973) Message/Messenger installation of wood and copper Diameter: 118in. (300cm.); Height: 78¾in. (200cm.) Executed in 2010
Special Notice

Lots are subject to 5% import Duty on the importation value (low estimate) levied at the time of collection shipment within UAE. For UAE buyers, please note that duty is paid at origin (Dubai) and not in the importing country. As such, duty paid in Dubai is treated as final duty payment. It is the buyer's responsibility to ascertain and pay all taxes due.
Sale Room Notice
Please note that this work should not be starred in the catalogue, and is therefore not subject to the 5 import duty.

Brought to you by
More From

Modern and Contemporary Arab, Iranian and Turkish Art