Browse Lots
COVID-19 Important notice
Read More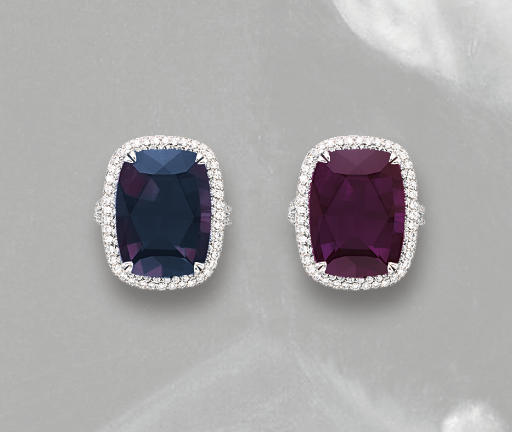 One of the world's rarest and most fascinating gemstones throughout history is the alexandrite, a gem variety of the mineral chrysoberyl, which exhibits a beautiful phenomenon: it changes colour from green in daylight to red in incandescent light. This particularly fine specimen is one of the most superb gems of its kind to appear at auction-not only for its remarkable size of 19.05 carats but also for its exceptional color-change caused by the presence of chromium oxide. Alexandrite has a distinguished and glamorous past. It was first discovered in 1830 near the Takovaya River in the Russian Ural Mountains, a find coinciding with Czar Alexander II's 21st birthday. The unusual stone was consequently named Alexandrite in his honour. Alexandrite can be found in jewels of the period as it was well loved by the Russian master jewellers. Victorian jewellery from England also featured sets of small alexandrites. Mining in Russia lasted less than 100 years and reached its peak in the late 19th century. This remarkable alexandrite is accompanied by a certificate from the Gübelin Gem Laboratory, stating that it shows a very high degree of transparency and a pronounced colour-change effect from a reddish-purple to a bluish-green. While alexandrite remains extremely rare and expensive, the limited production of this material has marked a new generation of jewellers and collectors who greatly covet this striking gemstone.
AN ALEXANDRITE AND DIAMOND RING
Details
AN ALEXANDRITE AND DIAMOND RING Set with a cushion-cut alexandrite, weighing approximately 19.05 carats, within a pavé-set diamond surround and shoulders, mounted in platinum With report 0708501 dated 31 August 2007 from the Gübelin Gem Lab stating that gemmological testing revealed characteristics consistent with those of alexandrites originating from Brazil. This gemstone displays pronounced colour-change. With appendix stating that the natural alexandrite of 19.05 carats possesses several outstanding characteristics. This beautiful gemstone possesses a very high degree of transparency, combined with a strong colour-change effect, from bluish-green when viewed in daylight and reddish-purple upon exposure in incandescent light. Such a combination of high clarity and strong colour-change effect, in a Brazilian alexandrite exceeding 15 carats, is very rare.
More From

Magnificent Jewels