$name
COVID-19 Important notice
Read more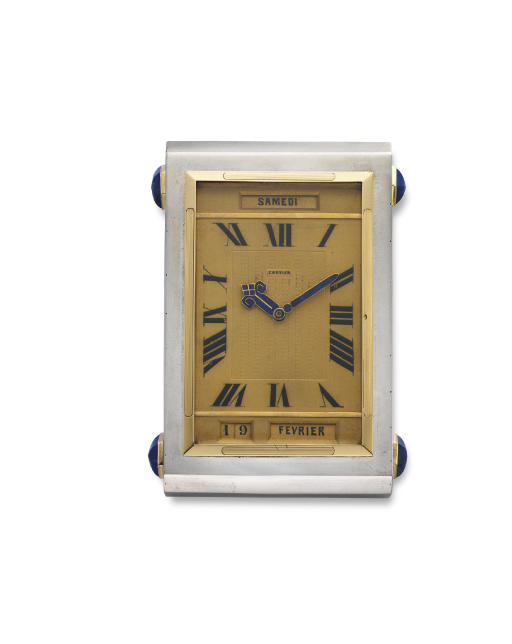 AN ART DECO SILVER, GOLD AND LAPIS LAZULI "PENDUAL CALENDRIER" TABLE CLOCK, BY CARTIER
Details
AN ART DECO SILVER, GOLD AND LAPIS LAZULI "PENDUAL CALENDRIER" TABLE CLOCK, BY CARTIER
The triple calendar clock with nickel-finished lever movement, the brushed gold dial with black Roman numerals and lapis lazuli hands, within a polished and textured gold bezel and silver rectangular case, winding and setting to the back, the top with day aperture and the bottom with date and month apertures, accented on the sides by four hexagon-shaped cabochon lapis lazuli knobs, with back foot for table-top use, mounted in silver and 18k gold, circa 1930, 4½ x3¼ x 1 ins., with French assay marks and maker's mark
Dial signed Cartier; back foot signed Cartier, Paris 1884, nos. 3394, 1884 and 893; movement signed European Watch and Clock Co. Inc.

Lot Essay
Barracca, Negretti, Nencini, Le Temps de Cartier, Wrist International S.r.l., Milan, 1989, p. 177.

More From

Magnificent Jewels