Lot Content
COVID-19 Important notice
Read More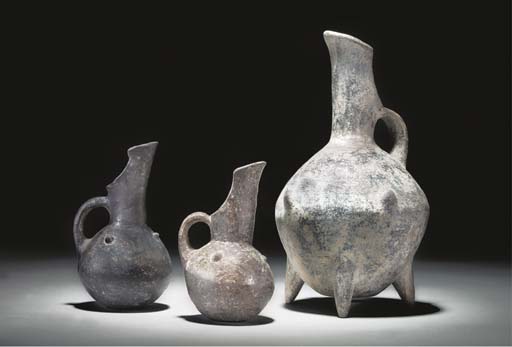 No VAT will be charged on the hammer price, but VAT at 17.5% will be added to the buyer's premium which is invoiced on a VAT inclusive basis
PROPERTY FROM AN ENGLISH DECEASED ESTATE
AN ATTIC BLACK GLAZED MINIATURE STEMLESS KYLIX
CIRCA 4TH CENTURY B.C.
Details
AN ATTIC BLACK GLAZED MINIATURE STEMLESS KYLIX CIRCA 4TH CENTURY B.C. The bowl with four impressed palmettes in the centre, 2¾ in. (7 cm.) diam.; a group of mainly Cypriot vessels including a white painted ware jug, the upper body with black painted concentric circles, a zigzag band down the handle, with ring base and pinched spout, circa 1050-750 B.C., 10 5/8 in. (27 cm.) high; a Cypriot red-on-black painted ware jug, with spherical body and tall flaring neck, traces of red painted multi-linear bands, 1725-1650 B.C., 5 5/8 in. (14.3 cm.) high; a Cypriot mottled red polished ware deep bowl, 2500-1900 B.C., 4 in. (10.1 cm.) high; and a group of nine early Bronze Age black ware vessels, including a circular pyxis with tapered sides and conical lid, decorated with blocks of incised lattice-work, pierced for closure, 3 5/8 in. (9.2 cm.) diam., and three cutaway-beak spouted jugs, each with raised bosses on the shoulder, one with tripod feet, 10¼ in. (26 cm.) high max., all Yortan culture, circa 3000-2500 B.C. (14)
Provenance
Acquired in the early 1960s.

Special Notice

No VAT will be charged on the hammer price, but VAT at 17.5% will be added to the buyer's premium which is invoiced on a VAT inclusive basis
;
More From

Antiquities, Including an English Private Collection of