Lot Content
Global notice
COVID-19 Important notice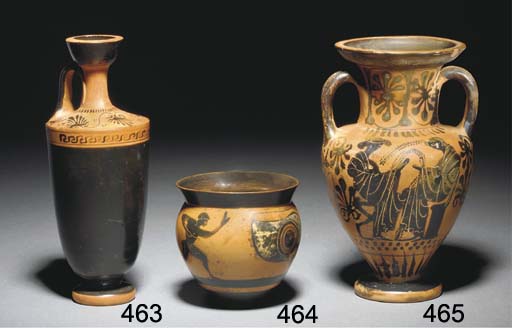 VAT rate of 5% is payable on hammer price plus bu… Read more
AN ATTIC MINIATURE BLACK-FIGURE NECK AMPHORA
CIRCA 520 B.C.
Details
AN ATTIC MINIATURE BLACK-FIGURE NECK AMPHORA
CIRCA 520 B.C.
The neck with palmettes and rays around its base, side A: warrior with crested helmet, Boeotian shield and spear, tendrils in the background, side B: two women seated on high-backed chair and stool facing each other, a palmette cross with pendant lotus beneath each handle, dots and rays around foot
6¼ in. (15.8 cm.) high

Provenance
Acquired in 1974, Zurich.

Special Notice

VAT rate of 5% is payable on hammer price plus buyer's premium
;
More from

Antiquities including The Heidi Vollmoeller Collection,