Lot Content
Global notice
COVID-19 Important notice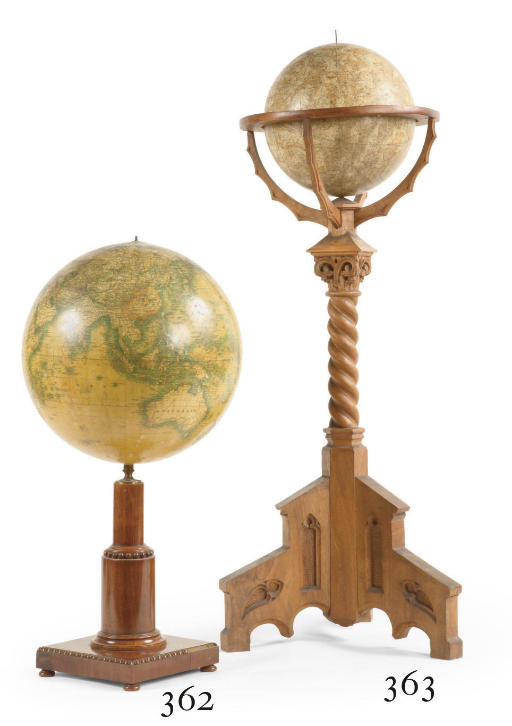 Christie's charges a premium to the buyer on the H… Read more
AN AUSTRO-HUNGARIAN 32 CM. (12.5 IN.) TERRESTRIAL GLOBE
BERNARD BILLER, CIRCA 1840
Details
AN AUSTRO-HUNGARIAN 32 CM. (12.5 IN.) TERRESTRIAL GLOBE
BERNARD BILLER, CIRCA 1840
ELSÖ magyar/FÖLDTERE/a'legujabb kutfök utan/atmerøje 316'5 millimètre/BECS 1840/metszette Biller, made up of eighteen lithographed paper gores and two polar calottes, the equatorial and ecliptic graduated in degrees, the meridian through Iceland, continents showing mountains and rivers, on a moulded mahogany stand with rectangular paper label inscribed SCHLOSS LIECHTENSTEIN and insribed in pencil H.48
63 cm. high

Provenance
Gartenpalais, Rossau, Vienna, 1999.
Stadtpalais, Vienna, 2006.
Alserbachpalais, Vienna, 2007.

Special Notice

Christie's charges a premium to the buyer on the Hammer Price of each lot sold at the following rates: 29.75% of the Hammer Price of each lot up to and including €5,000, plus 23.8% of the Hammer Price between €5,001 and €400,000, plus 14.28% of any amount in excess of €400,001. Buyer's premium is calculated on the basis of each lot individually.
Lot Essay
Comparable literature: Peter E. Allmayer-Beck ed., Modelle der Welt, Erd- und Himmelsgloben, Vienna, 1997.

More from

LIECHTENSTEIN: Property from the Collection of the Princely House of Liechtenstein.