Lot Content
COVID-19 Important notice
Read More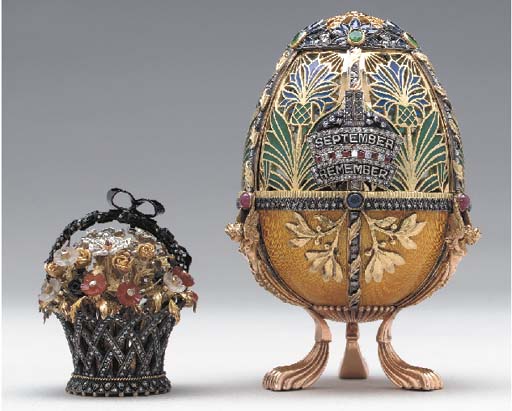 This lot has no reserve.
SOLD FOR THE BENEFIT OF THE AMERICAN RED CROSS Simon Rudle comes from a distinguished jewelry family in Russia. Self-taught in the technically demanding skills of 19th century masters, from the age of 10 he began working, soldering and repairing jewelry. Rudle worked for famous houses like Bulgari, David Webb, Tiffany & Co. and Van Cleef and Arpels before venturing out on his own as a designer, setting up his own shop in 1978. His pieces pay homage to master jeweler Carl Peter Faberge. With this piece he has created a memorial for the heroes of September 11th, providing a gift to their families
AN ENAMEL, GEM-SET AND DIAMOND OBJET D'ART, BY SIMON RUDLE
Details
AN ENAMEL, GEM-SET AND DIAMOND OBJET D'ART, BY SIMON RUDLE Designed as an egg, enhanced by openwork green, blue and yellow enamel, accented by single-cut diamonds, circular-cut yellow diamonds, marquise-cut sapphires and oval-cut emeralds, the front decorated by a plaque, reading "September Remember", set with single-cut diamonds, black diamonds and square-cut rubies, 4 ins., opening to reveal a removable basket of flowers, accented by diamond, carnelian, rock crystal and gold flowerheads, enhanced by cabochon rubies, emeralds and sapphires, and a black enamel ribbon, mounted in gold and silver, 4 ins. high Basket signed Rudle, no. 19945
Special Notice

This lot has no reserve.
;