Lot Content
COVID-19 Important notice
Read More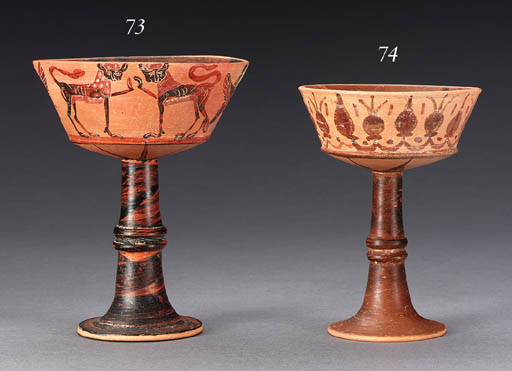 AN ETRUSCAN BLACK-FIGURE PONTIC CHALICE
CIRCA 530-510 B.C.
Details
AN ETRUSCAN BLACK-FIGURE PONTIC CHALICE circa 530-510 b.c. The flaring sides with alternating lotus buds and three-petalled buds, with two concentric circles in the bowl, rays on the base of the bowl, on a stemmed flaring foot bisected by a double torus molding 5 in. (14 cm) high
Provenance
Summa Galleries

Literature
Ginge, "Pontic Vessels in the Collections of the Tampa Museum of Art," 1990.
"Greek Antiquities from the Houston Collection," Gallery Guide, Museum of Arts and Sciences, Daytona Beach, Florida, 1996.

Exhibited
The Tampa Museum of Art, Tampa, Florida, 1987-1992
Museum of Arts and Sciences, Daytona Beach, Florida, 1992-1993

;