Browse Lots
COVID-19 Important notice
Read More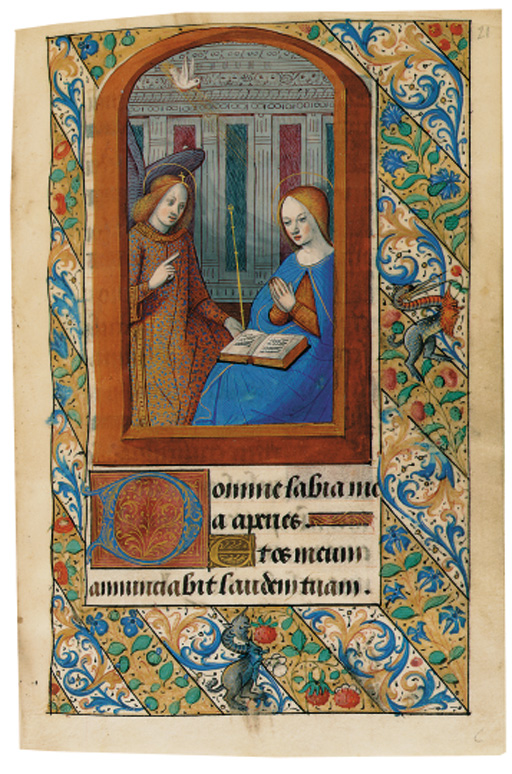 No VAT will be charged on the hammer price, but VAT at 17.5% will be added to the buyer's premium which is invoiced on a VAT inclusive basis.
BOOK OF HOURS, use of Paris, in Latin, ILLUMINATED MANUSCRIPT ON VELLUM
Details
BOOK OF HOURS, use of Paris, in Latin, ILLUMINATED MANUSCRIPT ON VELLUM [Tours, c.1500] 208 x 143mm. 302 leaves: 1-26, 3-78, 8-96, 102, 116, 124, 13-158, 169(i a tipped-in singleton), 17-198, 204, 213(of 4, iv cancelled blank), 22-248, 256, 26-418, 424, COMPLETE, catchwords at foot of final versos up to f.97v, 16 lines written in black ink in lettre bâtarde, by at least two scribes, between two verticals and 18 horizontals ruled in pink, justification: 145 x 82mm, rubrics in pink, text capitals touched yellow, one- and two-line initials of liquid gold on grounds of pink, blue or brown with gold decoration, line-endings of the same colours, three- and four-line initials with staves of blue on grounds of pink or brown with liquid gold or white decoration, after f.100 some two- to four-line initials with curling staves of pink, blue and white against grounds of liquid gold with grotesques or sprays of fruit and flowers in the infills, LARGE ARCH-TOPPED MINIATURE and TWO HISTORIATED INITIALS accompanied by FULL-PAGE BORDERS with sprays of fruit, flowers and acanthus against grounds of liquid gold or divided fields and including grotesques and birds (spotting and darkening of first two leaves, small pigment loss to Gabriel's face and slight smudging of border on f.21, offsetting on facing verso). BINDING: Late-17th-century French calf over pasteboard, gold-tooled c.1880 to a mid-16th-century Parisian strapwork design. Most of the tools imitate late Renaissance decoration, such as the solid tool of a leaf and the considerable variety of hatched tools, others are inspired by Louis XIV ornament, such as the pointillé tools. An unusually successful bookbinding pastiche. PROVENANCE: 1. The style of illumination would suggest that the manuscript was produced in Tours, and such an origin is confirmed by the Calendar. Two feasts of Gatian, first bishop of Tours (2 May and 18 December), are included among the major feasts written in blue. He is also included in the Litany. 2. De Souvré family: partially erased marginal notes on ff.141-142 appear to record births and baptisms of the children of one branch of this family and 'Monsieur le Marechal' and 'Madame la Marechalle de Souvre' acted as godparents on at least two occasions. Souvré, a loyal servant of Henry III and Henry IV, was governor of the Touraine from 1585 and appointed maréchal de France in 1613. He died in 1626. The baptisms took place in the churches of St Germain l'Auxerrois in Paris and St Saturnin in Tours. The final entry is dated 1632. 3. Pierre- Daniel Huet (1630-1721), Bishop of Avranches, scholar, encyclopedic writer, 'the most learned man of his age'. His library of 8271 printed books and 200 manuscripts was described by a contemporary as 'ne contenoit pas un livre qui ne fût fort excellent'. 4. Society of Jesus, Paris: ownership inscription in an 18th-century hand in the upper margin of the first folio. The inscription 'Colleg. Paris. Societ. Jesu.' would seem to suggest that the manuscript had once been in the great library of the Collège Louis-le-Grand, the foremost Jesuit foundation in Paris, but certainly by 1762 it must have been in their Maison Professe. In March 1762 the order was suppressed, the Jesuits were subsequently expelled from France and all of their books were seized and offered for sale in 1764. One group were exempted from this: the large collection of books and manuscripts bequeathed to the Jesuits by Pierre-Daniel Huet. When, in 1691, he formulated the bequest of his library he had the foresight to stipulate that should the books ever leave the Maison Professe the gift was annulled and reverted to his heirs. 5. M. de Charsigné, Abbot of Fontenay. By 1763 Huet's sole heir was M. de Charsigné. His demand that the seized books should be returned to him was granted by an arrêt of the Council of State, subject only to the provision that the first volume of each work should be clearly identified. This authorising annotation, reading 'Parapher au desir de l'arrest du cinq juillet mil sept cens soixante trois' and signed Mesnil, is found in the outer margin of the first folio of the present manuscript. Although Catherine the Great offered 50,000 écus for the collection, the majority of the returned volumes were presented by de Charsigé to the Bibliothèque Royale, in exchange for an annuity: N.T. Le Prince, Essai historique sur la Bibliothèque de Roi, et sur chacun des dépots qui la composent (1782), p.216. CONTENT: Calendar ff.1-12; Gospel Extracts ff.13-20; Office of the Virgin, use of Paris ff.21-75: matins f.21, lauds f.31, prime f.40, terce f.45v, sext f.49, none f.52v, vespers f.56, compline f.61v; Short Hours of the Cross ff.67-71v; Short Hours of the Holy Spirit ff.71v-75; Seven Penitential Psalms and Litany ff.77-95; Office of the Dead, use of Rome ff.95v-140; Hours of the Passion ff.141-170v; Hours of the Compassion of the Virgin ff.171-194; followed by an extensive sequence of Prayers and Devotions to Christ and the Virgin ff.194-242, including the Twelve Joys of the Virgin f.210, O Intemerata... f.228v and f.233v, Obsecro te... f.237; Passion of Christ according to John ff.243-244v; followed by further Prayers and Devotions ff.244v-267; Gospel Extracts ff.267v-273v; followed by further Prayers and Devotions ff.273v-301v, including Suffrages to St Sebastian f.275 and St Michael f.281 The manuscript was evidently written in two campaigns. The work of the first scribe came to an abrupt end in the Office of the Dead on the recto of f.101, a single leaf. A second scribe left the remainder of the folio blank and continued the Office on the opening recto of a fresh gathering of eight leaves. This division of work is likely to be the cause of the inconsistencies of content; the fact that there are two sets of Gospel Extracts, that the Office of the Virgin is use of Tours while the lessons and Responses of the Office of the Dead are those of the use of Rome. ILLUMINATION: Although the type of the subsidiary decoration and illumination is the same in both parts of the manuscript, from f.101 onwards it is slightly broader in execution and seems to be the work of a different craftsman. The large initials with grotesque beasts in the infills are found only in this second section of the manuscript, while the work of the fine illuminator responsible for the historiated initials, miniature and foliate borders is confined to the first hundred folios. His attactive figure style, accomplished finish and use of half- or three-quarter-length compositions show the clear influence of the great Tours artist Jean Bourdichon and the manuscript seems likely to have been produced in his workshop. The subjects of the miniature and initials are as follows: f.21 Annunciation, framed as though seen through an arched window embrasure f.77 King David in Penitence f.95v Job on the dungheap with tormentors
Special Notice

No VAT will be charged on the hammer price, but VAT at 17.5% will be added to the buyer's premium which is invoiced on a VAT inclusive basis.
;
More From

Important Manuscripts & Printed Books