Lot Content
Global notice
COVID-19 Important notice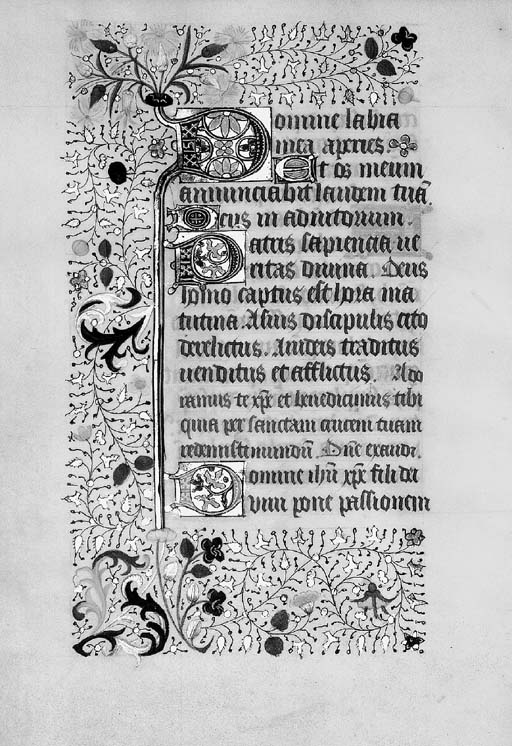 This lot will not be subject to VAT either on the … Read more
BOOK OF HOURS, use of Paris, in Latin and French, ILLUMINATED MANUSCRIPT ON VELLUM
Details
BOOK OF HOURS, use of Paris, in Latin and French, ILLUMINATED MANUSCRIPT ON VELLUM
[Paris, c.1450]
203 x 143mm. ii(i as pastedown) + 227 leaves + ii(ii as pastedown): 112, 28, 34, 4-118, 123(iv a singleton), 13-218, 224, 238, 242, 25-308, 312, COMPLETE, 16 lines in black ink in a gothic bookhand between two verticals and 17 horizontals ruled in dark pink, top and bottom across margins, justification: 108 x 65mm, rubrics in red, text capitals touched yellow, one-line initials of burnished gold against grounds and infills of blue and dark pink with white penwork decoration, line-endings of the same colours, two- to four-line initials with staves of pink or blue with white patterning against grounds of burnished gold with ivy-leaf or flower-head infills of blue and orange, with accompanying bar-borders of burnished gold, blue and red, ONE FULL-PAGE AND SEVENTEEN THREE-SIDED BORDERS accompanying text openings, of sprays of blue, red and gold acanthus and hairline tendrils with gold trefoil terminals, interspersed with sprays of naturalistic flowers and fruit, some with leaves of liquid gold, (marginal staining to f.2v, a few tiny wormholes affecting first few leaves, occasional light marginal stains, some splitting to thongs between gatherings x, xi & xii). Modern blind-tooled panelled calf over wooden boards (extremities rubbed). Blue cloth box with gilt coronet and initial.

PROVENANCE:

1. It is most probable that this manuscript was made in Paris -- its Calendar includes the customary saints associated with Paris, including Saints Geneviève and Denis in red, and the Offices of the Virgin and the Dead are for use in that diocese. There are no specific indications of early ownership, and prayers appear to be for general use, with Obsecro te and O intemerata in the masculine form, although the final prayer is a petition from the female owner, that her use of the prayerbook will bring salvation to herself and her benefactors. However, this manuscript contains a large number of prayers beyond the offices and prayers usual in a Book of Hours. The numerous prayers in French, guides to private devotion throughout the day, together with the finely decorated text openings, suggest that this manuscript was produced to serve the requirements of a particular owner.

2. Lord Kennet of the Dene (1879-1960): his armorial bookplate pasted inside upper cover. The box contains a letter to Kennet from Sir Sydney Cockerell in his own hand, written on a sheet of paper with the letterhead of the Hotel Vouillemont, Paris, and dated 12 Oct 1937. Cockerell tells Kennet of the pleasures of his holiday in France and goes on to speak of museum directors in derogatory terms. His role as advisor to Lord Kennet on his manuscript acquisitions is seen in his promise to let the latter know 'if I see a manuscript that you might like' -- he also makes mention of his 'own little hoard of manuscripts'. A later inscription added by Kennet in pencil identifies the present manuscript as one found for him by Cockerell.

CONTENT:

Calendar ff.1-12v; Gospel extracts ff.13-17v; Obsecro te ff.17v-20v; O intemerata ff.20v-24; Hours of the Virgin use of Paris ff.25-68: matins f.25, lauds f.34, prime f.43v, terce f.48, sext f.51v, none f.55, vespers f.58, compline f.64; Penitential Psalms and Litany ff.69-83; Hours of the Cross ff.83v-88v; Hours of the Holy Spirit ff.88v-91v; Office of the Dead ff.92-117v; 15 Joys of the Virgin Doulce dame ff.118-122v; Seven Requests to Our Lord Doulz Dieux ff.122v-125; French verse prayer to the Virgin, Glorieuse vierge royne f.125v-133v; Passion of St Denis ff.134-137; Seven Verses of St Bernard ff.137v-138; a sequence of prayers including those to be said after receiving the Body of Christ ff.138-148; suffrages to various saints including St Geneviève, St Denis ff.148-f.166; Stabat Mater ff.168-169v; Seven Joys of the Virgin Gaude virgo ff.170-171v; Mass of the Virgin ff.171v-177; Eight Verses of St Bernard ff.178-179; Seven Last Words of Our Lord ff.179v-181v; prayer to God the Father ff.181v-183; prayers to be said at various times of the day, including on walking in a cemetery and on entering a church ff.183-185v; prayers to the Virgin ff.186-194v; suffrages ff.194v-201v; prayers to be said at various times including on entering a bedchamber to go to sleep ff.202-209v; prayer to be said for family and companions ff.210r+v; Psalm ff.211-226v; prayer ff.226v-227.

ILLUMINATION:

This is an elaborately and finely decorated manuscript. Every page has initials and line-endings of burnished gold, and the borders include unusually naturalistic and neatly articulated sprays of flowers and fruit, including carnations, cornflowers, rosehips and wild strawberries. Most unusually this Hours contains no miniatures, yet it is not an economy product. The high quality of workmanship and materials used, along with the expanded and individualised content, suggest that the religious function of the book may have been the determining factor in its decoration. Its elaborate and coherent decorative scheme was intended to act as a guide to the devotional texts.

Special Notice

This lot will not be subject to VAT either on the hammer price or the buyer's premium.
;
More from

VALUABLE ILLUMINATED MANUSCRIPTS,BOOKS AND AUTOGRAPH LETTERS