Overview
Global notice
COVID-19 Important notice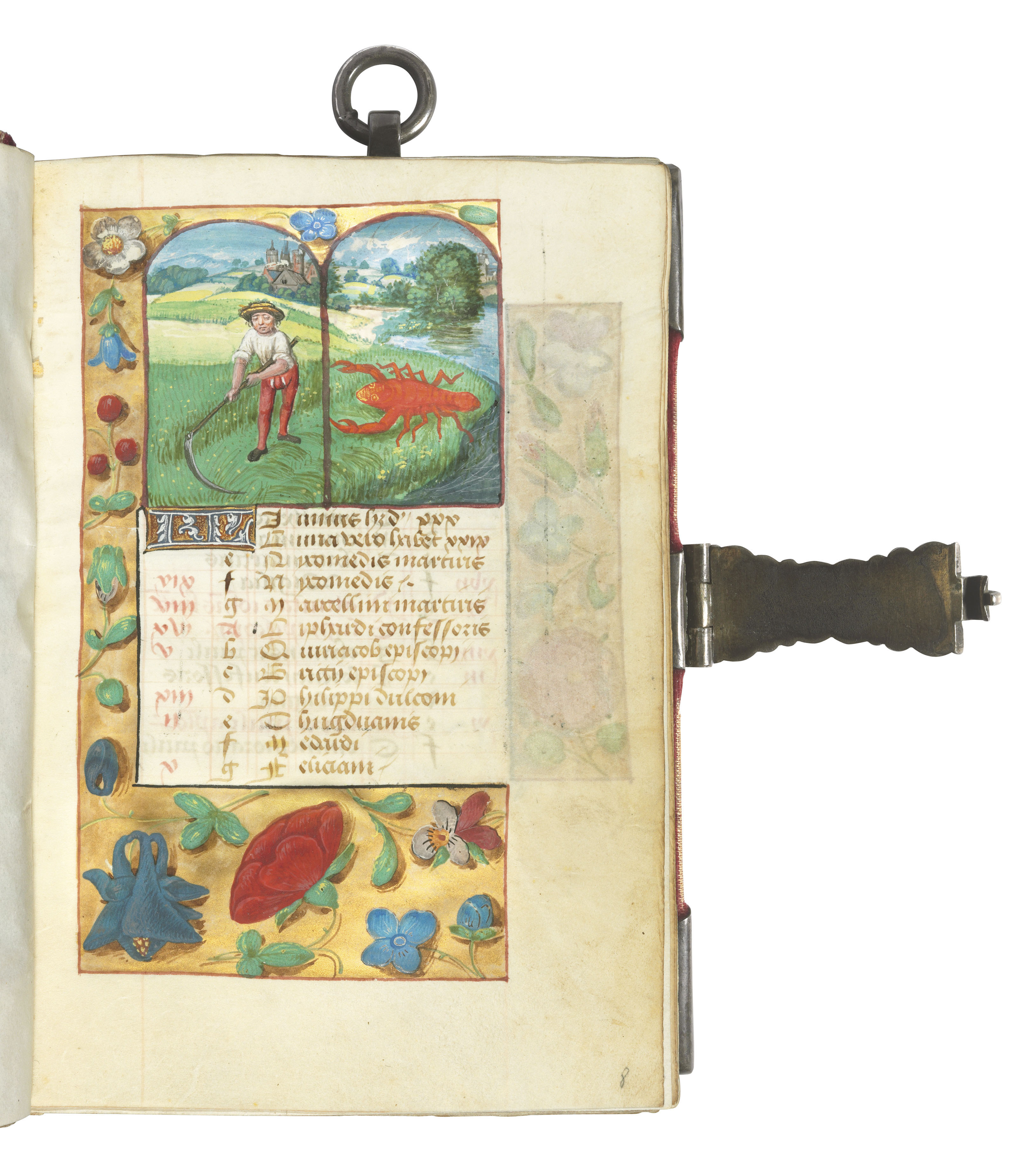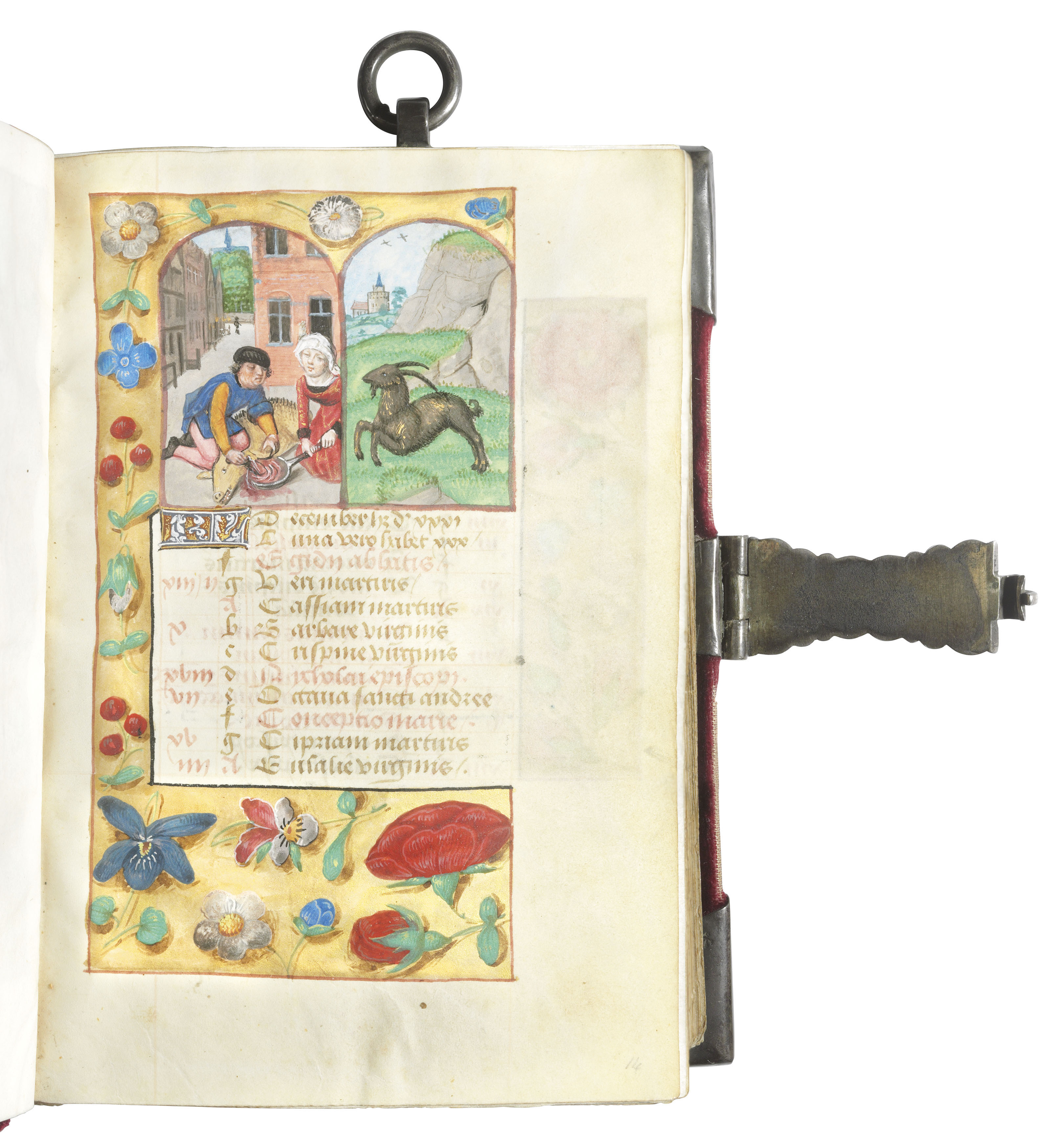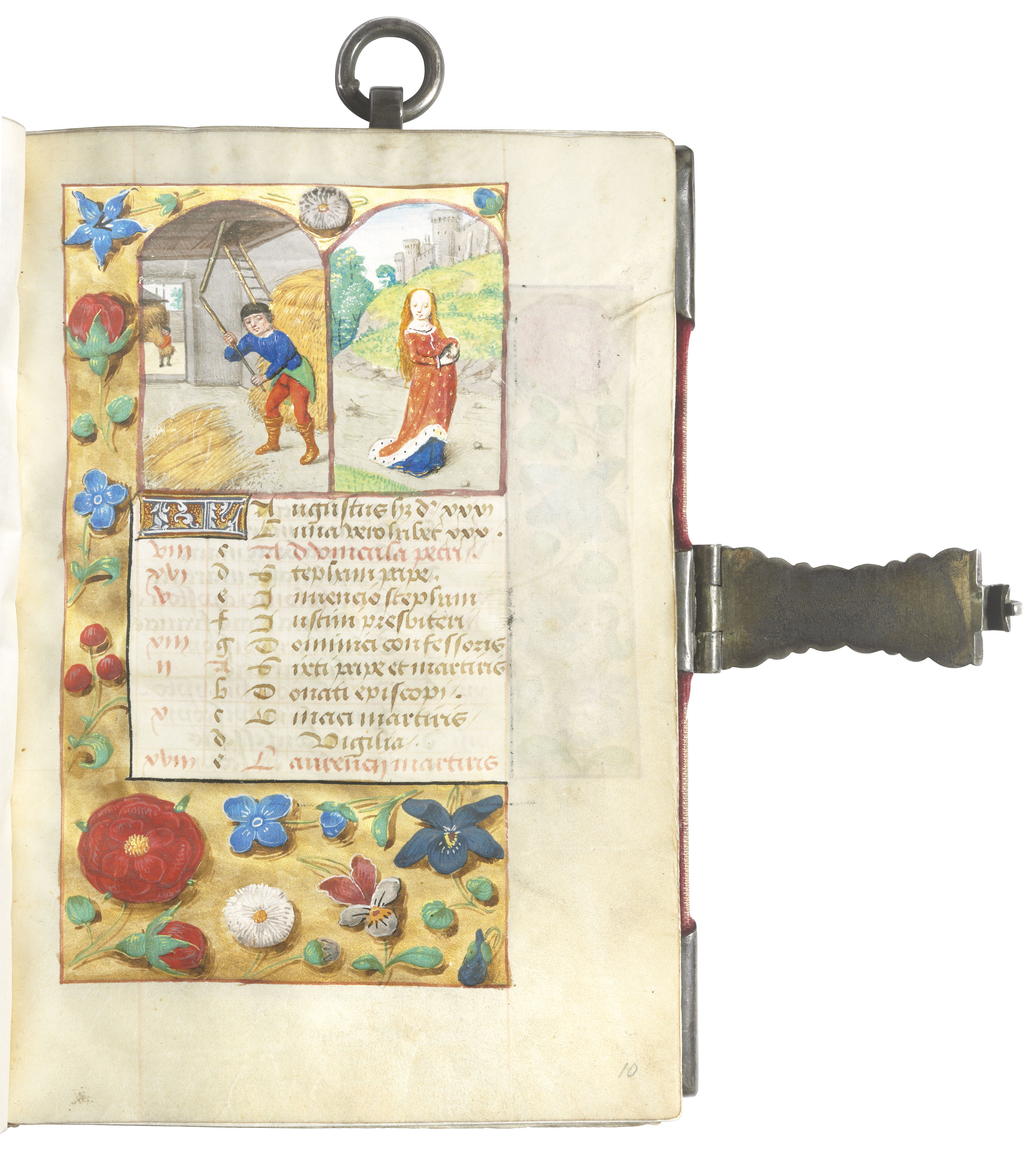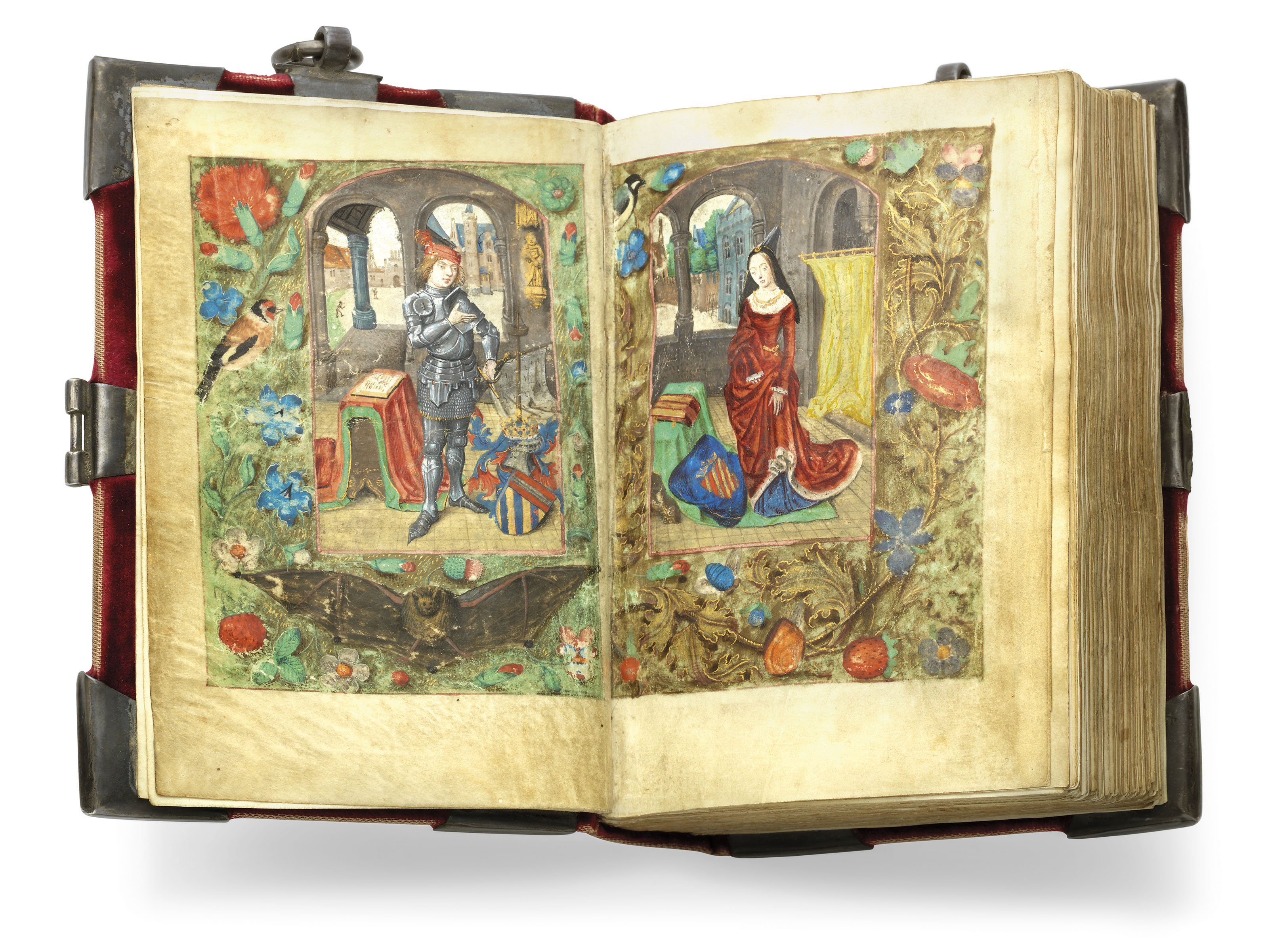 No VAT on hammer price or buyer's premium.
BOOK OF HOURS, use of Rome, in Latin, illuminated manuscript on vellum [Flanders, probably Ghent, c.1485-1490]
Details
BOOK OF HOURS, use of Rome, in Latin, illuminated manuscript on vellum [Flanders, probably Ghent, c.1485-1490]

A Book of Hours from the golden age of Flemish illumination with a fascinating history.

124 x 86mm, ii + 291 + ii, some paper interleaves, 15 lines, ruled space: 56 x 40mm, two full-page owner miniatures with borders on inserted leaves (armorials altered and the wife's miniature extensively reworked), 24 small calendar miniatures with three-sided borders, numerous large initials with full borders, a border to outer margin on almost all other pages (lacking two text leaves after ff.26 and 46 and probably miniatures on inserted leaves, tear to f.6 at gutter, slight losses or rubbing to miniatures). 19th-century red velvet over wooden boards with silver clasp, corner pieces and attachments with two rings for hanging (velvet worn, splitting at joints).

Provenance: (1) Written and illuminated in Flanders, probably Ghent, for the couple on ff.1v-2. A statue of St Peter is probably of the man's name patron: a prayer petitions for famulo tuo P, f.196v; the initials P and I linked by a love knot appear in several borders. (2) Henry Yates Thompson (1838-1928): M.R. James, A Descriptive Catalogue of Fifty Manuscripts from the Collection of Henry Yates Thomson, 1898, no 21; bought from Quaritch July 1895; sold Sotheby's 3 May 1904, lot 32. (3) Michael Tomkinson, Franche Hall, Kidderminster (1841-1921): his monogram bookplate on front pastedown; his sale Sotheby's, 5 July 1922 lot 1518. (4) Thomas Evelyn Scott-Ellis, 8th Baron Howard de Walden (1880-1946): engraved armorial bookplate. (5) By descent to his daughter, the Hon. Mrs James Lindsay (1912-2003); sold by her Christie's 30 June 1971, lot 96, when bought by Israel.

Content: portraits of owners ff.1v-2; Calendar ff.3-14; prayers ff.15-46v; Hours of the Cross ff.47-54v; Hours of the Holy Spirit ff.55-60v; ruled blank f.61; Mass of the Virgin ff.62-69; Gospel extracts ff.70-76v; Obsecro te and O intemerata in masculine f.77-85; Hours of the Virgin, use of Rome ff.86-171; Pentitential Psalms and Litany ff.172-199v; Office of the Dead, use of Rome ff.200-253v; memorials ff.254-290v; ruled blank f.291.

Illumination: The husband's distinctive crest of a ship's mast remains but his armorials were repainted to approximate Austria and Burgundy, with an added crown, for Philip the Fair, Duke of Burgundy. His wife's miniature was more extensively repainted and her crowned shield, reminiscent of Aragon for Philip's wife, Joanna of Aragon and Castile, married in 1496, seems entirely added with the added cushion; the shape of her original shield is visible through the prie dieu cloth. Her costume, probably originally like that on f.7, has been altered, a curtain added over the doorway and the townscape repainted.

The alterations were presumably made by the 19th-century artist who used these leaves as models for completely new miniatures intended for Philip and Joanna that were added to a Book of Hours otherwise illuminated by the Master of the Dresden Prayerbook (British Library, Add. Ms 17280, see J. Backhouse, 'The so-called hours of Philip the Fair. An introductory note on British Library Additional ms 17280', Wiener Jahrbuch für Kunstgeschichte vol. 46/47 (1993/94) p. 45-55, this ms pp.50-51, fig. 8; Bodo Brinkmann, Die flämische Buchmalerei am Ende des Burgunderreichs, 1997, this ms p.276). These were in place by 1842 when Add. 17280 was exhibited in London by Col. Theubert of Porrentruy, Switzerland. It is likely that the same dealer, perhaps Theubert, owned both manuscripts and was responsible for creating the royal provenances.

The calendar miniatures are delightful evocations of seasonal activities in detailed landscapes or interiors, the costume indicating a date in the later 1480s or early 1490s. They largely derive from patterns originated or popularised by the Master of the Dresden Prayerbook but seem closer to the work of the Master of the David Scenes in the Grimani Breviary in the figure types, articulation of landscape and interest in reflections in water. Miniature patterns were widely circulated, yet the manner of painting as well as the compositions have many counterparts with the Prayerbook calendar illuminated by the David Scenes Master c.1515 (Copenhagen, Kongelige Bibliotek, GKS ms 1605 40). The loggia settings of the owner portraits can be parallelled in the Master's half-length portraits of the owner of the Ince Blundell Hours of c.1500 (Christie's, 23 November 1998, lot 11).

The Master of the David Scenes, named from his contribution to the great Grimani Breviary of the later 1510s, has been localised to Ghent from the 1490s to c.1520. His earliest datable work is the Book of Hours actually made for Joanna for, or during, her marriage to Philip the Fair, from 1496 to 1506 (BL Add. ms 18852); other small Books of Hours have also been dated to the 1490s. If the present lot is to be associated with him, his stylistic development will need to be reconsidered.

Full-page miniatures: the owner, armorials reworked, f.1v, and his wife, extensively overpainted, f.2v.

24 small miniatures for the calendar of an occupation paired with the zodiac sign: ff.3, 4, 5, 6, 7 (continuous landscape), 8 (continuous landscape), 9, 10, 11, 12, 13, 14.

Special Notice

No VAT on hammer price or buyer's premium.
Brought to you by
James Hyslop
Head of Department
More from

Important Books, Atlases, Globes & Scientific Instruments from the Collection of Nico and Nanni Israel