Browse Lots
Global notice
COVID-19 Important notice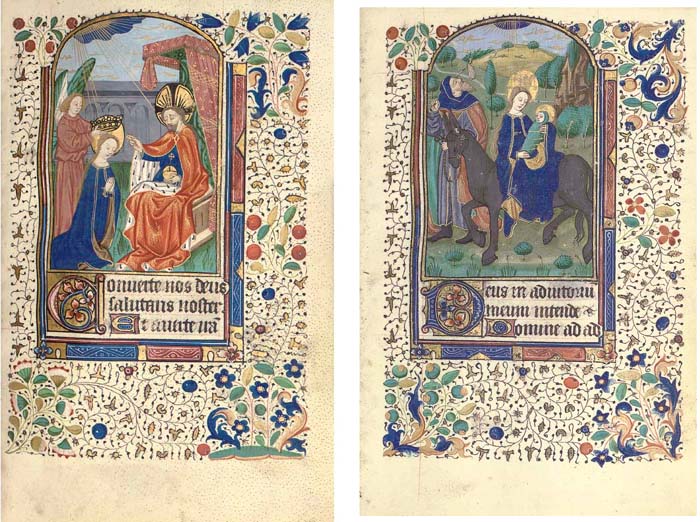 No VAT on hammer price or buyer's premium.
BOOK OF HOURS, use of Rouen, in Latin and French, ILLUMINATED MANUSCRIPT ON VELLUM
Details
BOOK OF HOURS, use of Rouen, in Latin and French, ILLUMINATED MANUSCRIPT ON VELLUM
[Rouen, 1450s]188 x 130mm. 146 leaves: i + 112, 26(of 6, i a replacement), 39(viiii a singleton), 4-58, 610, 7-118, 129(viiii a singleton), 13-178, 184, 14 lines written in black ink in a gothic bookhand between two verticals and 15 horizontals ruled in pink, justification: 95 x 63mm, rubrics in red, capitals touched yellow, one- to two-line initials of burnished gold against grounds and infills of pink and blue with white decoration, line-endings of similar type, three- to four-line initials with staves of blue or pink against grounds of burnished gold with trefoil sprays of red and blue in the infill, TWELVE LARGE ARCH-TOPPED MINIATURES accompanied by pink and blue baguettes and full-page borders of acanthus and naturalistic fruit- and flower-sprays interspersed between hairline tendrils with golden trefoils (minor smudging and offsetting from borders, face of Simeon smudged in Presentation miniature). French, probably Parisian, binding of mid-sixteenth century, gold-tooled and silvered calf over pasteboard, central and corner criblé arabesque blocks on a semé of trefoils, spine with azure trefoil tools, gilt edges (rebacked, extremities worn).

PROVENANCE:

1. The liturgical use of the Office of the Virgin and the feasts of the Calendar, which include St Romanus, bishop of Rouen (23 November), St Gervasius (June 19) and St Martial (3 July) in gold, indicate that the manuscript was made and was intended for use in Rouen. This is consistent with the style of illumination and the addition of the titlepage from a printed Rouen Book of Hours (f.i).

2. Mr Aumiotte: his signature on the verso of final endleaf.

3. Sir Thomas Phillipps (1792-1872): his lion stamp with Sir T.P. Middle Hill and number 2673 on verso of titlepage; his number on spine; bought from Thorpe. British Library, Loan 36/9.

CONTENT:

Titlepage from a printed Heures on vellum, 'A Rouen pour Anne Iores'; Calendar ff.1-12; Gospel Extracts, lacking opening, ff.14-19; Obsecro te ff.19v-23; O intemerata ff.23v-27v; Office of the Virgin, use of Rouen ff.28-77v: matins f.28, lauds f.47v, prime f.54, terce f.60, sext f.63v, none f.66v, vespers f.70, compline f.73; Seven Penitential Psalms ff.78-95v; Short Hours of the Cross ff.96-99; Short Hours of the Holy Spirit ff.99v-102v; Office of the Dead, use of Normandy/Sarum ff.103-135; Fifteen Joys of the Virgin, in French ff.135v-145v.

ILLUMINATION:

The miniatures of this manuscript are a handsome demonstration of the stylistic evolution of Rouen illumination. They show the clear influence of one of the artists -- named after his principal English patron, Sir John Fastolf -- who was active in Paris and then in Normandy until he left for England in the late 1440s. The broad faces, defined by line rather than modeling, the starry skies and border types of the present Hours all relate it to the work of the Fastolf Master. But these miniatures also show features, such as the fondness for decorative cloths and the composition of various subjects, that can be regarded as hallmarks of Rouen style in manuscripts painted by the Master of the Échevinage of Rouen and his workshop, the illuminator who dominated manuscript production in that city in the third quarter of the fifteenth century.
The subjects of the miniatures are as follows:
f.28 Annunciation
f.47v Visitation
f.54 Nativity with the Virgin and Joseph adoring the Christ Child
f.60 Annunciation to the shepherds
f.63v Adoration of the magi
f.66v Presentation in the Temple
f.70 Flight into Egypt
f.73 Coronation of the Virgin
f.78 David in penitence
f.96 Crucifixion with the swooning Virgin and the centurion recognising Christ as the son of God
f.99v Pentecost
f.103 Clerics and mourners saying the Office of the Dead

Special Notice

No VAT on hammer price or buyer's premium.
More from

Valuable Manuscripts and Printed Books