Browse Lots
Global notice
COVID-19 Important notice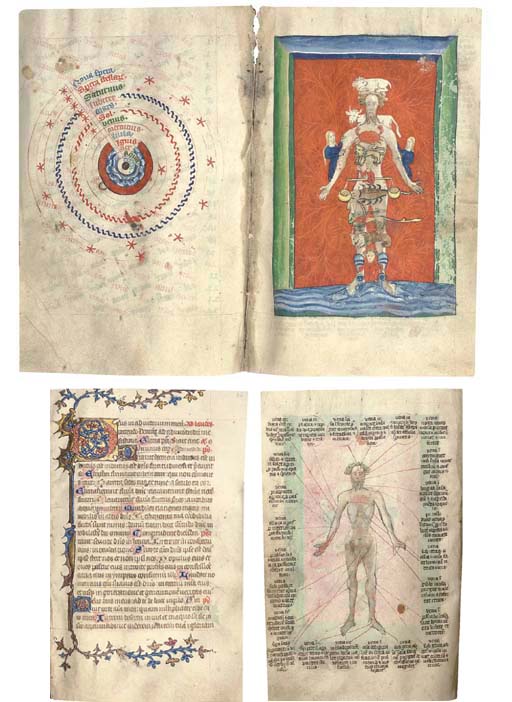 No VAT on hammer price or buyer's premium.
BOOK OF HOURS, use of Sarum, with CALENDRICAL AND ASTRONOMICAL TABLES, in Latin, ILLUMINATED MANUSCRIPT ON VELLUM
Details
BOOK OF HOURS, use of Sarum, with CALENDRICAL AND ASTRONOMICAL TABLES, in Latin, ILLUMINATED MANUSCRIPT ON VELLUM
[Bruges and England, c.1410 and c.1420s]168 x 110mm. iii + 115 leaves: 15(of 6, lacking vi), 26, 38, 47(of 8, viii cancalled blank?), 52, 69, 710, 83, 97, 1012, 116, 123, 139, 146, 154, 166, 179, detached leaf, 182, an undetermined number of leaves lacking from gatherings 6-17 including miniatures. Gatherings 1-5, 12 and 15-17 of English manufacture, text pages with 25 lines written in black ink in a gothic bookhand between two verticals and 26 horizontals ruled in red, top and bottom pairs of horizontals across margins, justification: 105 x 72mm: Gatherings 6-11 and 13-14 of Flemish manufacture, 25 lines written in brown ink in a gothic bookhand between two verticals and 26 horizontals ruled in red, justification: 103 x 72mm, all gatherings, English and Flemish, with rubrics in red, one-line initials alternately of burnished gold flourished violet or blue flourished red, two- to four-line initials with staves of burnished gold against grounds and infills of red and blue with white decoration. The Flemish section with THREE LARGE ILLUMINATED INITIALS WITH THREE-SIDED IVY-LEAF BORDERS the initials with staves of orange or blue against grounds of burnished gold, the infill with trefoil sprays of blue and red, two similar initials lacking borders and one similar border lacking initial. The English section with 17 pages of tables including THREE PAGES WITH ECLIPSE DIAGRAMS IN BLUE AND BURNISHED GOLD and TWO FULL-PAGE MINIATURES, red edges (spotting and darkened, staining along gutter of ff.15-32 and from top of ff.97-118, margins cut from 9 folios, textblock split at top). English 18th-century calf gilt (worn). Cloth box.

PROVENANCE:

1. The manuscript clearly started life as a Book of Hours made in Bruges for the English market: it is for the liturgical use of Sarum and includes texts especially popular in England. The illuminated initials and borders show it to be part of the so-called 'Ushaw Group', named after a Book of Hours in Durham (Ushaw college Ms 10) with a colophon stating that it was written in Bruges and completed in January 1409 (n.s.): for the Ushaw Group and Bruges manuscripts see exh. cat. Vlaamse Miniaturen voor van Eyck, ed. M. Smeyers, Leuven, 1993.

2. Some years after the arrival of the manuscript in England it was adapted for a new owner -- perhaps resident or closely associated with the diocese of York, and with astronomical or medical interests. Extensive additions were made to satisfy his requirements, while conforming with the layout and organisation of the southern Netherlandish original. Several of the tables give indications of date: the table for computing Easter starts in 1387 and this is the date usually ascribed to the Calendar of Ricardus Thorpe. The earliest year, however, for eclipses of the moon is 1428 and it seems more likely that the additions were made in the 1420s.

3. Edward Potter: his signature in a hand of c.1500 written on the third endleaf. The manuscript presumably remained in the same family and another Edward Potter added his own ownership note, dated 1644, below his ancestor's name.

4. An inscription in an 17th-century hand on the first endleaf identifies the manuscript, mistakenly, as having been written in 1384 during the eighth year of Richard II and while Sir Nicholas Brembre was Mayor.

5. John Rotherham: his signature and musings -- including 'evil communications corrupt good manners' -- written over the margins of ff.73v and 4.

6. Penelope Thomson jnr: her name several times in different scripts on f.15, recording the gift of the manuscript from Mr Brown 7 October 1751

CONTENT:

Calendar ff.4-8v; Calendar, for the diocese of York ff.9-14v; Calendar composed by Ricardus of Thorpe ff.15-27; table for computing Easter from 1387 for 532 years ff.27v-28; tables of the Eclipses of the sun and moon ff.28v-29v; table of the planets and diagram of the heavens ff.30-30v; zodiac man and vein man ff.31r and v; devotions, starting imperfectly '..lium in bonum. Tu deus scis fortitudo mea et refugium meum', followed by a meditation on the instruments of the Passion and the wounds of Christ opening 'Confert multa bona via spinea dira corona' ff.32-33; suffrages to Sts Christopher, Anna, George, Mary Magdalene, Catherine, Thomas à Becket, Margaret ff.34-40; Office of the Virgin, with suffrages, defective ff.41-53v; Hours of the Cross, defective ff.54-60; Flores psalterii of St Edmund followed by other devotions and indulgenced prayers, defective ff.61-71v; Seven Penitential Psalms and litany ff.72-78v; Litany, defective ff.79-81v; Office of the Dead, use of Sarum, lacking end ff.82-91v; Psalm 118 and Psalm 138 serving as the Commendation of Souls ff.92-96v; Fifteen Oes of St Brigid, lacking opening ff.97-99v; suffrages to Sts John of Bridlington, Thomas à Becket ff.100-101; indulgenced prayer to be said before the image of the mass of St Gergory f.106; suffrages to Sts Barbara, Anthony and the Virgin ff.103-106; indulgenced Passion sequence and prayer, followed by a series of Masses for the Holy Spirit, Trinity, Cross, Gospel extracts, prayers including those to be said on rising and retiring, Apostles' Creed ff.107-115; added in a 15th-century hand the Prayer of Bede on the Seven Last Word, opening only f.115v; texts in Middle English on the zodiac signs for October to December f.116.

An unusually extensive and individual example of the personalisation of a manuscript to accord with the tastes, practices and interests of its medieval owners. The most exceptional and attractive element -- and surviving intact -- is the sequence of calendars, tables and computational diagrams that precede the devotional texts. Ending with the miniatures showing the signs of the zodiac that govern various parts of the body and the bleeding points for the treatment of various conditions these elements are more often found in physicians' handbooks. The subsequent 15th-century addition of the Middle English texts on the nature of the signs of the zodiac, those born under them and the forecasting possible from them indicate that in this instance the earlier texts were added for astronomical application.

ILLUMINATION:

The miniatures each show a naked man. Zodiac man on folio 31 is shown with the zodiac symbols clustered over him indicating the parts of the body they govern. It is a witty treatment of the subject: he stands in the large pool that is the consequence of Aquarius hanging around his lower legs emptying his waterpots.

Comparison with other manuscripts of the Ushaw Group, and the fact that several of the devotions were to be said in front of images, suggests that the original Bruges manuscript was intended to have full-page miniatures (for example Christie's, 9 July 2001, lot 13). These would have been tipped-in single leaves; some may never have been supplied, others have since been removed.

Special Notice

No VAT on hammer price or buyer's premium.
More from

Valuable Manuscripts and Printed Books