Lot Content
Global notice
COVID-19 Important notice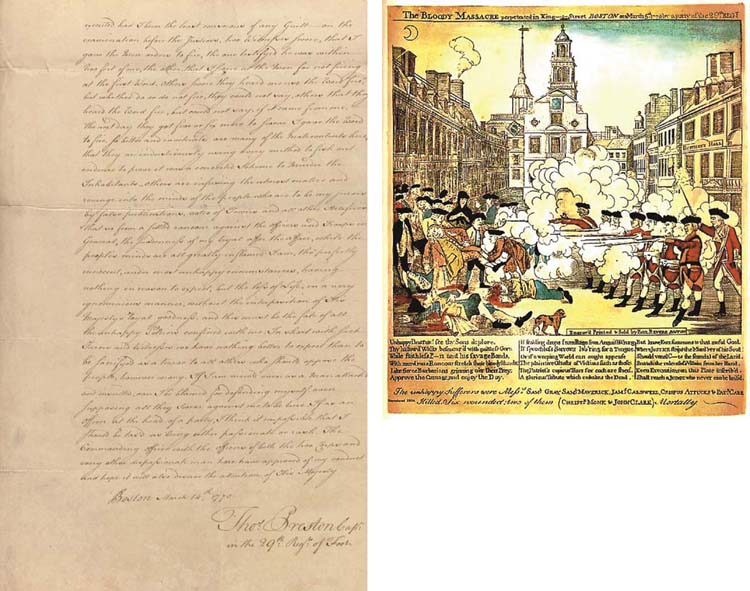 [BOSTON MASSACRE], PRESTON, THOMAS, Captain, British Army. Autograph manuscript signed ("Thos: Preston Capt in the 29th: Regt: of Foot"), titled at head of page 1, "The Case of Captain Thomas Preston," n.p. [Boston], 14 March 1770. 5 pages, folio, plus a blank leaf at end, in ink on fine laid paper (watermark: posthorn with initials LVG; Cf. Gravell & Miller, no. 453), approximately 2200 words, with about five small interlinear corrections, bound with a related letter describing Preston's trial (see below). Modern paper boards; in very fine condition.
Details
[BOSTON MASSACRE], PRESTON, THOMAS, Captain, British Army. Autograph manuscript signed ("Thos: Preston Capt in the 29th: Regt: of Foot"), titled at head of page 1, "The Case of Captain Thomas Preston," n.p. [Boston], 14 March 1770. 5 pages, folio, plus a blank leaf at end, in ink on fine laid paper (watermark: posthorn with initials LVG; Cf. Gravell & Miller, no. 453), approximately 2200 words, with about five small interlinear corrections, bound with a related letter describing Preston's trial (see below). Modern paper boards; in very fine condition.

FIVE DAYS AFTER THE "BOSTON MASSACRE," THE BRITISH OFFICER IN CHARGE GIVES HIS VERSION OF THE INCIDENT WHICH BECAME A CATALYST OF THE AMERICAN REVOLUTION

Preston was commissioned Captain of the 29th Regiment of Foot in 1764 and was probably sent with the rest of his regiment to Boston in September 1768, part of the large British garrison. Anti-British sentiments there were already strong, fanned by the "intolerable acts," the stamp tax and the forced quartering of troops in the city under the provisions of the Mutiny Act of 1765. By the spring of 1770, resentment of the British garrison had grown to a dangerous pitch, as Preston relates:

"...the arrival of His Majesty's Troops in Boston was extremely obnoxious to its Inhabitants. They have ever used all means in their Power to weaken the Regiments, and to bring them into Contempt; by promoting and aiding desertions, and by grossly and falsely propagating untruths concerning them." Firebands had stirred the people to violence, Preston claims. One, a Justice (perhaps Samuel Adams) had declared publicly that "the Inhabitants carried weapons concealed under their Cloth[e]s," and could destroy the garrison "if they pleased." Preston adds that "several disputes have happen'd between the Towns people and the Soldiers." On the 2nd of March, for example, two soldiers had been insulted by two ropemakers, and "from words they went to blows. Both parties suffered in this affray. The officers took every precaution in their Power, to prevent any ill consequences," but "single quarrels could not be prevented, the Inhabitants constantly provoking and abusing the Soldiers."

Preston claims that the populace had agreed that on Monday and Tuesday, March 5 and 6, they would make a "General attack" on the soldiers, and that "several of the Militia [colonials] came from the Country Armed... On Monday night about 8 o'clock two Soldiers were attacked and beat," and "the Towns people broke into two meeting Houses and rang the alarm Bells...About 9 some of the Guard came to and informed me the Town inhabitants were Assembling to attack the Troops, and that the Bells were ringing as a Signal for that purpose, and not for Fire." Preston, Captain of the Day, rushed to the Main Guard House. "In my way there, I saw the people in great commotions and heard them use the most cruel and horrid threats against the Troops." A party of about 100 townspeople "went towards the Custom House...They immediately surrounded the Sentury [sic] posted there, and with Clubs and other Weapons, threaten'd to execute their Vengeance on him. This I feared might be a prelude to their plundering the King's Chest." Preston, with a junior Officer and a twelve-man squad, hurried to the Custom House. He states that he feared his men, under extreme provocation, might "be thrown off their Guard, and commit some rash act."

At the Custom House, Preston and his band "rushed through the people and by charging their Bayonets [affixing them to their musket barrels] in a half circle kept them at a little Distance." Preston avows that at this point "so far was I from intending the Death of any Person, that I suffered the Troops to go to the spot without loading in their pieces, nor did I ever give orders for loading them." This fact, he asserts, constitutes "the best and surest" evidence "that my intention was not to act offensively." The "Mob," enraged by the soldier's appearance, grew in size and began "striking their Clubs or Bludgeons one against another, and calling out, 'come on you rascals, you bloody backs, you Lobster Scoundrels, fire if you dare G-d damn you, fire and be damn'd, we know you dare not.' At this time I was between the Soldiers and the Mob parleying...to persuade them to retire peaceably, but to no purpose. They advanced to the point of the Bayonets, struck some of them and even the Muzzles of the pieces. While I was thus speaking, one of the Soldiers having received a severe blow with a stick steps a little on one side and instantly fired, on which turning to and asking him why he fired without Order, I was struck with a Club on my Arm. On this a general attack was made upon the Men by a great Number of heavy Clubs and snow Balls being thrown at them, by which all our Lives were in Eminent [sic] danger, some persons at the same time from behind called out 'Damn your Bloods why don't you fire.' Instantly three or four of the Soldiers fired, one after another, and directly after three more in the same confusion and hurry. The Mob then ran away, except three unhappy Men, who instantly expired. One more is since Dead, and three others are dangerously Wounded and four slightly wounded. The whole of this melancholy affair was transacted in about 20 Minutes."

Why, Preston questioned the soldiers, had they fired without his order? "They said, they heard the Word fire, and supposed it came from me. This might be the case, as many of the Mob called out 'fire, fire' but I gave no such order." When the crowd moved to claim the dead and wounded, Preston continues, his men were preparing to shoot again, "supposing them coming to attack them," but the Captain intervened, "striking up their firelocks with my hands." A larger crowd was reported to be massing in the next block, intent on taking Preston and his men, and "there was a constant cry by the Inhabitants 'to Arms to Arms, turn out with your Guns' and the Town drums beating To Arms, I order'd my drum beat To Arms..."

Reinforcements arrived. Preston sent a Sergeant to Col. Dalrymple, the Commanding Officer, "to acquaint him with every particular." To cool the crowd, Preston's Regiment was ordered back to barracks. Later, hearing that a Warrant had been issued for himself and 8 soldiers, Preston surrendered to the Sheriff, though "for the space of four hours I had it in my power to have made my escape had I been the least conscious of any Guilt." He disputes the claim that he gave the command to fire: "So bitter and inveterate are many of the Malecontents here, that they are industriously using every method to fish out evidence to prove it was a concerted Scheme to Murder the Inhabitants. Others are infusing the utmost malice and revenge into the minds of the people who are there to be my jurors...." He expresses concern that his trial is to be conducted so soon, "while the people's minds are all greatly inflamed," and requests "the interposition of His Majesty's Royal goodness."

In the incident later reknowned as the Boston Massacre, five men died: Samuel Gray, a ropemaker; Crispus Attucks, a mulatto laborer; James Caldwell, a seaman; Patrick Carr, a tailor; and a teenage boy named Samuel Maverick. Inflammatory accounts of the Massacre were rapidly disseminated throughout the colonies. Paul Revere and other artists produced lurid renderings of the event. Six days after the event, Preston set down the present exculpatory narrative. A copy was sent to Benjamin Franklin (acting as agent for Massachusetts in London) and another to General Gage, Chief British officer in New York. Preston's cover letter to Gage is now in the Gage Papers at the Clements Library, but Gage's copy of Preston's narrative is unlocated. In fact, NO OTHER COPIES ARE KNOWN TO BE EXTANT. (A copy was reported in the Library of The House of Lords, prior to the Second World War, but we are informed that no such manuscript exists there at present.)

The Captain's account was soon in the newssheets: in London's Public Advertiser, 28 April 1770; reprinted in the Massachusetts Gazette Extraordinary, 21 June 1770; and as a special Supplement to the Boston Evening Post, 25 June 1770. "The Case of Capt. Thomas Preston" aroused furious reactions in Boston: a committee, including Samuel Adams, John Hancock, Richard Dana and others, confronted Preston with the published text. Preston, awaiting trial, claimed that although he had composed an account of his case, in passing through many hands it had been much altered from his original. But a comparison of the two texts belies his claim. The only substantive difference consists of a 130-word passage, present in our manuscript but omitted from printed versions. It constitutes Preston's despairing conclusions that he and the others under indictment may face a death sentence: "And this must be the fate of all the unhappy Soldiers confined with me. In short with such Jurors and Witnesses we have nothing better to expect than to be sacrifyc'd as a terror to all others who would oppose the people, however wrong....The Commanding Officer with the Officers of both the two Corps and every other dispassionate man here have approved of my conduct and hope it will also deserve the attention of His Majesty."

In the end, Preston's appeal for Royal intercession was unnecessary. His trial began on 24 October 1770. Robert Treat Paine (a future Signer of the Declaration of Independence) and Samuel Quincy conducted the prosecution, while Preston was defended by Josiah Quincy, Jr., Robert Auchmuty, Judge of the Admiralty, and John Adams (another future Signer). On October 30th, he was acquitted by the jury he had feared would condemn him. (Of the eight soldiers tried separately, six were acquitted and two, guilty of manslaughter, were ordered branded on the hand.) On December 18th, Captain Preston embarked on the H.M.S. Glasglow for England; all his legal costs were paid and he was granted a Crown pension of £200 annually. He remained in the 29th until 1774, then disappears from official records.

The "melancholy affair" in which five Bostonians died by British musket-fire was an incident which, due to the highly charged tenor of public affairs between England and its Colonies, took on a great symbolic significance. Its victims were labeled martyrs. While it is probably too much to say, as some have, that the shootings on March 5, 1770 began the process by which Britain's North American colonies finally won their independence, it was a significant factor in radically altering Americans' attitude toward the King's armies quartered among them. There can be little doubt that the incident at the Boston Custom House and the trials of Captain Preston and his men were vivid in the minds of the patriots who composed the Declaration of Independence. Enumerating America's grievances against the Crown, it indicted the King "for quartering large bodies of armed troops among us: For protecting them, by a mock Trial, from Punishment for any Murders which they should commit on the Inhabitants of these States."

[With:] Bound in is an ALS of Richard Mosley, to "Dear Sir," Boston, 7 November 1770. 7 pages, 4to. Giving an account of Preston's trial and acquittal: ("I was present from the first to the last"), and noting: "After Capn Preston was discharged...I escorted him to a boat," which took him to Castle William, reporting the Bostonians still wanted "Blood for Blood."

See Randolph G. Adams, "New Light on the Boston Massacre," in Proceedings of the American Antiquarian Society, n.s., vol. 47, 1937 (1938), pp. 259-354; Albert Matthews, "Capt. Thomas Preston and the Boston Massacre," in Publications of the Colonial Society of Massachusetts, v. 7 (1905), pp. 2-21; J. Noble, "Communication of Original Papers Relating to the Trial of Captain Thomas Preston and the Soldiers concerned in the Riot of the Fifth of March, 1770" in Publications of The Colonial Society of Massachusetts, vol. 5 (1902).

Provenance: Howard S. Mott Inc. (sale, Christie's, 17 May 1989, lot 260).

;
More from

The Forbes Collection of American Historical Documents: