Lot Content
COVID-19 Important notice
Read More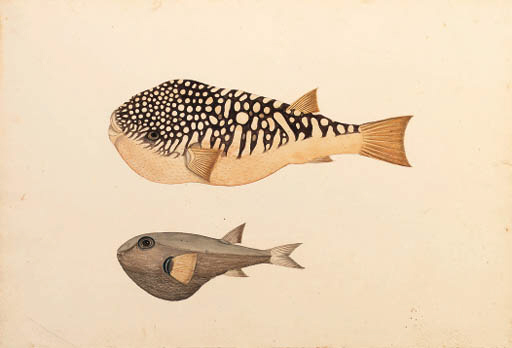 VAT rate of 5% is payable on hammer price plus buyer's premium.
Chinese School
Details
Chinese School A collection of watercolour drawings of Indo-Pacific fish and invertebrates. [?Malacca, Malaya: nod, but four leaves watermarked 'Whatman 1794']. 8 original watercolour drawings of fish, sheet size: 14 x 20½ inches (356 x 520mm.), most painted over a silvered iridescent base-coat, unbound in a modern brown morocco-backed cloth solander box, gilt lettered brown morocco label mounted on upper cover. Provenance: Marquess Wellesley (1760-1842). A FINE SELECTION OF DRAWINGS FROM THE COLLECTION OF THE BRITISH GOVERNOR-GENERAL OF INDIA. Richard Colley Wellesley, Marquess Wellesley (1760-1842) served as Governor-General from 1798 to 1805 and assembled one of the most important private collections of natural history paintings and drawings during this period. Wellesley "had unusual opportunities for amassing a great collection. As a result of his important office he regularly received presents of rare flowers, birds or animals. Some were sent by [East India] Company servants from all over India, others were brought by visiting ships or travellers from further east - from Malaya, Penang, Sumatra, the Moluccas and even Australia; while Governor-General he met everyone in Calcutta who was interested in natural history, whether resident or visitor. Moreover, at this time the Presidency town contained a number of keen and learned natural historians who continually met each other and exchanged ideas and information" (Mildred Archer. Natural History drawings in the India Office Library 1962,pp.6-7). The present selection is from a part of Wellesley's collection sold in the late 19th century. Stylistically the drawings are closest to the group collected by the first Earl Powis. Two of the Powis drawings are inscribed "Malacaw" and have prompted the attribution of the present selection to a Chinese artist working in Malacca. The subjects of the watercolours are as follows: 1. Pufferfish. 2. Indian mackerel (upper left) Tardoore (upper right) Member of the family Sciaenidae. Drum or Croakers (lower). 3. Shark catfish. 4. Snapper (upper left) Rabbitfish (upper right) Grunts (lower right & left) 5. Lefteye flounder 6. Gizzard shad (upper left) Nurseryfish (upper right) Halfbeak (lower right) Squid (lower right) 7. 3 views of Mole squid (upper) 2 views of Crab (lower) 8. 2 views of Angel shark (upper) Members of the family Sciaenidae, Drum or Croakers (lower).
Special Notice

VAT rate of 5% is payable on hammer price plus buyer's premium.
;