Lot Content
COVID-19 Important notice
Read More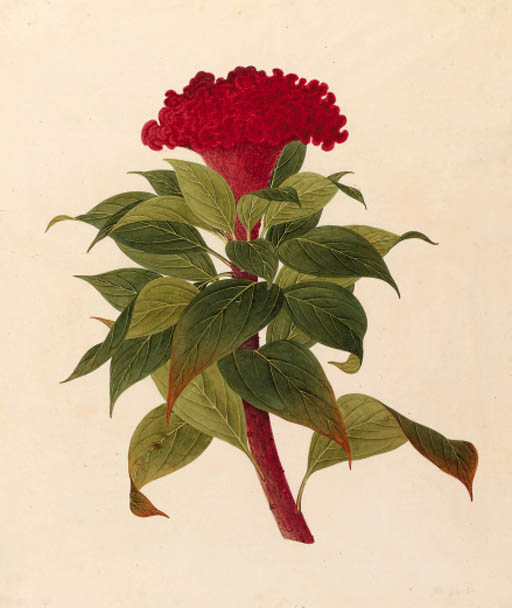 VAT rate of 5% is payable on hammer price plus buyer's premium.
Chinese School, 19th Century
Details
Chinese School, 19th Century An album of original watercolour and bodycolour drawings of flowers, plants and birds. [China: c. 1820]. 2° (534 x 366mm). 19 original pencil, watercolour and bodycolour drawings (17 botanical, 2 of birds), all heightened with gum arabic, 393 x 292mm. and smaller, ten on chinese paper (with later backing paper), nine on european laid paper, each tipped onto a separate leaf within the album. (Occasional small tears or light surface damage, the 17th drawing with small hole not affecting the image.) Contemporary English red morocco gilt, covers with elaborate design tooled in gilt and blind, spine in five compartments with wide raised bands, the bands decorated in gilt, wide gilt decorated turn-ins, watered-silk endleaves, g.e. (light scuffing to extremities). The late 18th century saw the rise of natural history painting and patronage in China and the East Indies. When Europeans arrived in Canton and Macao, the Chinese painters realised that the Europeans were keen to collect exotic specimens and wanted to commission drawings to send back home. This enthusiasm for natural history came from both professional and amateur botanists, many of whom were employees of the East India Company, who proved to be avid collectors. Stock sets of pictures were soon produced for the European market depicting fruit, flowers, birds and insects. The species depicted in this album are typical of the sort of selection made by many artists and collectors and include: Celosia aritata (Cock's comb), Hypericon monogynum (Chinese hypericum), Hybiscus rosa-cinensis, Cinnamonum aromaticum (Chinese cinnamon), Sygynium aromaticus (Cloves), Prunus cerasus (flowering cherry), the birds are: Alcedo atthis (Kingfisher) and Padda oryzirona (Java sparrow).
Special Notice

VAT rate of 5% is payable on hammer price plus buyer's premium.
;