Lot Content
COVID-19 Important notice
Read More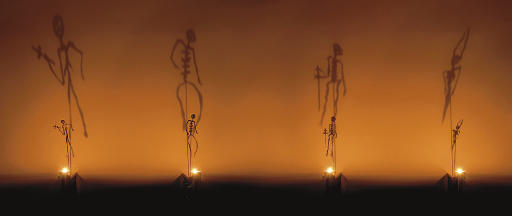 Artist's Resale Right ("Droit de Suite"). Artist's Resale Right Regulations 2006 apply to this lot, the buyer agrees to pay us an amount equal to the resale royalty provided for in those Regulations, and we undertake to the buyer to pay such amount to the artist's collection agent.
VAT rate of 5% is payable on hammer price and at 15% on the buyer's premium
PROPERTY SOLD TO BENEFIT THE EXPANSION OF THE SOUTH LONDON GALLERY
Christian Boltanski (b. 1944)
Shadows
Details
Christian Boltanski (b. 1944) Shadows oxidised copper, metal brackets and candles installation dimensions variable Executed in 1986
Provenance
Courtesy the artist and Marian Goodman Gallery, New York.

Special Notice

Artist's Resale Right ("Droit de Suite"). Artist's Resale Right Regulations 2006 apply to this lot, the buyer agrees to pay us an amount equal to the resale royalty provided for in those Regulations, and we undertake to the buyer to pay such amount to the artist's collection agent.
VAT rate of 5% is payable on hammer price and at 15% on the buyer's premium
Sale Room Notice
Please note that this lot should not be marked with a * for VAT, and is therefore not subject to import VAT.

Lot Essay
This work is accomnpanied by a certificate of authenticity.

More From

Post-War and Contemporary Art Day Sale