Lot Content
Global notice
COVID-19 Important notice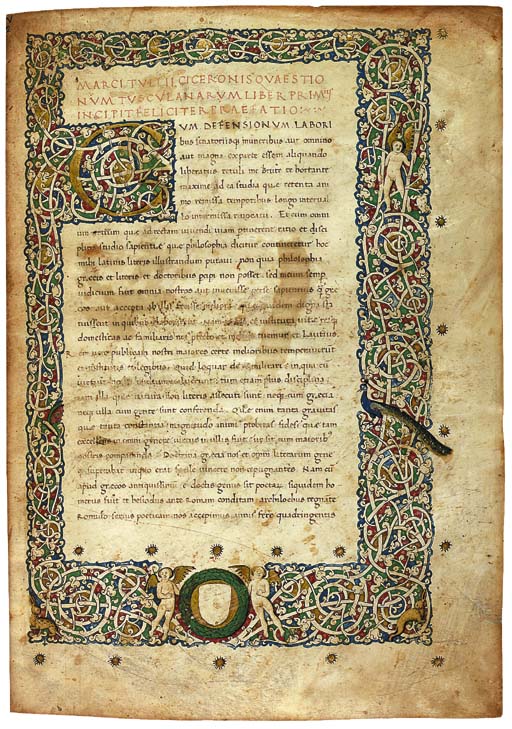 No VAT will be charged on the hammer price, but VA… Read more
CICERO, Marcus Tullius (106-43 BC). Tusculanae disputationes, in Latin, ILLUMINATED MANUSCRIPT ON VELLUM
Details
CICERO, Marcus Tullius (106-43 BC). Tusculanae disputationes, in Latin, ILLUMINATED MANUSCRIPT ON VELLUM

[Naples, late 1450s or early 1460s]
324 x 230mm. 94 leaves including two final ruled blanks: 1-910, 104, COMPLETE, horizontal catchwords at inner lower corner of final versos, modern pencil foliation 1-91, repeating 7, 58 and 65, followed here, 30 lines written in black ink in an upright humanistic bookhand between two pairs of verticals and 30 horizontals ruled in grey ink, justification: 200 x 128mm, notabilia in an elegant humanistic cursive by the same scribe, titles, rubrics and initials of interlocutors in pink, TEN LARGE ILLUMINATED WHITE-VINE INITIALS one with a FULL-PAGE BORDER OF WHITE-VINE INHABITED BY PUTTI, PEACOCKS AND RABBITS, vellum leaf from another Cicero manuscript hinged to front flyleaf (spotting or stains on folios 1, 29, 87-91). Blue morocco gilt by Katharine Adams, upper cover and spine with title and date (extremities slightly abraded).

PROVENANCE:

1. Made in Naples, very probably for someone at the Aragonese court: both the scribe and the illuminator, identified by Professor Albinia de la Mare as Pietro Ursuleo of Capua and Matteo Felice, worked for members of the royal court. Their earliest documented work together was in a copy of Boethius (Vatican, Pal. lat. 1740) made for Agnolo Manetti in 1467: T. De Marinis, La Biblioteca napoletana dei re d'Aragona, I, pp.157-8, Tav.34. The space left for a coat of arms in the lower margin of the opening folio of the present manuscript remains unpainted.

2. Pietro de Rossi, doctor of medicine: an inscription Petri De Rubeis Med Doctoris in a 17th-century hand on the final folio.

3. Henry Ellis Allen: Sotheby's 30 January 1920, lot 45.

4. Charles Harry St John Hornby (1867-1946): bookplate, 'From the Library of C.H. St John Hornby Shelley House, Chelsea' inside upper cover, with the number M.46 written beside it in pencil. The leaf tipped-in at the front of the manuscript comes from a copy of Cicero, De oratore signed and dated by the Florentine scribe Gherardo del Ciriago in 1453. This manuscript, also from the Allen collection (lot 42 in the 1920 sale), was acquired by Sir Sidney Cockerell. It was already slightly defective and he distributed a number of leaves among his friends: B.L. Ullman, The origin and development of humanistic script (Rome 1960), pp.112-3, no 5. The identifying note written at the foot of the leaf is in Cockerell's neat, small hand. The manuscript was rebound for Hornby by Katharine Adams and his emblematic oak-leaves appear as a line-filler after the gilt-stamped title on the upper cover.

4. Major J.R. Abbey (1894-1969): J.A. 3191 16:9:1946 written on final endleaf. This was one of the 68 illuminated manuscripts that he bought en bloc from the estate of Hornby, and was among those he sold the following year: Sotheby's, 8 February 1947, lot 427.

CONTENT:

Marcus Tullius Cicero, Tuscularum Disputationes ff.1-89

Regarded as the most intensely felt and expressed of all Cicero's philosophical works, the Tusculan Disputations were written during 45 and 44. They take the form of a dialogue, between 'M' and 'A', examining the states of happiness, including consideration of death and suffering, and their possible amelioration through philosophy and virtue.

ILLUMINATION AND SCRIPT:

Matteo Felice's documented career for the Aragonese court of Naples extended to 1493. This manuscript, however, is an example of his early work in the city, and the same repertoire of putti, spotted-back rabbits and profile peacocks are found in the white-vine borders of three volumes of the works of Seneca (Vienna, ÖNB, Cod.69: Modena, Bibl. Estense, Ms \Ka\k H.5.1: Paris, BnF, Ms lat. 17842). These manuscripts were clearly produced for someone associated with the court of Naples for the border of the opening folio of the Paris volume has a medallion containing a portrait of Alfonso I: F. Avril et al, Dix siècles d'enluminure italienne (1984), p.171-173. In the Seneca volumes, as in the present manuscript, Matteo Felice's borders and initials decorated the script of Pietro Ursuleo.

Pietro Ursuleo of Capua worked as a scribe, mainly for the royal court, from at least 1448. Probaby in the late 1460s he moved to Rome and in 1474 he was elected Bishop of Satriano and in 1483, the year of his death, archbishop of Santa Severina. Although, to judge from the colophons, somewhat reluctantly, he continued to copy manuscripts for Pope Sixtus IV after his move to Rome: A. Derolez, Codicologie des manuscrits en écriture humanistique sur parchemin, Bibliologia 5-6 (1984), i, no 358.

Special Notice

No VAT will be charged on the hammer price, but VAT at 17.5% will be added to the buyer's premium which is invoiced on a VAT inclusive basis.
;
More from

THE LIBRARY OF WILLIAM FOYLE