Browse Lots
Global notice
COVID-19 Important notice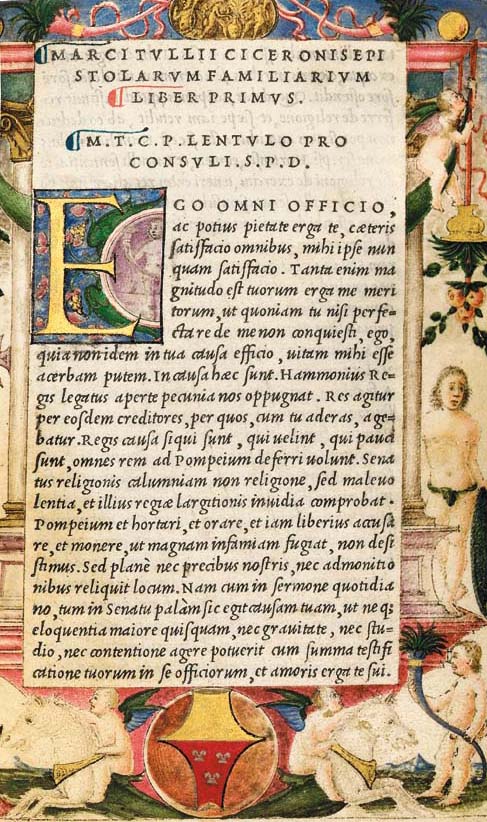 This lot will not be subject to VAT either on the … Read more
CICERO, Marcus Tullius (106-43 B.C.). Epistolae familiares. Venice: Aldus Manutius, April 1502.
Details
CICERO, Marcus Tullius (106-43 B.C.). Epistolae familiares. Venice: Aldus Manutius, April 1502.

PRINTED ON VELLUM. 8° (153 x 95mm). Collation: a-z8 aa-kk8 ll4. 267 leaves (of 268, without final blank). Italic type (text), roman type (title, headings, headlines and colophon). 30 lines and headline. 1- to 7-line initial spaces with printed guide-letter. Opening page ILLUMINATED BY A CONTEMPORARY ARTIST, EITHER BY THE MASTER OF THE PICO PLINY OR AN ARTIST FROM HIS WORKSHOP, arms of Frescobaldi family in lower border, initials and paragraph marks alternating in red and blue. (Small stain at extreme lower margin, small spots in a few leaves.) 19th-century green morocco gilt tooled to a renaissance style with interlacing strapwork, vellum endpapers, gilt edges, by Charles Lewis with his ticket, modern green morocco gilt box by James Brockman. Provenance: Florence, Frescobaldi family (arms) -- Antoine-Augustin Renouard (1765-1853, described in his Aldine bibliography, sale Evans, 23 June 1834, lot 259, £69 to Payne) -- Sir George/Robert Holford (sale Sotheby's, 6 December 1927, lot 191, £110 to Quaritch) -- Giorgio di Veroli (sale Parke-Bernet, 28 February 1956, lot 227, $900) -- Giorgio Uzielli, New York (included in his exhibition catalogue, Grolier Club, 1962-3, no. 19; sold through John Fleming, July 1986) -- Haven O. More (bookplate, sale Sotheby's New York, 9 November 1989, lot 36).

FIRST ALDINE EDITION, ONE OF ONLY THREE KNOWN COPIES PRINTED ON VELLUM. The first text page has been illuminated at the workshop of the Master of the Pico Pliny and contains many characteristic features of his work: the architectural frame, the ribbon garlands, the youth holding a shield. Named by Lilian Armstrong for his work in a manuscript of Pliny written in 1481 for the humanist Giovanni Pico della Mirandola, the Pico Master illuminated a number of printed books and manuscripts dating from 1469 to 1494 for equally illustrious patrons, such as the financier Peter Ugelheimer. The last Venetian book attributed to him was printed in 1494, but he appears to have decorated one or two books at Ferrara just after 1500. See L. Armstrong, 'Il Maestro di Pico: un miniatore veneto del tardo quattrocento', Saggi e Memorie di Storia dell'Arte, XVII, 1990, pp.7-39.

RENOUARD'S OWN COPY OF ONE OF THE RAREST ALDINE PUBLICATIONS. Even of the paper copies only one (the Doheny copy) has appeared at auction in recent decades. In his bibliography of the Aldine press, and again in his sale catalogue, Renouard claimed that the arms painted in this copy were 'probably' those of the dedicatee, Graf Sigismund Thurzo. However, the Thurzo arms bear no resemblance to the ones here, which appear instead to be those of the Frescobaldi family of Florence. When this volume sold in Renouard's sale, it brought the highest price of any book in the collection, exceeding even the 1468 Mainz Justininian printed on vellum. In the dedicatory letter Aldus discusses his plans to issue a series of small, portable editions of the Latin and Greek classics; the 1502 Cicero is the seventh edition in his series. Ahmanson-Murphy/UCLA, 43; Renouard, Alde, 33:2 'extrèmement rare'); Van Praet, Bib. Nat., 550.

Special Notice

This lot will not be subject to VAT either on the hammer price or the buyer's premium.
;
More from

VALUABLE ILLUMINATED MANUSCRIPTS,BOOKS AND AUTOGRAPH LETTERS