Lot Content
Global notice
COVID-19 Important notice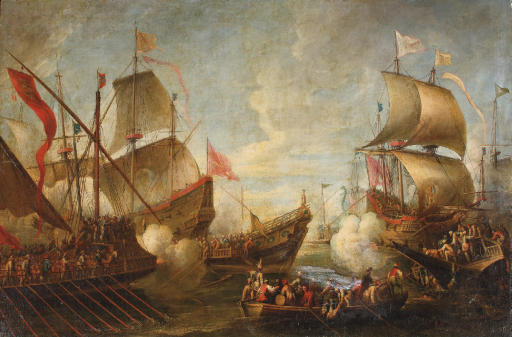 "!" Lots imported from outside the EU. The Buyer'… Read more
Circle of Cornelis de Wael (Antwerp 1592-1667 Rome)
A naval battle between Turks and Christians
Details
Circle of Cornelis de Wael (Antwerp 1592-1667 Rome)
A naval battle between Turks and Christians
inscribed 'Raynold' (reverse), unframed
oil on canvas
95.3 x 144.2 cm.

Provenance
With F. Goldmann, Vienna, from whom acquired by Prince Johannes I of Liechtenstein, 1825 (with a pendant).
Schloss Feldsberg, Valtice, before 1888.
Schloss Moosham, Salzburg, 1944.
Schloss Vaduz, Liechtenstein, 1945.

Special Notice

"!" Lots imported from outside the EU. The Buyer's Premium is 37.05% incl. VAT over the first €5,000, plus 31.1% incl. VAT of the Hammer Price between €5,001 and €400,000, plus 21.58% incl. VAT of any amount in excess of €400,001.
Sale Room Notice
Please note that this lot is unframed.

More from

LIECHTENSTEIN: Property from the Collection of the Princely House of Liechtenstein.