Lot Content
Global notice
COVID-19 Important notice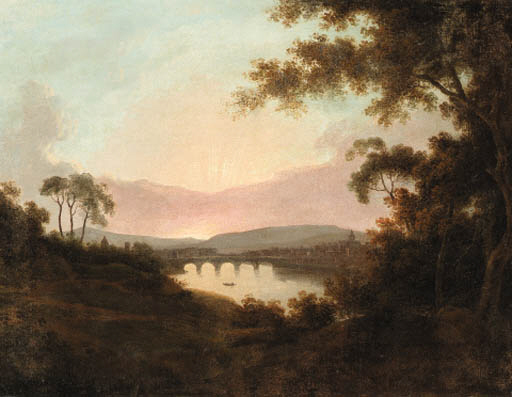 Circle of Joseph Wright of Derby, R.A. (1734-1797)
A view of Florence at Sunrise
Details
Circle of Joseph Wright of Derby, R.A. (1734-1797)
Wright of Derby, J.
A view of Florence at Sunrise
bears initials and indistinct date 'I.W.Pt/...9[3?]'
oil on canvas
23 x 30in. (58.4 x 76.2cm.)

Provenance
Probably William Bemrose (d. 1908), Elmhurst, Derby, husband of Joseph Wright of Derby's great-granddaughter.
Probably by descent to his daughter, Mrs. Romana Gertrude Wheler, Sidmouth, Devon; Sotheby's, London, Dec. 10, 1958, lot 114, 50 to Mrs. Ronald Frank, London, from whom purchased by the following.
with Richard Feigen, Chicago, Fantasy and Vision. England: 1770-1870, 1962, no. 26, and by whom given to the Art Institute in 1965.

Literature
B. Nicolson, Joseph Wright of Derby: Painter of Light, 1968, I, pp. 259-60, no. 290, pl. 327 (with incorrect photo).

;
More from

Old Master Paintings and Drawings