Lot Content
Global notice
COVID-19 Important notice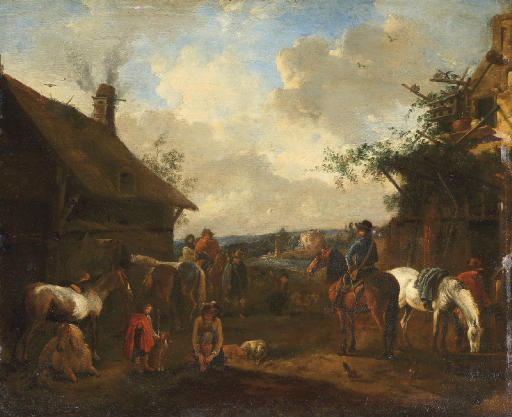 "!" Lots imported from outside the EU. The Buyer'… Read more
Circle of Philips Wouwerman (Haarlem 1619-1668)
Horsemen resting outside a farmstead
Details
Circle of Philips Wouwerman (Haarlem 1619-1668)
Horsemen resting outside a farmstead
oil on panel, unframed
36.1 x 44.9 cm.
two collector's wax seals on the reverse

Provenance
Major Anton Roger, from whom acquired by Prince Alois I of Liechtenstein, 1801.
Schloss Feldsberg, Valtice, before 1888.
Schloss Moosham, Salzburg, 1944.
Schloss Vaduz, Liechtenstein, 1945.

Literature
Sammlungskatalog (manuscript), 1805, no. 202.
J. Falke, Katalog der fürstlich Liechtensteinischen Bilder-Galerie im Gartenpalais der Rossau zu Wien, Vienna, 1873, p. 111, no. 972.

Special Notice

"!" Lots imported from outside the EU. The Buyer's Premium is 37.05% incl. VAT over the first €5,000, plus 31.1% incl. VAT of the Hammer Price between €5,001 and €400,000, plus 21.58% incl. VAT of any amount in excess of €400,001.
More from

LIECHTENSTEIN: Property from the Collection of the Princely House of Liechtenstein.