Lot Content
COVID-19 Important notice
Read More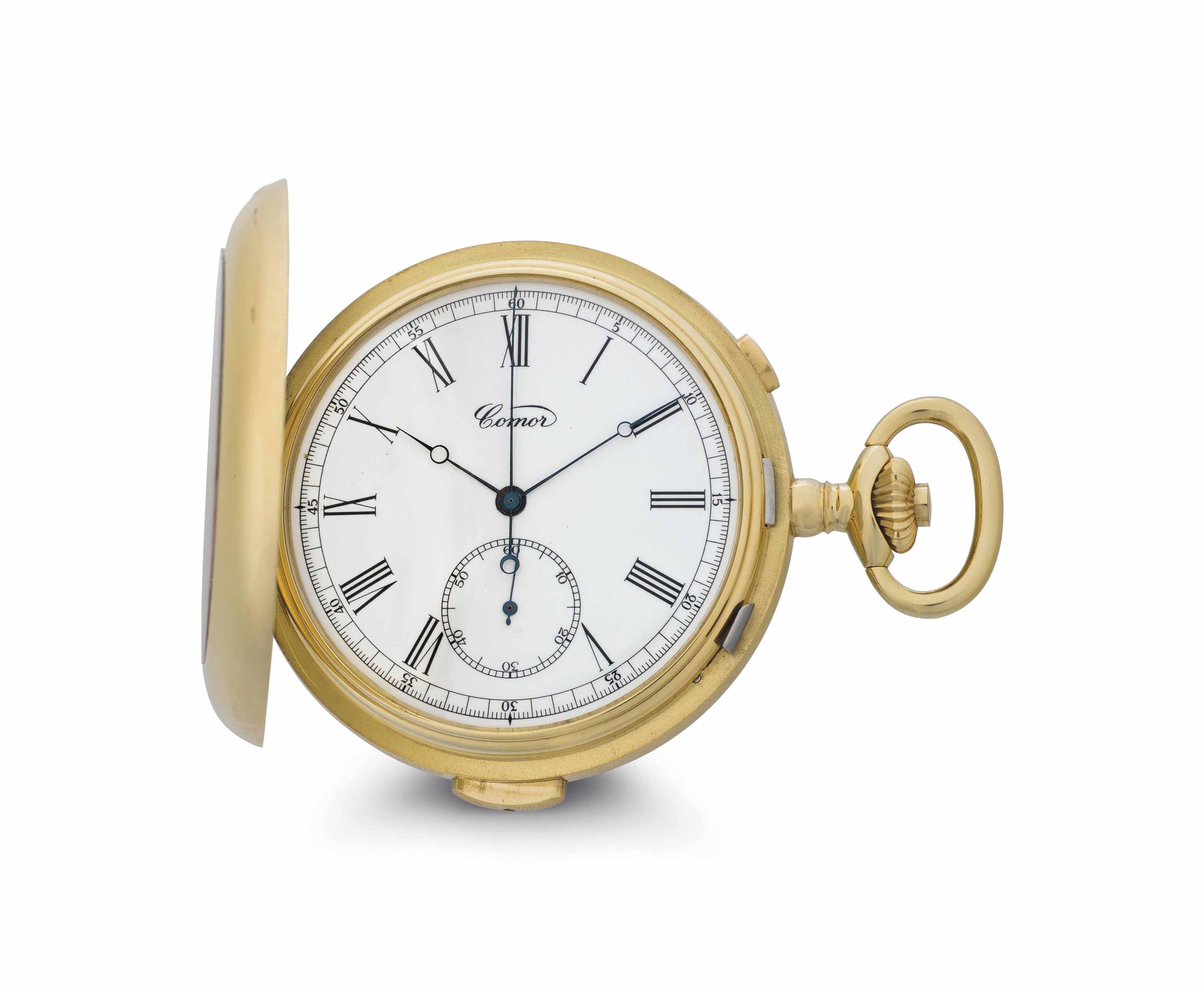 This lot is offered without reserve.
The Watches of Comor The following lots represent the finest technical and artistic traditions in the field of horology, featuring techniques such as cloisonné enameling, and complications such as minute and quarter repeating, chronographs, and automata. The Comor Watch Company was acquired in 1970 by Dr. Adolf L. Benz, who trained in horology at the Watchmakers of Switzerland Inc., in addition to his doctorate in Economics from the University of Bern. He started working in the export of watches in the 1960's, and purchased Comor with the intention of making the best quality watches. In producing watches with the above-mentioned techniques and complications, he wanted only the best craftsmen in the field to produce them. Bringing together the best of workmanship and watchmaking, the watches of Comor can be considered works of art, making each piece enjoyable to the owner's eye. All of the complicated movements in the following watches date to the early 1900's, while the cases were manufactured in the 1970's and 1980's, under Dr. Benz's ownership. The movements were encased at that time as well, and the enamel miniatures were painted by artisans at Comor.
Comor. An 18k Gold Minute Repeating Hunter Case Chronograph Pocket Watch
SIGNED COMOR, CASE NO. 56, CIRCA 1975
Details
Comor. An 18k Gold Minute Repeating Hunter Case Chronograph Pocket Watch Signed Comor, Case No. 56, Circa 1975 Nickel-finished jewelled lever movement, bimetallic compensation balance, minute repeating on two hammers on to two gongs, gold cuvette, white enamel dial, Roman numerals, outer calibrated minute track with Arabic five minute divisions, subsidiary seconds, polished circular case, dial signed, case numbered 57.5mmm diam.
Special Notice

This lot is offered without reserve.
Condition Report
If you wish to view the condition report of this lot, please sign in to your account.
Sign in
View Condition Report
More From

Important Watches