Lot Content
Global notice
COVID-19 Important notice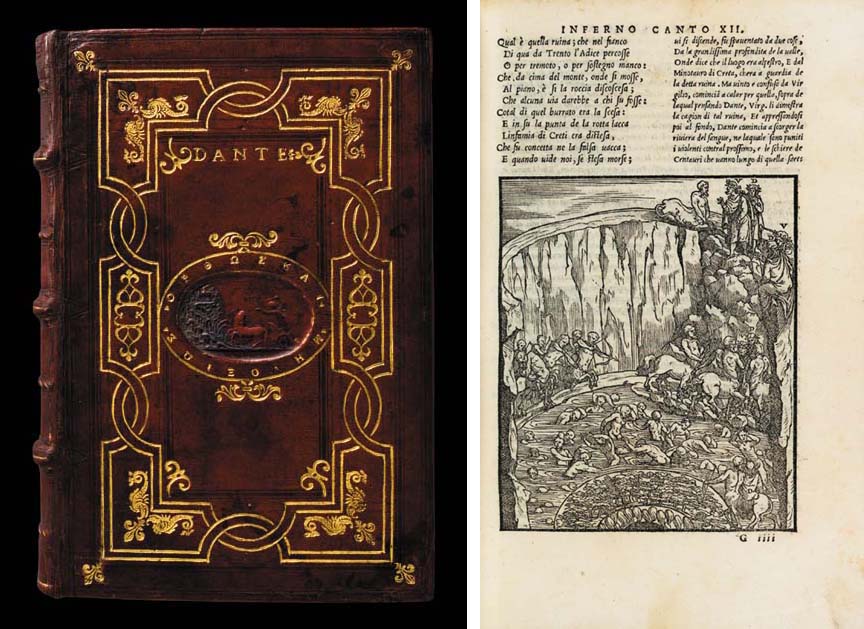 This lot will not be subject to VAT either on the … Read more
DANTE ALIGHIERI (1265-1321). La Comedia. Edited and with commentary by Alessandro Vellutello. Venice: Francesco Marcolini for A. Vellutello, June 1544.
Details
DANTE ALIGHIERI (1265-1321). La Comedia. Edited and with commentary by Alessandro Vellutello. Venice: Francesco Marcolini for A. Vellutello, June 1544.

4° (321 x 152mm). Italic type, roman type for title, headings and headlines. Text with commentary surround, shoulder notes in the prefatory matter, initial spaces with printed guide-letter. 87 woodcut illustrations, including 3 full-page blocks opening Hell, Purgatory and Heaven, and 2 repeats; 3 marginal diagrams. (Without final blank, small repaired wormtrack in BB4 and 8, some spotting and browning, heavier in L3-7 and intermittently from AG to the end.)

Binding: APOLLO-AND-PEGASUS MEDALLION BINDING BY MAESTRO LUIGI FOR GIOVANNI BATTISTA GRIMALDI. Contemporary Roman red morocco over thin pasteboard, sides panelled in blind, gilt double fillet interlace border, corners with dolphins and fleurs-de-lis, arabesque tools at inner corner and side compartments, horizontal Apollo-and-Pegasus medallion impressed in centre of both covers surrounded by Greek motto, traces of gilt remaining, primarily on Pegasus' wings, small leaf ornament in spine compartments, the lower four facing down and the upper four facing up, 3 sets of triple diagonal lines on each board edge, original unwatermarked pastedowns, gilt edges with double dotted gauffering, green and orange headbands. (Parnassus darkened, expert restorations at corners, hinges and some board edges). Modern black morocco box, ownership attributed to Farnese (following G.D.Hobson) on spine (outer corner split).

Provenance: Giovanni Battista Grimaldi (binding; a few marginal annotations, Honorato Grimaldi and Luca scribbled on rear pastedown; contemporary six-line manuscript calculation of currency conversions on blank verso of the colophon leaf may be related to book purchases) -- ?Lomellino family of Genoa (armorial stamp on title so identified by Hobson) -- indecipherable armorial stamp erased from title and first page of text -- Dr. Edoardo Moretta (cf. Hobson, p.15) -- Edouard Rahir (booklabel, sale Paris, 6 May 1931, lot 476) -- Prince Pietro Ginori Conti (bookplate) -- Charles Filippi, Paris (bookplate).

AN IMPORTANT BINDING OF THE ITALIAN RENAISSANCE. Bindings adorned with a distinctive medallion plaquette depicting Apollo driving his chariot towards Pegasus atop Mount Parnassus have long attracted scholars, who have endeavoured to identify the bibliophile responsible for this impressive library. Attributions have ranged from a fictitious papal physician called Mecenate (Libri), to Demetrio Carnevari (Techener), to -- the more convincing but still incorrect -- Pier Luigi Farnese (G.D. Hobson), to Cardinal Alessandro Farnese (Schunke). It was only in 1975 with the publication of Anthony Hobson's magisterial analysis of these bindings that its owner -- the Genoese Giovanni Battista Grimaldi -- and something of its formation have been known. Grimaldi instructed the philosopher, poet, and founding member of a literary academy at Rome devoted to virtù, Claudio Tolomei, to form a complete library, a library finita, containing books to suit Grimaldi's rank, adorn his studio, and enrich his spirit. Tolomei purchased at least 200 volumes and had them bound in Rome with an emblematic Apollo-and-Pegasus medallion -- the device itself a celebration of virtù -- created for Grimaldi.

The present copy of Dante is one of the very books to contain direct evidence linking Grimaldi to this group of medallion bindings, for on its rear pastedown are scribbled the names Honorato Grimaldi and Luca (the name of Giovanni Battista's elder brother, passed on to Luca's grandson and great-great-grandson). It is also one of only eleven Grimaldi books containing annotations in his hand. Hobson identified three Grimaldi binders by name: Maestro Luigi, Niccolò Franzese and Marcantonio Guillery. The Dante was bound about 1545 by Maestro Luigi, who is recorded as binding for the Vatican from 1542 to at least 1565; Cardinal Alessandro Farnese was also among his clients. In Hobson's opinion "the finest bindings with the horizontal plaquettes are by him", citing this Dante as a prime example (p.66).

The present copy of Dante has special significance, as it exemplifies Grimaldi's chief aims in forming his library. Grimaldi, and even more Tolomei, championed Italian poetry, particularly poetry in the Florentine-Tuscan dialect, and Dante, along with Petrarch, was upheld as the Italian national poet. Grimaldi employed a novel conceit in his library by using the colour of leather to distinguish the language of the book: red was used for books in modern languages, and darker colours (green, brown, or black) for classics and history. Furthermore, the Marcolini edition met Grimaldi's requirements that the books be good and of the best printing.

FIRST VELLUTELLO EDITION AND THE FIRST USE OF THIS INFLUENTIAL SERIES OF WOODCUTS. Its treatment is independent of that used in the 1491 series, which had dictated Dante illustration up to the Marcolini edition. As Mortimer points out, the Marcolini series 'are an extension of the commentary, a more instructive form of illustration'. The woodcuts reappeared in Sessa editions in 1564, 1578 and 1596, and 79 of the original 85 blocks were further used in 1696 in Palazzi's Compendio della Comedia di Dante Alighieri (Venice: Albrizzi). They were also widely copied, for instance at Lyons by Rouillé (1551) and at Venice by Morando (1554). Adams D-94; Casali and Servolini, Marcolini, 72; Essling I:2,i, 545; A. Hobson, Apollo and Pegasus, an enquiry into the formation and dispersal of a Renaissance library, Amsterdam: 1975, no.40; Mortimer, Harvard Italian, 146; Sander 2328.

Special Notice

This lot will not be subject to VAT either on the hammer price or the buyer's premium.
;
More from

VALUABLE ILLUMINATED MANUSCRIPTS,BOOKS AND AUTOGRAPH LETTERS