Lot Content
Global notice
COVID-19 Important notice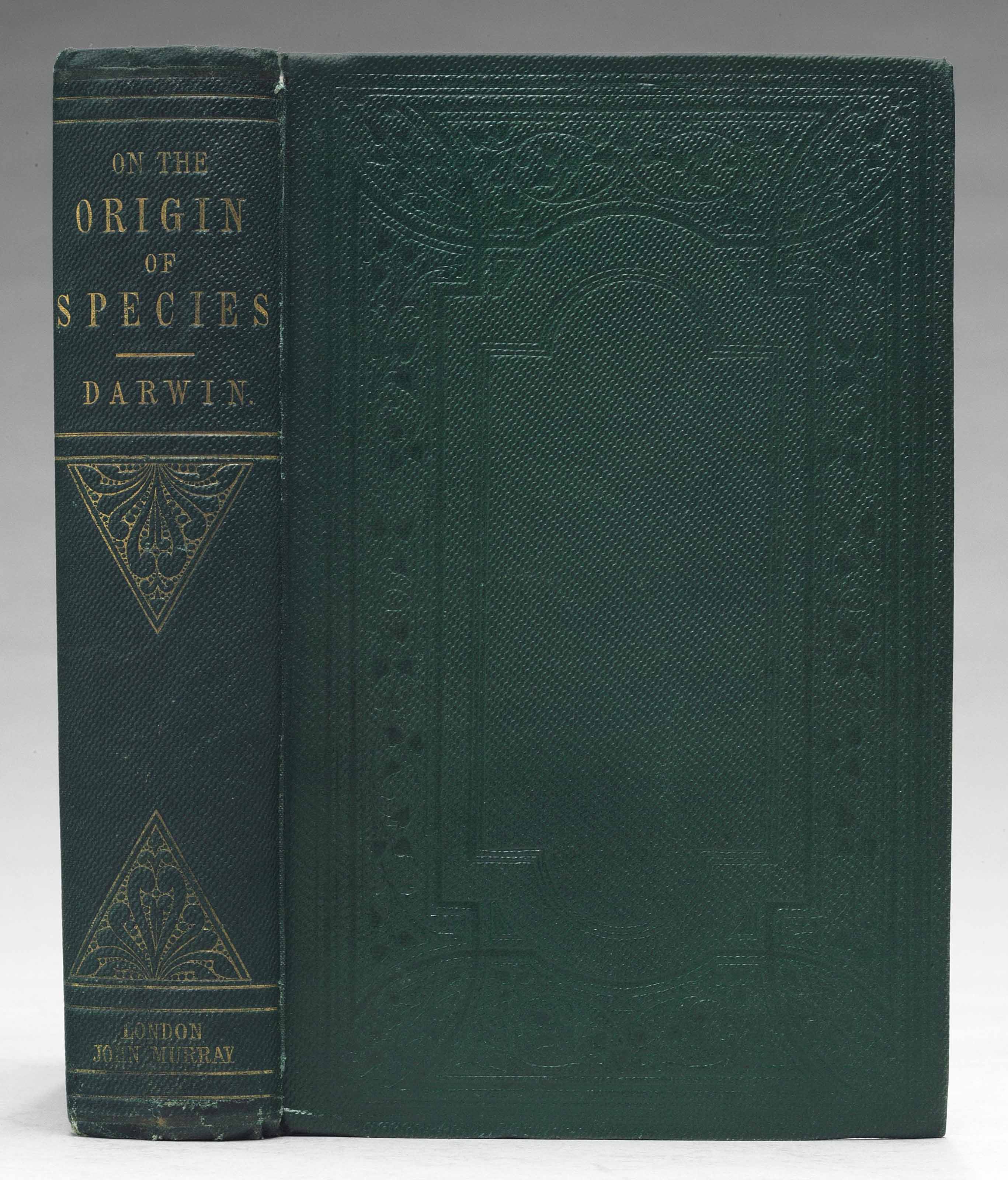 DARWIN, Charles (1809-1882). On the Origin of Species by Means of Natural Selection, or the preservation of favoured races in the struggle for life. London: John Murray, 1859.
Details
DARWIN, Charles (1809-1882). On the Origin of Species by Means of Natural Selection, or the preservation of favoured races in the struggle for life. London: John Murray, 1859.

8° in 12s (197 x 121 mm). 32 pp. publisher's catalogue dated June 1859 [Freeman variant 3] at end. Half-title with quotations from "W. Whewell" and Bacon only on verso. Folding lithographic diagram by William West after Darwin bound to face page 117. (Half-title repaired along gutter margin, a few minor marginal repairs.) Original green cloth, covers decorated in blind, gilt spine [Freeman variant a], brown coated endpapers, uncut (recased, head of spine skilfully repaired); morocco slipcase with inset design of an egg). Provenance: Raymond Epstein (his sale Swann Galleries, 30 April 1992, lot 107); Carol G. and William E. Simon (bookplate).

"A TURNING POINT, NOT ONLY IN THE HISTORY OF SCIENCE, BUT IN THE HISTORY OF IDEAS IN GENERAL" (DSB)

FIRST EDITION OF DARWIN'S MOST INFLUENTIAL WORK. Although some key observations and findings from the voyage of the Beagle acted as his initial inspiration, Darwin's ideas about the beneficial mutation of species did not cohere into the theory of evolution until his reading of Thomas Malthus's Essay on the Principle of Population in the latter half of 1838. The theory which Malthus applied to humans made it clear to him that with species in general competition left only the best adapted to biological life. While the randomness of the process made it irreconcilable with higher design, Darwin nevertheless treated nature anthropomorphically "as a sort of omnipotent breeder who selected the most useful traits" (Adrian Desmond, James Moore and Janet Browne in ODNB). Before moving to Down House, he wrote a 35-page sketch of his evolutionary theory, completed in June 1842. By February 1844 he had converted this into a coherent 231-page essay. There was then a considerable break until late in 1854 when, having finished his barnacle volumes, he returned to collating his notes on species. On 14 May 1856, after consulting Charles Lyell, he began writing an extended treatise aimed at his peers. By March 1858 "Natural Selection" was two thirds complete at 250,000 words, the whole book projected to run to three volumes. Then in June 1858 Darwin received a letter about evolution from Alfred Russell Wallace, who had arrived at similar conclusions independently. This led to papers on the subject by both scientists being read to the Linnean Society of London on 1 July. To stay ahead of the field Darwin had now to publish more rapidly. Urged on by Hooker, he wrote an "abstract" of "Natural Selection," finishing a manuscript of 155,000 words in April 1859. "The book, stripped of references and academic paraphernalia, was aimed not at the specialists, but directly at the reading public." Finally published as The Origin of Species on 24 November 1859 in a print run of 1250 copies, it expounded a theory of evolution that was recognizably superior and of infinitely greater impact than all previous hypotheses explaining biological diversity. With "species" mispelled "speceies" on page 20, with the whale-bear story in full on page 184. Dibner Heralds of Science 199; Heirs of Hippocrates 1724; Freeman 373; Garrison-Morton (1991) 220; Grolier Science 23b; Norman 593; PMM 344b; Sparrow Milestones 49; Waller 10786.

Brought to you by
More from

Books & Manuscripts