Lot Content
Global notice
COVID-19 Important notice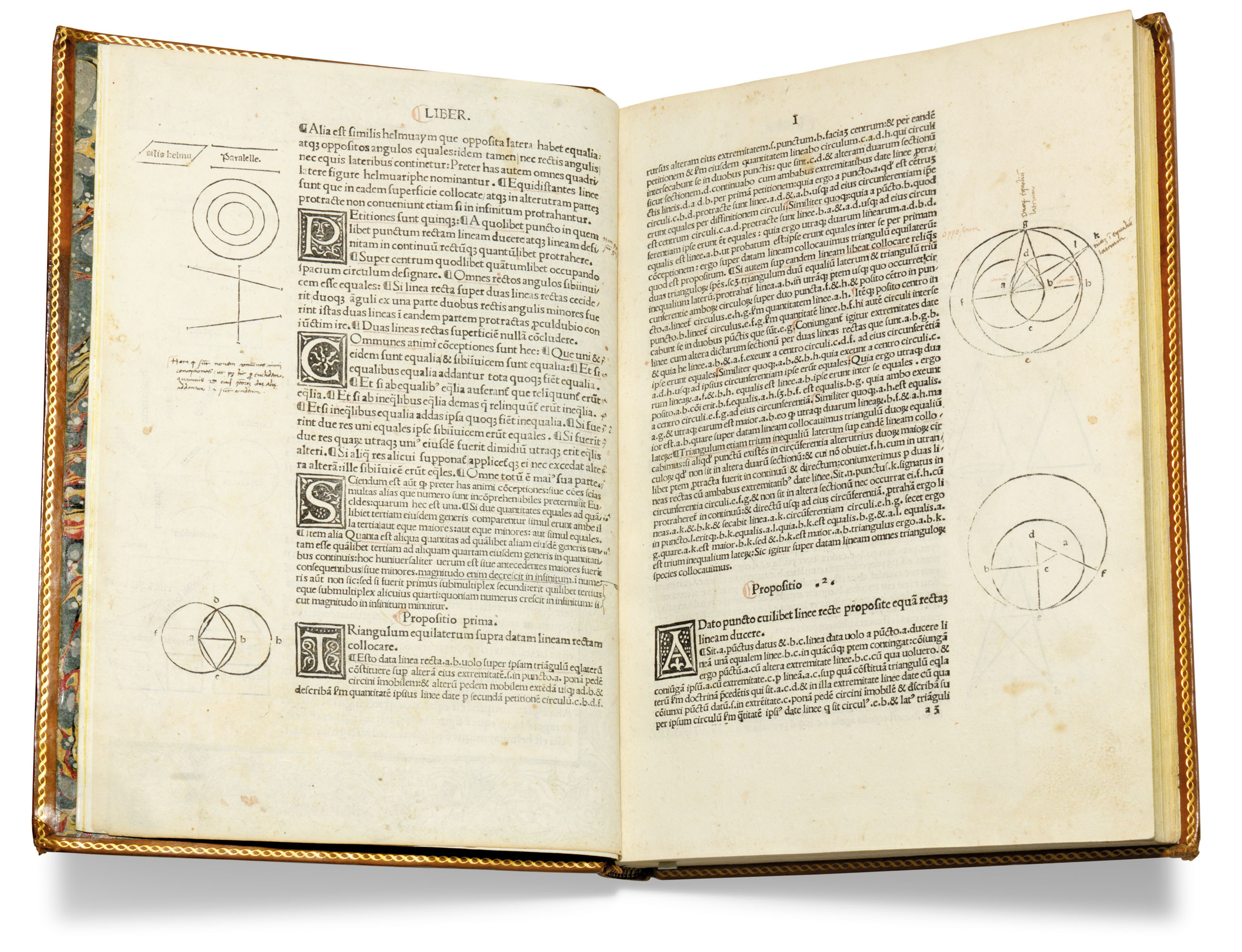 No VAT on hammer price or buyer's premium.
Euclid (fl. c.300 BCE)
ELEMENTA GEOMETRIAE. 1491
Details
Euclid (fl. c.300 BCE)
Elementa geometriae. 1491
EUCLIDES (fl. c.300 BCE). Elementa geometriae. Translated from Greek and Arabic into Latin by Adelard of Bath (fl. 1st half 12th century), revised by Campanus of Novara (d. 1296). Vicenza: Leonardus Achates de Basilea and Gulielmus de Papia, 13 May 1491.

Second edition, rarer than the first, of the standard medieval recension of the text. Euclid's Elements is said to have 'exercised an influence upon the human mind greater than that of any other work except the Bible' (DSB). In printing the first edition in 1482 Ratdolt brilliantly solved the technical problems of relating, if not integrating, illustrations to text, and the Vicenza printers understandably copied his idea, setting short lines to provide adequate space for the diagrams in the right-hand margin. The Vicenza edition is much rarer than Ratdolt's; in the last 45 years only 4 other copies have appeared at auction, including the Honeyman and Beltrame copies. The editio princeps was not published until 1533 (Basel: Johann Herwagen). HC *6694; GW 9429; BMC VII, 1033; Goff E-114; IGI 3723; BSB-Ink E-107; Bod-inc. E-037; Sander 2606; Klebs 383.2; ISTC ie00114000.

Super-chancery folio (308 x 210mm). 136 leaves (of 138, without first and final blanks). 2-line incipit on a2 printed in red, three-sided woodcut historiated border and matching initial P on a2, both heightened in pale red by hand, armorial shield completed, all other woodcut initials white-on-black, numerous woodcut and type-rule diagrams in the margins (border just shaved at lower edge, ink-stain on d4r affecting a few letters, minor damp-staining towards the end, some spotting). 18th-century English polished calf gilt, yellow edges. Provenance: a member of the Lucio family of Vicenza (arms), presumably the original owner – a few contemporary annotations, including to one diagram – Sir George Shuckburgh (armorial bookplate; sale Christie's 24 Nov. 1993, lot 33).

Special Notice

No VAT on hammer price or buyer's premium.
;
More from

Valuable Books and Manuscripts