Auction Results
Global notice
COVID-19 Important notice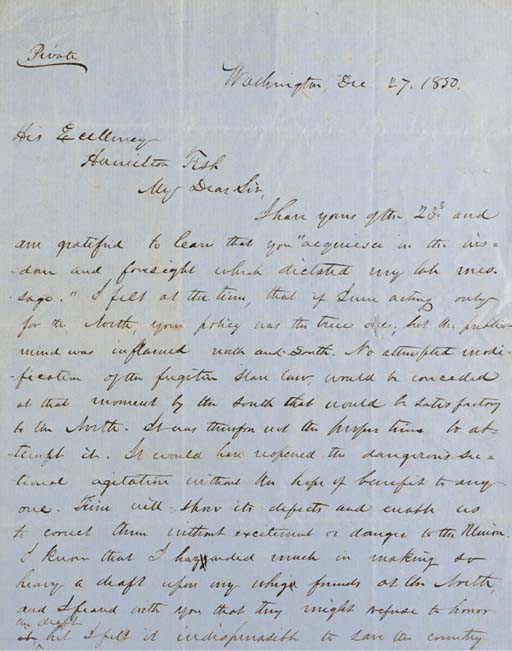 FILLMORE, Millard. Autograph letter signed ("Millard Fillmore"), as President, to Hamilton Fish, 27 December 1850. 3 pages, folio, slight foxing, one deficit on integral leaf, away from text.
Details
FILLMORE, Millard. Autograph letter signed ("Millard Fillmore"), as President, to Hamilton Fish, 27 December 1850. 3 pages, folio, slight foxing, one deficit on integral leaf, away from text.

FILLMORE DEFENDS HIS SUPPORT OF THE FUGITIVE SLAVE LAW: "IT IS A GUARANTY...THAT THE UNION IS SAFE...I FELT IT INDISPENSABLE TO SAVE THE COUNTRY"

A long, highly important letter in which President Fillmore gives fellow New York Whig Hamilton Fish a detailed explanation of his thoughts about the recent passage of the Fugitive Slave Law and speculates on its effects. He is "gratified to learn that you 'acquiesce in the wisdom and foresight which dictated my last message.' I felt...that if I were acting only for the North, your policy was the true one; but the public mind was inflamed North and South. No attempted modification of the fugitive Slave Law would be conceded at that moment by the South that would be satisfactory to the North. It was therefore not the proper time to attempt it. It would have reopened the dangerous sectional agitation without the hope of benefit to anyone."

"Time," Fillmore predicts, "will show its defects and enable us to correct them without excitement or danger to the Union. I know that I hazarded much in making so heavy a draft upon my Whig friends at the North, and I feared with you that they might refuse to honor the draft but I felt it indispensable to save the country and I feel relieved and rejoice that my sentiments have met with such general approbation. It is a guaranty, not only that the Union is safe, but that the Whig party will be a unit."

Fillmore is pleased that the bill is received well back in his home state of New York, and has hopes it will foster Whig unity there. But he also feels "that my political career is at an end. I have received more than I deserved; and I am content to retire; but both...you [and N. Y. governor Hunt] have a bright political prospect before you. If the Whig Party can be made National it will be triumphant. Let the reward be yours." He then goes on to discuss patronage matters in New York, and hopes that "appointments by the Canal Board as well as in organizing the Assembly, will be such as to show that one faction is not preferred to the other."

The Fugitive Slave Law saved neither the Union nor the Whig Party. The calm reconsideration of that law's defects never came about, as protests against the measure roiled the streets of Boston, and outraged Southerners. We can see in Fillmore's words about "reopening the dangerous sectional agitation," the fatal error shared by so many American politicians of the day--the notion that slavery was a problem only because people kept arguing about it, and if they stopped arguing, there would be no problem. No one--until Lincoln--had the courage to see that there were fundamental moral as well as economic and political issues at stake, for the problem was just too great for politics as usual.

Fillmore, on the other hand, saw his job as President--and as a good Whig Party man--as that of deflecting this dangerous issue and keeping it from rising to national prominence. Parties should not be engines of "agitation," he believed, but should express a general national philosophy, leaving state and local organizations to carry out the bread-and-butter work of filling places, running Canal Boards and "organizing the Assembly." Indeed, Fillmore's decision to run as the "Know Nothing" candidate for President in 1856 was not so much an endorsement of their anti-immigrant and anti-Catholic views, as it was a last gasp at finding the kind of unifying, national party the Whigs had failed to become. The Know Nothings, he said at the time, offered the "only hope of forming a truly national party, which shall ignore this constant and distracting agitation of slavery" (American National Biography).

;
More from

The Forbes Collection of American Historical Documents: