Auction Results
COVID-19 Important notice
Read More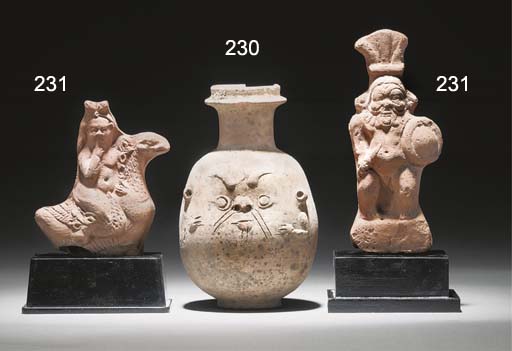 VAT rate of 5% is payable on hammer price plus buyer's premium
FIVE ROMANO-EGYPTIAN TERRACOTTA FIGURES
CIRCA 1ST CENTURY B.C./A.D.
Details
FIVE ROMANO-EGYPTIAN TERRACOTTA FIGURES CIRCA 1ST CENTURY B.C./A.D. Comprising a warrior figure of Bes, holding sword and shield; Harpocrates riding a goose; Artemis, wearing a moon crescent, holding a torch; Hercules and a goat; and a small figure of a standing orant/Harpocrates, finger to open mouth 7½ in. (19.2 cm.) high max. (5)
Special Notice

VAT rate of 5% is payable on hammer price plus buyer's premium
Sale Room Notice
The provenance should read: formerly in the Maurice Nahman collection.

;
More From

Antiquities, Including an English Private Collection of