Upcoming Auctions and Events
COVID-19 Important notice
Read More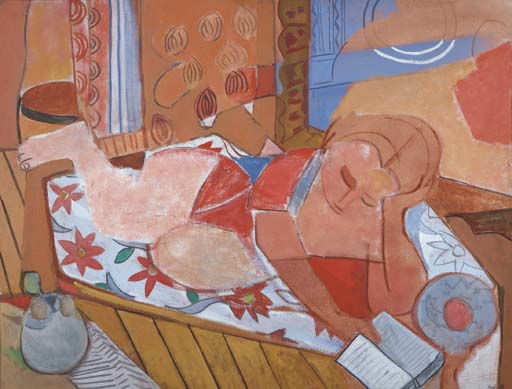 PROPIEDAD DE UNA IMPORTANTE COLECCIÓN
FRANCISCO BORÉS (MADRID, 1898 - PARÍIS, 1972)
La femme blonde
Details
FRANCISCO BORÉS (MADRID, 1898 - PARÍIS, 1972) La femme blonde firmado y fechado áng. inf. dcho: Borés 37 titulado en el reverso: La femme blonde óleo sobre lienzo 89 x 116 cm. Pintado en 1937.
Provenance
Galerie Simon (Antigua Galerie Kahnweiler), París.
Buchholz Gallery, Nueva York.
Colección Saidie A. May, Baltimore.
Baltimore Museum of Art, E.E.U.U.
Christie's Nueva York, 15 mayo, 1990, lote 162.
Colección privada, Madrid.

Literature
F. Castro Flóres, El instinto lírico de Borés, Abc Cultural, núm. 399, Madrid, 1999, il. pág. 40.
Bores total y esencial, Época, Madrid, 4 octubre 1999, il. pág. 74.
J. Dutton, The sensual act, Guidepost, Madrid, 8 octubre 1999.
S. Sánchez, La aspiración lírica de Borés, El Correo de Andalucia, Sevilla, 9 octubre 1999, il. pág. 11.
Francisco Borés, Catálogo Razonado de Pintura, Museo Nacional Centro de Arte Reina Sofía, Telefónica, Madrid, 2003, Tomo I, núm. 1937/11, il. pág. 320.

Exhibited
Nueva York, Buchholz Gallery, 1939.
Sevilla, Caja de San Fernando Sevilla-Jerez, Generación del 27. Artistas en los años de preguerra, 1997, il. pág. 49. Ésta exposición viajó a Granada, Fundación Caja de Granada, 1997, il. pág. 49.
Madrid, MNCARS, Borés Esencial, 1999, il. 37, pág. 116.

;
More From

The Spanish Sale, The Westin Palace Hotel, Madrid