Lot Content
Global notice
COVID-19 Important notice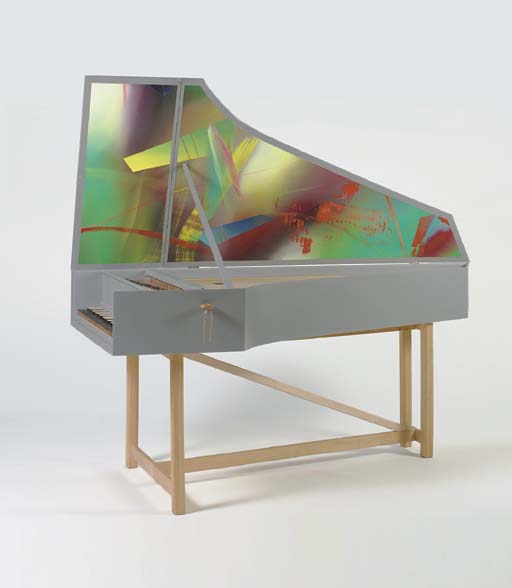 On occasion, Christie's has a direct financial int… Read more
PROPERTY OF A DISTINGUISHED PRIVATE COLLECTOR
Gerhard Richter (b. 1932)
For Johann Joseph Fux
Details
Gerhard Richter (b. 1932)
For Johann Joseph Fux
signed, titled, numbered and dated ''Für Johann Joseph Fux' Nr. 524-3 Richter 1983' (on the edge of the lid)
oil on harpsichord
closed: 35½ x 80 x 36 in. (90.2 x 203.2 x 91.4 cm.)
open: 70 x 80 x 36 in. (177.8 x 203.2 x 91.4 cm.)
Executed in 1983.

Provenance
Acquired from the artist, 1983
Anon. sale; Christie's, London, 29 June 1999, lot 46
Acquired at the above sale by the present owner

Literature
J. Harten, Gerhard Richter Bilder: Paintings 1962-1985, Cologne, 1986, pp. 281 and 397, no. 524-3.
Gerhard Richter, Werkübersicht/Catalogue Raisonné 1962-1993, Osterfildern-Ruit, 1993, p. 175, no. 524-3 (illustrated in color).

Special Notice

On occasion, Christie's has a direct financial interest in lots consigned for sale. This interest may include guaranteeing a minimum price to the consignor of property or making an advance to the consignor which is secured solely by consigned property. Such property is offered subject to a reserve. This is such a lot.
;
More from

Post-War and Contemporary Art (Morning Session)