Lot Content
Global notice
COVID-19 Important notice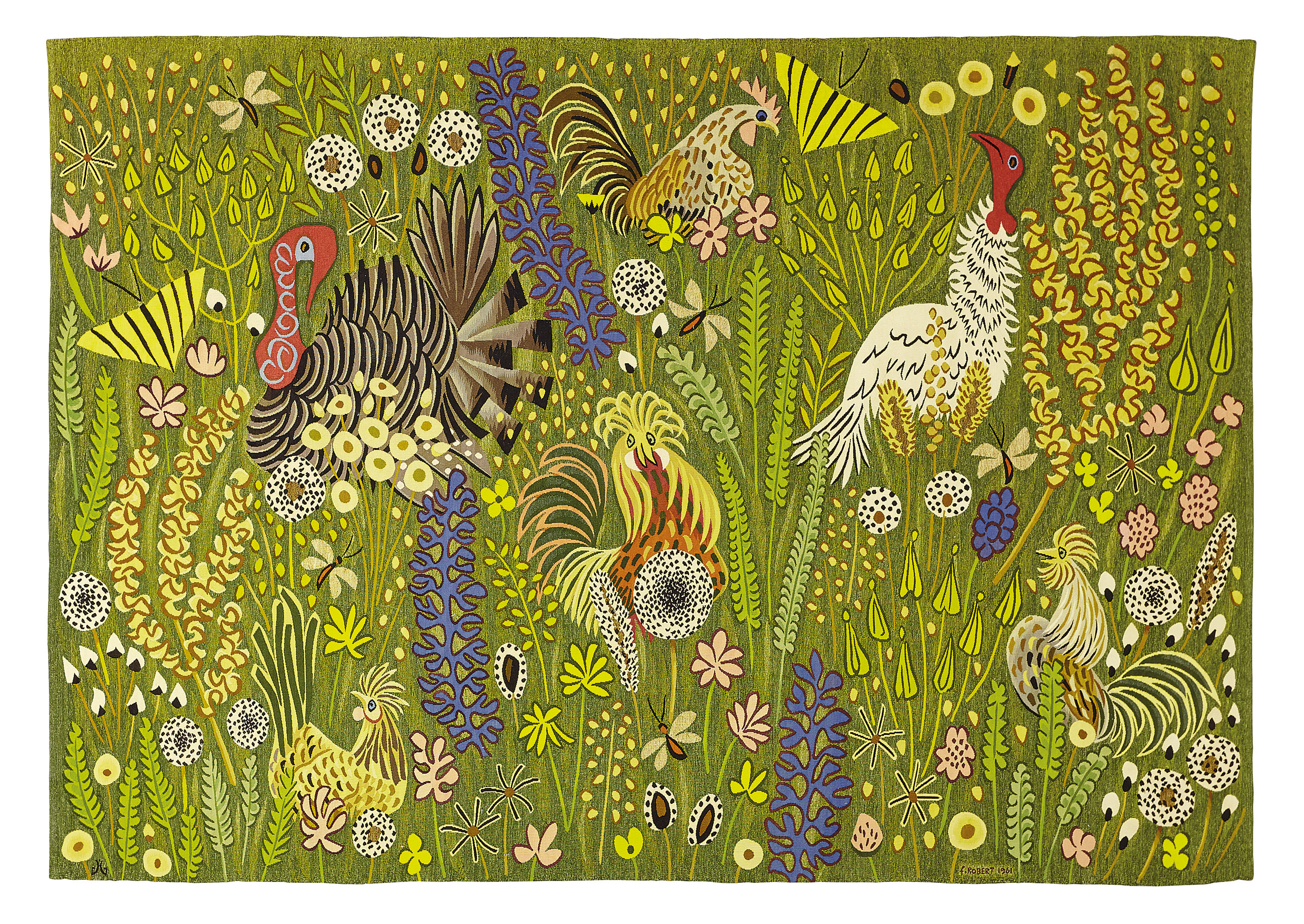 Lot transferred to an external warehouse. Please f… Read more
« Il n'y a qu'une chose qui ne trompe pas, c'est la nature. La nature, c'est le vrai, le réel »Dom Robert En 1941, Jean Lurçat fait la connaissance d'un jeune moine bénédictin dans l'Abbaye d'En Calcat. Rentré dans les ordres en 1937 suite à sa rencontre avec le compositeur et moine Maxime Jacob, Dom Robert dessine depuis toujours. Les paysages champêtres de son Poitou natal l'accompagnent en chaque instant et la nature est son sujet de prédilection. Lurçat découvre chez l'homme de foi la puissance simple de ses aquarelles et enluminures et l'encourage à s'essayer à la tapisserie en traduisant certaines de ses aquarelles en cartons. Deux créations sont rapidement exposées au Musée des Augustins de Toulouse et rencontrent un succès immédiat confirmé en 1950 lors d'une exposition londonienne. Revenu en 1958 à En Calcat après un séjour en Angleterre, Dom Robert se consacre avec passion à l'art de la tapisserie jusqu'à ce qu'une chute ne mette fin à son activité en 1994. Créée en 1961, peu après son retour à l'abbaye, l'œuvre Mille fleurs sauvages reprend une thématique déjà explorée dans une tapisserie de plus petite taille L'Herbe Haute (1961). Dom Robert se saisit ici de la tradition des tapisseries mille-fleurs qui émerge au XIVe siècle, lorsque les lissiers peuplent le fond de leurs tentures d'une végétation luxuriante, probablement afin de rompre la monotonie de grandes surfaces unies. Ici, le fond en floraison de l'œuvre prend le pas sur les animaux domestiques les insérant dans un paysage sauvage, un monde paradisiaque encore inexploré. "There's only one thing that doesn't deceive, and that's nature. Nature is true, it's real."Dom RobertIn 1941, Jean Lurçat met a young Benedictine monk at the Abbeye d'En Calcat. Having become a member of the Order in 1937 following his meeting with the composer and monk Maxime Jacob, Dom Robert never stopped drawing. The rural landscapes of his native Poitou were never far from his thoughts and nature was his favourite subject. Lurçat discovered the simple power of the watercolours and illumination of this man of faith and encouraged him to try his hand at tapestry by translating some of his watercolours into cardboard. Two such creations were soon exhibited at the Musée des Augustins in Toulouse where they met with immediate success, which was confirmed in 1950 at an exhibition in London. Returning to En Calcat in 1958 after a stay in England, Dom Robert devoted himself enthusiastically to the art of tapestry until a fall put an end to his work in 1994. Created in 1961, shortly after his return to the abbey, the work Mille Fleurs Sauvages takes up a theme already explored in a smaller tapestry L'Herbe Haute (1961). Dom Robert embraces here the tradition of the mille-fleurs tapestries which emerged in the 14th century, when weavers populated the background of their hangings with lush vegetation, probably in order to break the monotony of large plain surfaces. Here, the flowering background of the work takes precedence over the domestic animals, placing them in a wild landscape, a paradisaical world hitherto unexplored.
GUY DE CHAUNAC-LANZAC DIT DOM ROBERT (1907-1997)
TAPISSERIE 'MILLE FLEURS SAUVAGES', LE MODÈLE CRÉÉ EN 1961
Details
GUY DE CHAUNAC-LANZAC DIT DOM ROBERT (1907-1997)
Tapisserie 'Mille fleurs sauvages', le modèle créé en 1961
Laine / wool
200 x 290 cm / 78 ¾ x 114 1/8 in
Signée F.ROBERT, datée 1961 en bas à droite et portant le monogramme de l'atelier Goubely-Gatien GG en bas à gauche

Provenance
Collection de la famille de l'artiste, Aix-en-Provence.
Literature
J.-M. Pelt, La clef des champs : Dom Robert, édition de l'Abbaye d'En Calcat, Toulouse, 2003, p. 100.
F. Boespflug et D.-M. d'Hamonville, T. Portevin, Les saisons de Dom Robert : tapisseries, Haza, Paris, 2014, p. 104-105.
Special Notice

Lot transferred to an external warehouse. Please find more information about storage costs and the collection address in our General Terms and Conditions.
Post Lot Text
GUY DE CHAUNAC-LANZAC,又称DOM ROBERT(1907-1997),挂毯,"一千朵野花",创作于1961年;羊毛
Brought to you by
Flavien Gaillard
Head of Department