Overview
Global notice
COVID-19 Important notice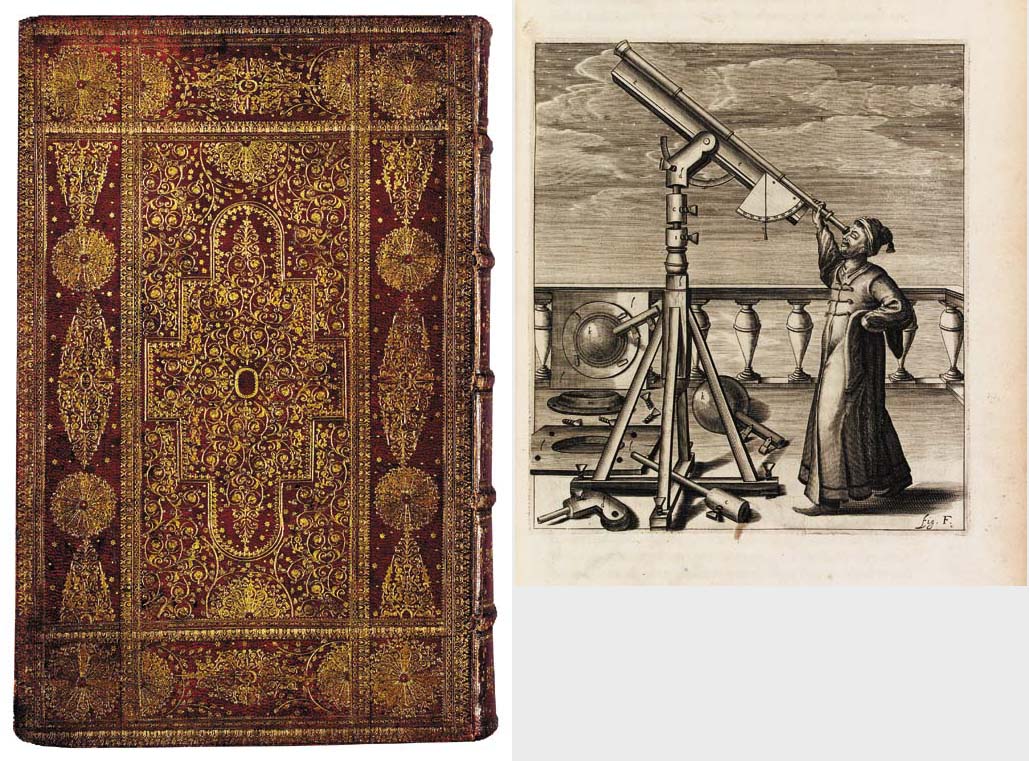 This lot will not be subject to VAT either on the … Read more
HEVELIUS, Johannes (1611-87). Selenographia. Danzig: Andreas Hünefeld for the author, 1647.
Details
HEVELIUS, Johannes (1611-87). Selenographia. Danzig: Andreas Hünefeld for the author, 1647.

2° (345 x 221mm). Half-title, title in red and black. Engraved frontispiece by Jeremias Falck after Adolf Boy, engraved author portrait by J. Falck after Helmich von Twenhusen the Younger, 111 engraved plates by Hevelius (16 leaves printed recto and verso), including one with volvelle and 3 double-page, 26 text engravings, one double-page letterpress table of eclipses. (Light dampstain at upper margin, not discernible towards the end, occasional small spots.) Contemporary red morocco elaborately tooled in gilt, sides panelled, compartments filled with scrolling floral vines, lozenges and half-lozenges and full and half-fans of massed tooled, small stars and dots, spine similarly tooled, lettered in second compartment, gilt edges (some darkening, some wear along spine, restorations at extremitites), modern red morocco-backed solander case. Provenance: R. Walker (flyleaf and title inscription, dated 1670) -- Thomas Heatley, iron-monger of London (large letterpress bookplate recording his gift to:) -- Christ's Hospital, Mathematical School, 1700 -- Philadelphia, Pa., Franklin Institute (booklabel) -- the present owner (purchased from Martin Breslauer Inc., cat. 111, no. 203).

FINE COPY OF THE FIRST EDITION OF THE FIRST COMPLETE LUNAR ATLAS, IN A DANZIG BINDING BY ANDREAS HüNEFELD. Interestingly, this is one of three copies specially bound by the printer, Hünefeld, for presentation in England. Nixon had noted two copies in special red morocco bindings presented to the Universities of Oxford and Cambridge, which he tentatively attributed to Danzig. Breslauer furthered this attribution by observing that Hünefeld was a bookbinder as well as a printer, and that he repeatedly held the office of Elder of the guild of bookbinders at Danzig. Although the original recipient of the present copy is not known, it was certainly in England by 1670, when R. Walker signed the flyleaf. Cf. Howard Nixon lecture 'Quelques reliures d'un interêt particulier pour les polonais dans les bibliothèques anglaises', Warsaw: 1985; Breslauer cat. 111, op.cit.; Benzing, Buchdrucker, 1982, p.78.

Hevelius's first important work, the Selenographia contains the results of 4-years' observations from the specially built observatory (at one point the finest in the world) at his house in Danzig, using instruments of his own construction. Hevelius describes his instruments in detail, recounts his observations of the planets and discusses lunar markings and the movement of libration (an irregularity of the moon's motion). His observations of the lunar eclipse on 4 November 1649 are contained in an appendix between pp.548-549. The Selenographia ends with a description of a mounted lunar globe, 'perhaps the first of its kind, permitting the representation of librational movements' (DSB). Many of the names given to lunar features by Hevelius are still in use. The fine engravings depicting his instruments and lunar maps are by his own hand. Brunet III, 150.

Special Notice

This lot will not be subject to VAT either on the hammer price or the buyer's premium.
;
More from

VALUABLE ILLUMINATED MANUSCRIPTS,BOOKS AND AUTOGRAPH LETTERS