Browse Lots
COVID-19 Important notice
Read More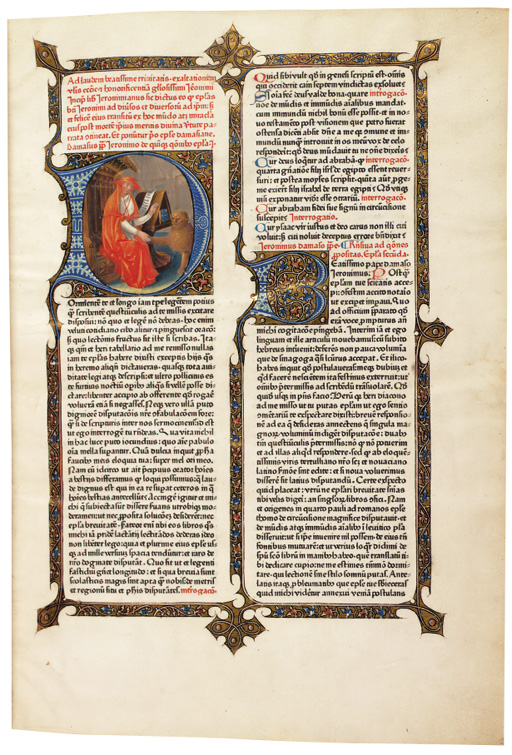 No VAT will be charged on the hammer price, but VAT at 17.5% will be added to the buyer's premium which is invoiced on a VAT inclusive basis.
HIERONYMUS (St., c.342-420). Epistolare. Edited by Adrianus Brielis (d.1472). Mainz: Peter Schoeffer, 7 September 1470.
Details
HIERONYMUS (St., c.342-420). Epistolare. Edited by Adrianus Brielis (d.1472). Mainz: Peter Schoeffer, 7 September 1470. PRINTED ON VELLUM. Imperial 2° (460 x 321mm). Collation: volume I: [14 2-510 68(7+1) 7-1910 208 216(5+1)] (1/1 Introductio, register, 1/4v blank, 2-6 Distinctiones I-II, 7-12 Distinctio III, 13-16 Distinctio IV(i), 16/10v blank, 17-21 Distinctiones IV(ii)-V, 21/6v blank); volume II: [22-2410 256(5+1) 26-2810 298 306 314(3+1) 32-3410 3512(7+1) 36-4210 4310(9+1)] (22-25 Distinctio VI, 25/6v blank, 26-31 Distinctiones VII-XI, 31/4v blank, 32-39 Distinctio XII(i), 40-43 Distinctio XII(ii)). 408 leaves; 35 leaves supplied from two other copies, presumably at time of binding by Derome (see note on decoration). 56 lines, double column. Type: 5:118G. Red-printed rubric headings (except in quire 2, where the headings are supplied in a contemporary hand in red ink), colophon and Fust-Schoeffer device printed in red on final page. DECORATION: Three copies may be distinguished, based on differences in decoration: 1) the majority of the sheets belong to one copy, which has been decorated by a contemporary south Netherlandish artist. Two Distinctio initials (Distinctiones XI, XII) have fine, historiated miniatures. Remaining Distinctio initials are in pink or blue with white patterning on a gold ground, floral and foliate infill of the ground in pink, blue and white, leafy extensions. The epistle initials are in interlocking gold and blue with flourished penwork extensions in red and purple ink. Small initials and paragraph marks alternate in red or blue. 2) 27 leaves (2/1-2, 3/5.6, 4/1.10, 7/4.7, 15/1.10, 21/1.6, 22/1, 23/1.10, 24/5.6, 29/2.7, 34/5.6, 43/3-8) with illuminated initial opening Distinctio VI (volume II), headline initial in red or blue, yellow capital strokes. First leaf of text (2/1r) illuminated with large, historiated initial depicting St. Jerome in his study, smaller foliate initial and full baguette border. The copy from which these leaves derive (see Provenance) was decorated by a contemporary French artist. The historiated initial was added at Paris about 1500-1510, and the smaller initial and border decoration on the same leaf was added at about the same time by a different French artist working in an archaic style in imitation of other French illumination in the volume, such as the initial opening vol. II. 3) Leaves 2/3-10 have contemporary Flemish or German decoration: the epistle initials in gold on blue and magenta ground with white patterning, painted over lombard initials in red, red capital strokes. BINDING: green morocco gilt, triple fillets around sides, spine in 8 compartments, lettered in second and third compartments, roll-tooled turn-ins, pink silk endpapers, pink silk ribbon markers, gilt edges, by Nicolas-Denis Derome le jeune (d.1788), with his ticket on first leaf, giving the address at 65 rue St. Jacques. (Extremities very lightly scuffed, lower cover of volume II stained.) Modern tan morocco slipcases. PROVENANCE: stamp erased from first leaf; Charles duc de Rohan, Prince de Soubise (sale January 1789, no.902, 1000 livres: 'Rare et préférée à la première'); Count Justin MacCarthy-Reagh (sale, pt.I, Paris, 1815, lot 536, 1200FF; and cf. Van Praet Vélins du roi I, no. 377 citing this copy as a 'superbe exempl. avec de belles miniatures et des initiales peintes en or et en couleurs'); Prince Michel Galitzin (1804-1860, Catalogue des Livres de la Bibliothèque du Prince Michel Galitzin, Moscow: 1865, no.956, stating that, owing to Count MacCarthy's addition of leaves, 'un des plus parfaits exemplaires connus'); Sir Robert Abdy (April 26 1976, lot 171); anonymous sale, Claude Guérin and Dominique Courvoisier, experts, Paris, 21 June 1985, lot 65). THE SOUBISE-MACCARTHY-GALITZIN-ABDY COPY OF THE FIRST EDITION OF THE ENLARGED RECENSION of the letters and tractates of St. Jerome. The previous four editions had contained between 70 and 130 letters. In the pre-publication broadside announcing his edition, Peter Schoeffer boasted that his would include more than 200, the result of extensive searches in ecclesiastical and monastic libraries. Schoeffer's Jerome was a labour-intensive project. Not only was its editor, Adrianus Brielis, a Benedictine monk at Mons St. Jacobi, outside Mainz, able to increase its contents considerably, but its production required extra care. The rubric headings were printed in red, rather than supplied in manuscript, so that each page with rubrics went through the press twice: first to print the text in black, and second to print the rubrics in red. (Cf. Joseph A. Dane, 'Two-Color Printing in the Fifteenth Century as Evidenced by Incunables at the Huntington Library,' Gutenberg-Jahrbuch, 1999, pp.130-145.) Considerable effort was also made in correcting the printed text, as witnessed by the insertion of numerous manuscript corrections in the printing house, possibly by the editor Brielis or on his instruction. In her on-going study of this edition, Dr. Lotte Hellinga has found that many of these corrections were incorporated in resettings of 151 (of the 408) leaves, all but 23 of which occur in the second volume. She speculates that the double setting may reflect the need to speed up completion, perhaps in order to meet the already-advertised publication date of 29 September, appropriately, the eve of the feast of St. Jerome. Two states are also found for the preface and colophon, differences which led Hain to desdribed them as two different editions. Dr. Hellinga argues that the two states represent two distinct issues. The present copy has the preface beginning 'Omnes christiane religiones homines...' (second state), but has quire 13 in the first state. (Cf. L. Hellinga, 'Editing Texts in the First Fifteen Years of Printing,' New Directions in Textual Studies, eds. D. Oliphant and R. Bradford, 1990, 127-49; 'Peter Schoeffer and his organization: a bibliographical investigation of the ways an early printer worked,' Biblis Yearbook, ed. G. Jonsson, Stockholm: 1995-96, 67-106.) A FINE, BIBLIOPHILE COPY WITH AN EXCEPTIONALLY DISTINGUISHED PROVENANCE. The first identifiable owner was Charles, duc de Rohan, Prince de Soubise, the kernel of whose collection was formed by his forebear, M. de Menars, in the 17th century. At the sale of the Soubise collection in 1789 it was acquired by Count MacCarthy-Reagh, who proudly proclaimed in his own catalogue that he had taken advantage of the opportunity to exchange some of his less beautiful leaves with more beautiful ones from an incomplete copy then in the possession of the London bookseller Edwards. The copy then passed to Prince Michel Galitzin, who appreciated MacCarthy's efforts and considered the volumes one of the most perfect known. Vellum copies are considerably rarer than paper copies: of the 89 copies currently recorded in ISTC, only 15 are on vellum. The vellum copies, like the paper copies, are fairly evenly divided between the two issues or states. The present is a large copy, preserving (where appropriate) 2 sets of 4 pinholes, representing up to eight pulls through the press per sheet for the two-colour printing. H *8554; BMC I, 26 (C.11.e.13,14); CIBN H-99; Polain(B) 1947; Van Praet, Vélins du Roi I, 377-378; Goff H-165. Christie's is grateful to Dr. Lotte Hellinga for generously sharing her on-going research into this edition. (2)
Special Notice

No VAT will be charged on the hammer price, but VAT at 17.5% will be added to the buyer's premium which is invoiced on a VAT inclusive basis.
;
More From

Important Manuscripts & Printed Books