Browse Lots
Global notice
COVID-19 Important notice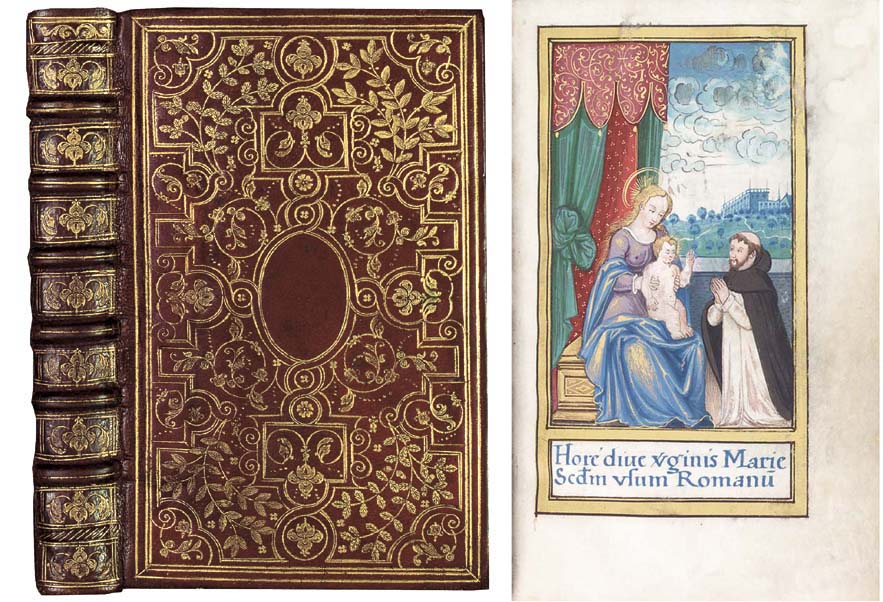 No VAT on hammer price or buyer's premium
HORAE, use of Rome. Paris: Gilles Hardouin for Germain Hardouin, 9 August 1514.
Details
HORAE, use of Rome. Paris: Gilles Hardouin for Germain Hardouin, 9 August 1514.

PRINTED ON VELLUM, 8° (166 x 105mm). Collation: A-O8. Roman type. 28 lines. 111 leaves (of 112, first leaf (title, Hardouin device) replaced by a CONTEMPORARY FULL-PAGE MINIATURE of a Dominican friar kneeling before Virgin and Child with manuscript title in blue). 16 large and 28 small metalcuts, ALL ILLUMINATED IN GOLD AND COLOURS BY A CONTEMPORARY HAND, full-page Hardouin device on final verso, floral border on gold ground to each page except those with large metalcuts, liquid-gold initials and line-filler on magenta or blue ground, yellow capital strokes, ruled in red. French red morocco gilt by the 'coeur empanaché' workshop, c.1570 tooled to a fanfare design [Hobson Fanfare, Additions, no. 37a], vellum endleaves (2 at front, 3 at back), gilt edges (discreet repairs at corners and spine, a few minor scrapes expertly repaired, pair of new vellum endpapers at each end); modern brown morocco pull-off case. Provenance: early inscription erased from final verso -- Kennedy (ascription on pastedown) -- Thomas Jefferson Coolidge Jr. (bookplate) -- Cambridge, Mass., Episcopal Divinity School.

Although ascribed on the pastedown to Clovis Eve, the present fanfare binding shares tools with others assigned by G.D. Hobson to the 'coeur empanaché' bindery, active in the early 1570s and among whose patrons were Emperor Maximilian II, his son-in-law Charles IX, and Henri III. Brunet Heures 243; Lacombe 251; Van Praet, Bib. du roi, I, no.132 (calling for 100 lvs. only and 13 large miniatures).

Special Notice

No VAT on hammer price or buyer's premium
;
More from

Valuable Printed Books & Manuscripts,incl.Natural History