Browse Lots
Global notice
COVID-19 Important notice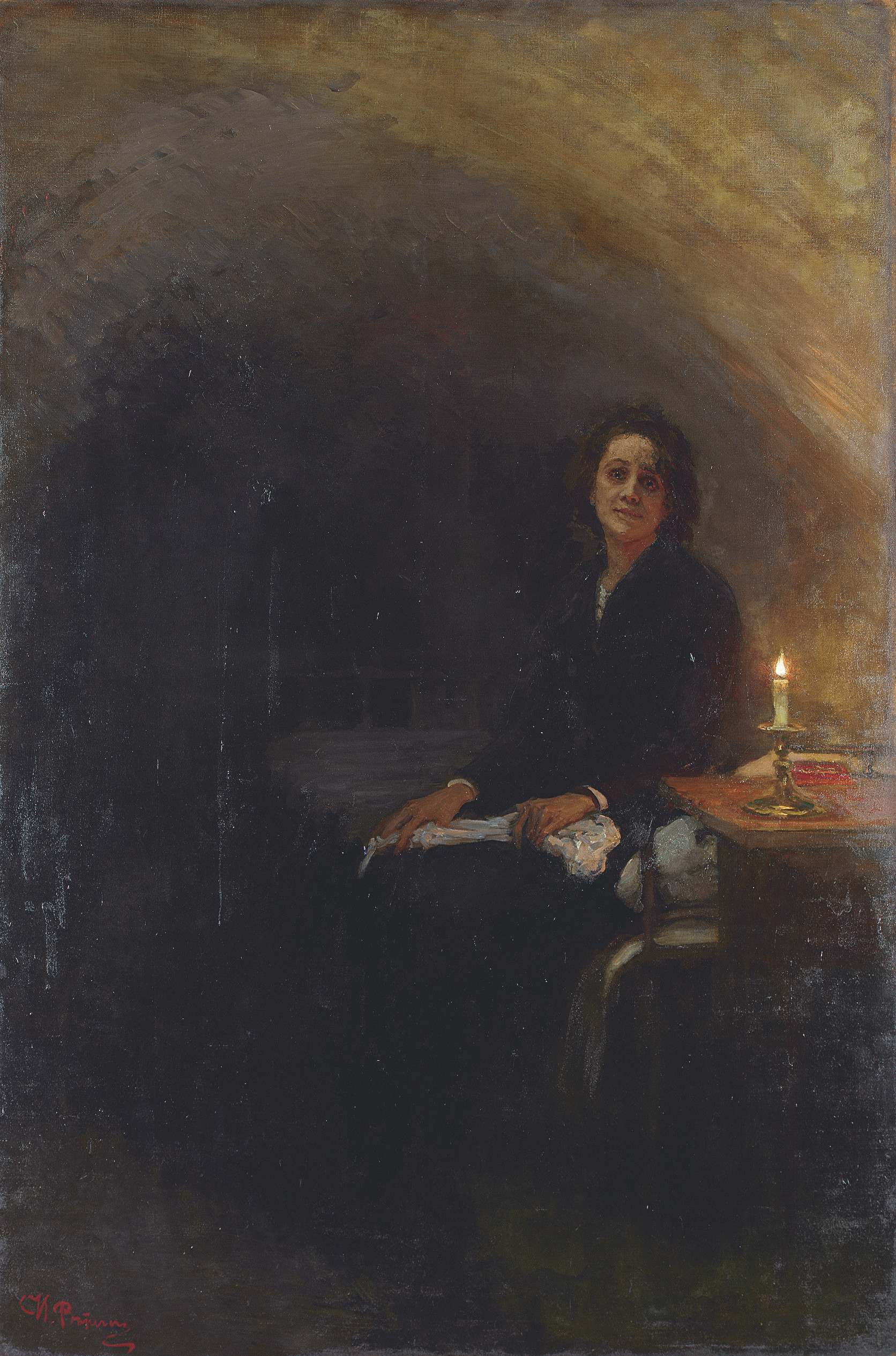 Il'ia Efimovich Repin (1844-1930)
Toska
Details
Il'ia Efimovich Repin (1844-1930)
Toska
signed in Cyrillic 'I. Repin' (lower left)
oil on canvas
82¾ x 55¼ in. (210.2 x 140.3 cm.)

Literature
I. E. Grabar' and I. S. Zil'bershtein, Repin, Moscow, 1948, II, pp. 173 - 177, illustrated.
D. V. Sarab'ianov, Narodno-osvoboditel'nye idei russkoi zhivopisi vtoroi poloviny XIX veka, Moscow, 1955, p. 180.
A. Hilton, 'The revolutionary Theme in Russian Realism', in H. Millon and L. Nochlin, eds., Art and Architecture in the Service of Politics, Cambridge Mass., 1978, pp. 109 - 110, 115, illustrated p. 112. D. Jackson, The Wanderers and Critical Realism in 19th Century Russian Painting, Manchester, 2006, p. 71 - 72.

Exhibited
St. Petersburg, Exhibition of the Art Works of Russian and Foreign Artists, Society for the Encouragement of the Arts, 1896 - 97.
Copenhagen, International Art Exhibition, 1897.
Moscow, 26th Exhibition of the Wanderers, 1898, no. 149.

Post Lot Text
Il'ia Repin's cycle of revolutionary themes are well known and form a core component of the more notorious critical output of the Peredvizhniki. Through seminal images such as 'A Secret Meeting' (1883), 'The Arrest of a Propagandist' (1880-89), 'They Did Not Expect Him' (1883; 1888) and 'Spurning Confession' (1879-1885 - all in the Tretyakov Gallery, Moscow), Repin courted critical controversy and official opprobrium. This series of daring canvases addressed the volatile and increasingly desperate developments of contemporary political events, as social activism gave way to terrorism, culminating in the assassination of Tsar Aleksandr II in 1881.

Whilst these and related works have been extensively discussed and analyzed over the years, 'Toska,' perhaps better known as 'Revolutionary Woman Awaiting Execution,' has remained relatively unknown and enigmatic. During Repin's lifetime the painting's explosive content rendered it highly problematic, and indeed, Repin did not seek to exhibit it for over a decade, and only then, with a change of title that diffused and disguised its revolutionary origins. Thereafter, it was long thought lost until it was located by the art historian Dmitry Sarab'ianov in 1955 in the National Gallery in Prague (D. V. Sarab'ianov, Narodno-osvobogitel'nye idei russkoi zhivopisi vtoroi poloviny XIX veka, Moscow, 1955, p. 180). As part of the post-communist restitution in the Czech Republic, it later reverted to private ownership and until now has rarely been seen or reproduced in color.

In ethos the work is closely connected with Repin's earlier 'Spurning Confession,' a darkly chiaroscuro canvas owing a stylistic debt to Old Masters such as Rembrandt, but applied to an explosive, highly emotive and modern theme. Like 'Spurning Confession,' 'Toska' configures the female activist not in heroic terms or in comradely union, but as a lone and isolated individual suffering the consequences of a sacrificial political altruism. The depiction of a revolutionary figure as female was historically accurate. Police records show that 25 of political activists during the 1870s were women, and when activity moved toward terrorist acts, women continued to be involved. A third of the members of Narodnaia Volia, the organization that planned the Tsar's assassination, was women, as was the director of its executive committee, Sofiia Perovskaia. But to address these subjects in the visual arts was potentially hazardous, as the artist Nikolai Yaroshenko found when he was placed under house arrest following the ban of his 1881 work 'At the Litovsky Fortress,' also featuring a female protagonist. Although Repin at first configured his famous 'They Did Not Expect Him' utilizing a female exile, he later changed his composition, doubtlessly realizing it would not pass the censor.

The present lot is, therefore, an essentially private meditation on contemporary events since Repin could hardly have expected to offer it for public exhibition. According to popular myth, it was conceived in connection with the 'Trial of the 13,' the prosecution of Aleksandr II's murderers; and in the late 1890s, following the first public showing of the work, it was dubbed by radical activists as 'Vera Figner in Prison' (I. S. Zil'berstein, 'Obraz peredovoi russkoi zhenshchiny', Khudozhestvennoe nasledstvo. Repin, Moscow-Leningrad, 1948-49, I, pp. 176-77).

Figner (1852-1942), who was a terrorist leader, was arrested in 1883 after the execution of the regicides and was sentenced to hang, though this was commuted to life imprisonment in solitary confinement. The date of the trial and the painting correspond, but it is not certain that Figner's dilemma was the inspiration for the work. There is no mention in her memoirs (V. Figner, Zapechatlennyi trud, vospominaniia v dvukh tomakh, Moscow, 1964) of Repin's canvas or of her being aware of her reputed role in its inspiration, which one might have expected given the circumstances.

'Toska' is nevertheless an important and key work amongst Repin's political canvases, a brave secular icon on revolutionary suffering, with the use of a single figure enfolded by darkness further increasing its sense of isolation. Repin withheld its exhibition until 1896 when it appeared at the Society for the Encouragement of the Arts exhibition in St. Petersburg under the heading 'Anguish' (Toska), a title retained in the Peredvizhnik exhibition of 1898 where it was sold for the benefit of the Women's Medical Institute (Zil'berstein, op. cit., I, pp. 176-177). In this incarnation the work might pass for any number of powerful but ultimately less contentious themes: bereavement, psychological distress, or the plight of an impoverished worker, a seamstress perhaps. Whether Repin ducked out of exhibiting the painting under its original title, or whether he adopted a pragmatic approach knowing that this was the only route that could pass the censor, we do not know. The work nevertheless is a testimony to the artist's famed engagement with contemporary politics and his need to elaborate on such themes and ideas, even if doing so required a subtle and careful approach, anticipating that the work's full import might be exposed in posterity. This work therefore is a rare and important document not only on Repin's loyalty to this most difficult of themes, but also of his awareness of the increasing political and social involvement of women, something which few of his contemporaries acknowledged, understood or dared to address. It is also, within the artist's oeuvre, a singular and exceptional work of great cultural significance, the re-emergence of which is a significant event for Russian art history.

We are grateful to Dr. David Jackson for this catalogue entry.