Lot Content
Global notice
COVID-19 Important notice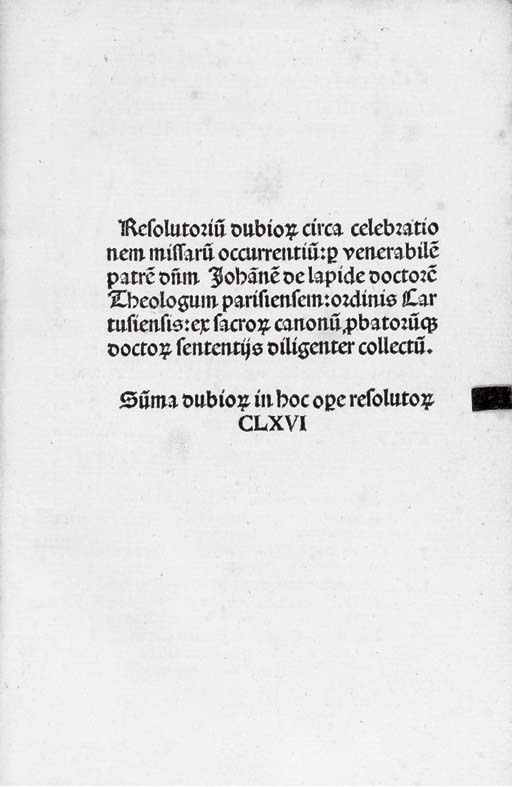 No VAT on hammer price or buyer's premium
JOHANNES HEYLIN DE LAPIDE (c.1-1496). Resolutorium dubiorum circa celebrationem missarum occurrentium. Basel: Johann Froben, 1492. Gothic type, initial space with guide-letter. (A few headlines and shoulder notes just shaved.)
Details
JOHANNES HEYLIN DE LAPIDE (c.1-1496). Resolutorium dubiorum circa celebrationem missarum occurrentium. Basel: Johann Froben, 1492. Gothic type, initial space with guide-letter. (A few headlines and shoulder notes just shaved.)

FIRST EDITION and the second book printed by Froben. Heynlin had been instrumental in the establishment of the first printing press at Paris and its humanist printing programme, before returning to Basel where he continued his association with humanism and the press. The present Basel edition is his first printed work; the Rome edition, which Goff (J-356) dated c.1490, has more recently been redated to c.1495 by CIBN and IGI. HC *9905; BMC III, 790; CIBN H-85; IGI 5683; Goff J-357.

[Bound third with the following:]

HAYMO, Bishop of Halberstadt. Commentariorum in Apocalypsim beati Iohanni. Cologne: Eucharius Cervicornus, for Godefridus Hittorpius, 19 February 1529. Roman and gothic types, woodcut title border, criblé historiated initials. Adams H-118.

ROLLE, Richard (1290-1349). De emendatione peccatoris opusculum. Cologne: Melchior Novesianus, 8 August 1535. Roman and Greek types, woodcut title border. BLSTC German, p.744.

SASGER [Schatzgeyer], Kaspar. Pia iuxta ac per brevis dominicae orationis enarratio. Cologne: Melchior Novesianus, 1535. Roman type, woodcut title device, woodcut initials.

4 works in one volume, 8° (153 x 104mm). (Light dampstaining.) ?18th-century vellum, 2 ties, titles lettered on upper fore-edges. Provenance: unlocalised Capuchin convent, 1666 (title inscription partly removed).

Special Notice

No VAT on hammer price or buyer's premium
;
More from

A SELECTION OF INCUNABULA