Overview
Global notice
COVID-19 Important notice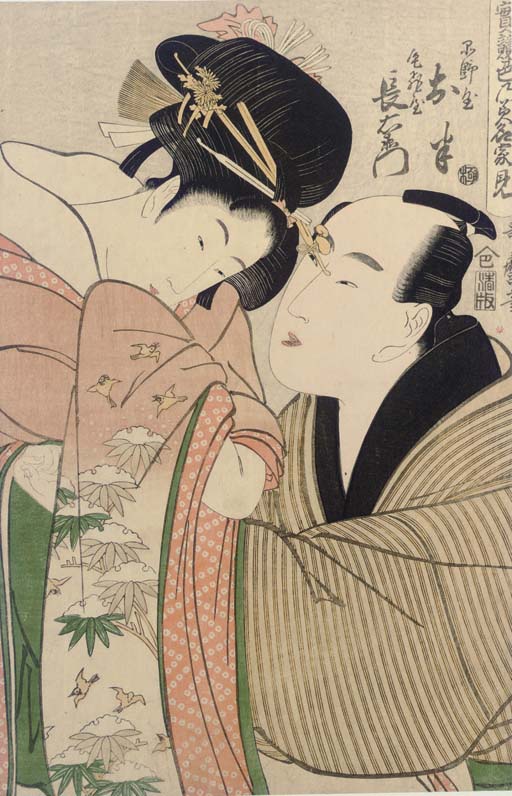 Kitagawa Utamaro (1754-1806)
Shinanoya Ohan and Obiya Choemon, from the series Jitsu kurabe iro no minakami (True feelings compared: The founts of love)
Details
Kitagawa Utamaro (1754-1806)
Shinanoya Ohan and Obiya Choemon, from the series Jitsu kurabe iro no minakami (True feelings compared: The founts of love)
Half-length portraits of the courtesan Ohan of the Shinanoya and Choemon of the Obiya, the obi seller linking his hand with hers under the long sleeve she holds in front of her, gray ground, partially trimmed signature Utamaro hitsu, published by Nishimuraya "Sei"--very good impression, trimmed right, faded
oban tate-e: 37.8 x 24.8cm.

Provenance
Henri Vever

Literature
PUBLISHED:
Jack Hillier, Japanese Prints & Drawings from the Vever Collection, Vol. II (London: Sotheby Parke Bernet and Rizzoli International, 1976), no. 448.

Asano Shugo and Timothy Clark remark that in this series of half-length portraits pairs of lovers are featured in joruri (puppet theater) suicide plays. The title may have been suggested by the title Koi no minakami (The fount of love), an illustrated book by Hishikawa Moronobu published in 1683.

Another impression is in the collection of the New York Public Library.

;
More from

Japanese and Korean Art