Lot Content
Global notice
COVID-19 Important notice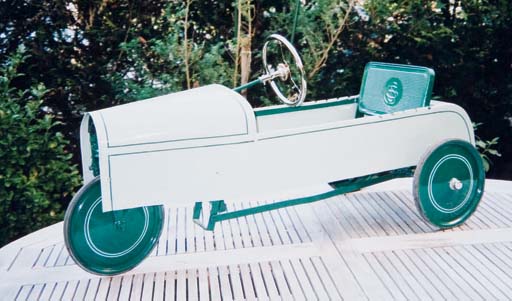 This lot is offered without reserve. No VAT will b… Read more
L. DOMECQ - Automobilette SS - Circa 1935
Details
L. DOMECQ - Automobilette SS - Circa 1935
Modèle trés rare et à trois roues; entièrement restauré, peinture et chromes; longueur 110 cm; bon état.

Special Notice

This lot is offered without reserve.
No VAT will be charged on the hammer price, but VAT payable at 19.6% (5.5% for books) will be added to the buyer's premium which is invoiced on a VAT inclusive basis
Post Lot Text
L. DOMECQ - Mini-auto SS - Circa 1935
Very rare three-wheeler model; completely restored, paint and chromes; length 110cm; good condition.
;
More from

Automobiles de Collection