Lot Content
Global notice
COVID-19 Important notice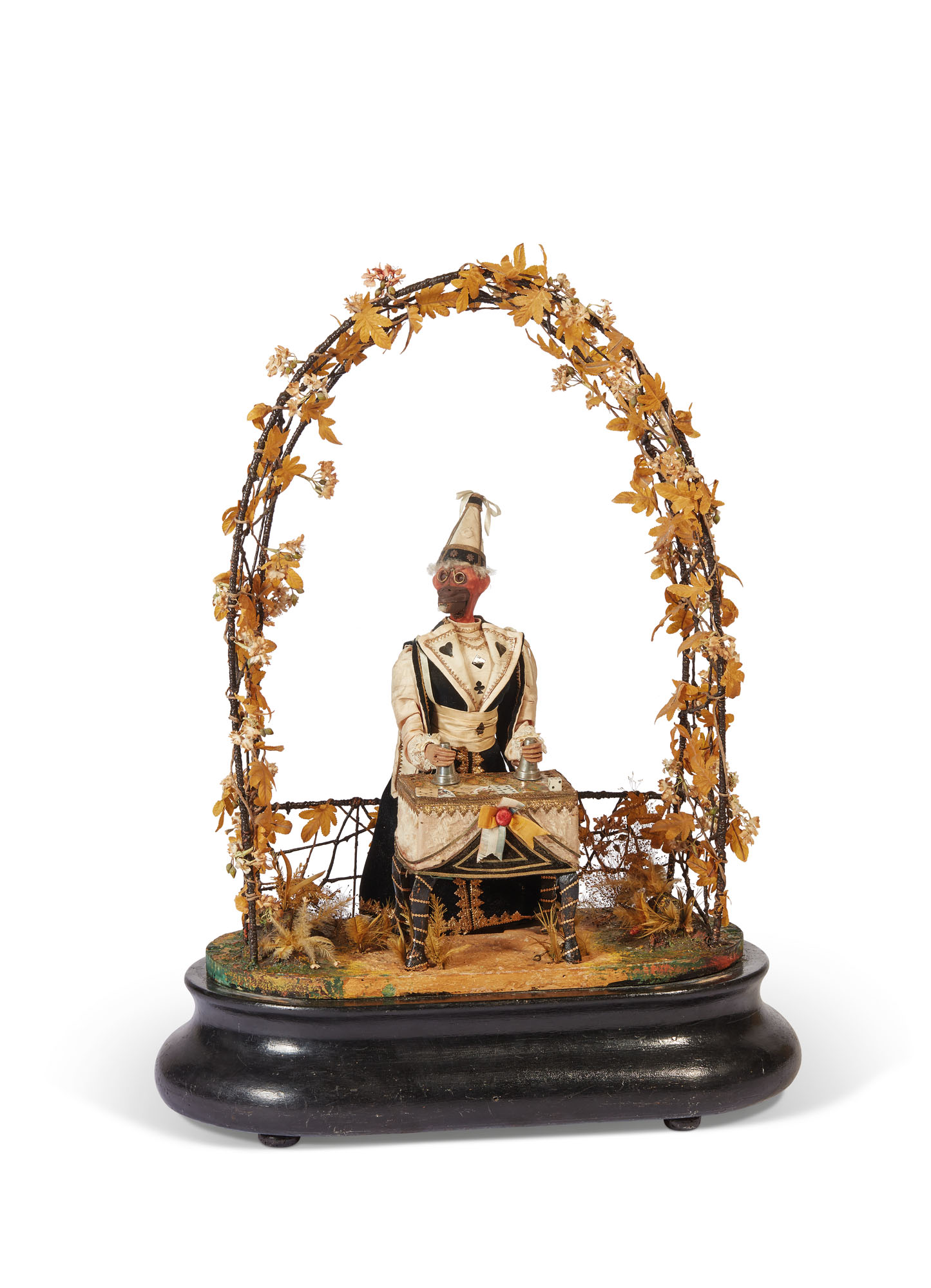 Additional costs of 5.5% including tax of the auct… Read more
MAISON PHALIBOIS (1862-1925)
AUTOMATE AU SINGE MAGICIEN, CIRCA 1885
Details
MAISON PHALIBOIS (1862-1925)
AUTOMATE AU SINGE MAGICIEN, CIRCA 1885
En bois peint, plumes, métal, fer peint, papier, soie, velours, tissu, résine colorée, os, plantes et verre ; une clef manquante
H.: 69 cm. (27 ¼ in.) ; L.: 51 cm. (20 in.) ; l.: 24 cm. (9 ½ in.)
Portant deux étiquettes, l'une, partiellement déchirée, inscrite 'Musique à 2 Airs' et portant une mention manuscrite 'Angot choeur des conspirateurs, les cloches de [ ...]', l'autre inscrite 'Automate de Jean Marie Phalibois, 22 rue Charlot, Paris 12 réparé le 6 juin 1897 signé' (au revers)

Provenance
Vente maîtres Millon & Jutheau, Hôtel Drouot, Paris, 25 septembre 1987.
Literature
C. Bailly, L'âge d'or des automates : 1849-1914, Scala, 1987, p. 159, pour un modèle comparable.
Special Notice

Additional costs of 5.5% including tax of the auction price will be taken in addition to the usual costs charged to the buyer. These additional costs are likely to be reimbursed to the buyer on presentation of proof of export of the batch outside the Union European within the legal deadlines (See the "VAT" section of Terms of sale)
Lot transferred to an external warehouse. Please find more information about storage costs and the collection address in our General Terms and Conditions.
Post Lot Text
'AUTOMATE AU SINGE MAGICIEN' A PAINTED WOOD, FEATHER, METAL, PAINTED IRON, SILK, PAPER, FABRIC, VELVET, STAINED RESIN, BONE AND PLANTS AUTOMATA BY MAISON PHALIBOIS, CIRCA 1885
Brought to you by
More from

Collections : Provenant de la villa « Les Cèdres » à Saint Jean Cap Ferrat, des collections de SAR la princesse Murat, de la succession de Madame Françoise Heftler et des collections Henri Klinger