Lot Content
Global notice
COVID-19 Important notice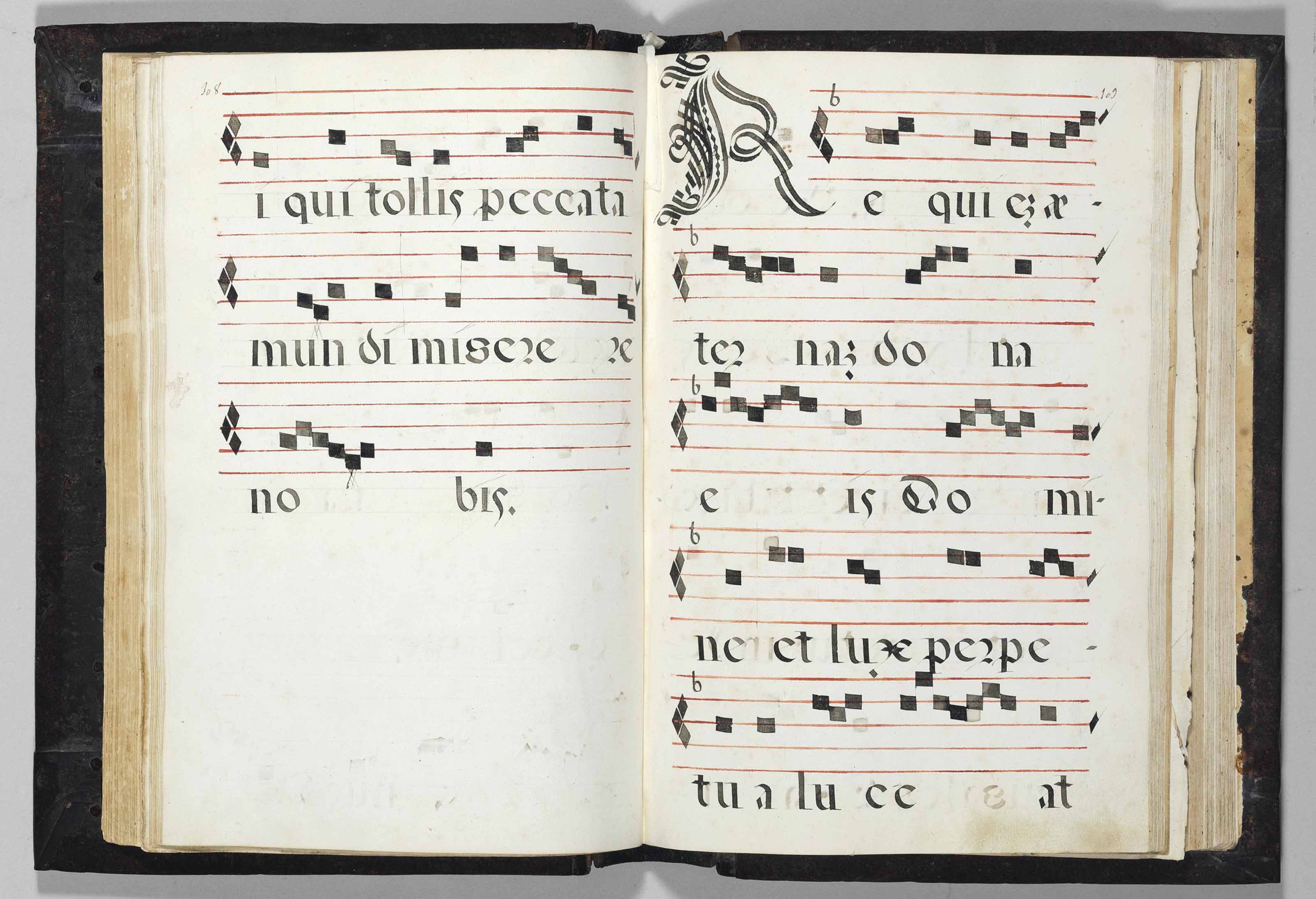 [MANUSCRIPT]. KYRIALE and HYMNAL, in Latin, DECORATED MANUSCRIPT ON PAPER
Details
[MANUSCRIPT]. KYRIALE and HYMNAL, in Latin, DECORATED MANUSCRIPT ON PAPER

[Spain, first half 17th century]

419 x 289mm. 161 leaves, apparently COMPLETE, pagination in pencil 1-150 and 1-168. 5 lines of text and music, rubrics in red, very large calligraphic initials in black, large initials in black and red throughout, one decorative initial in red and blue opening the antiphon for vespers of the Nativity (one duplicate leaf loosely inserted before f.81, occasional small tears one, f.36, into music, offsetting from ink, some marginal staining and smudging). CONTEMPORARY Spanish brown leather with metal bosses and edges (the metal rusted, some scuffing to leather).

PROVENANCE:

The script and five-line staves indicate a Spanish origin, while the binding and style point to a date in the first half of the 17th century. (2) DREXEL COLLECTION, given by Mrs. Lucy Drexel wife Joseph William Drexel (1833-1888), banker, philanthropist, bibliophile and trustee of the Metropolitan Museum of Art, to the Library of the Museum, no 5141. (3) METROPOLITAN MUSEUM OF ART, withdrawn FROM THE Library for 'Bookease' and presented to the Department of Medieval Art: their bookplates. To be sold for the benefit of the Acquisitions Fund.

This handsomely written manuscript comprises two sets of chants for the Mass and for the Divine Office: the first a Kyriale, containing the Kyrie, the Gloria, the Sanctus and the Agnus Dei (ff.1-75v) and the second, a Hymnal with antiphons and hymns for major feasts of Christmastide, Eastertide, Trinity and Corpus Christi (ff.76-160v). The volume would have been produced as part of a series of large-format choirbooks providing the sung elements for Mass and Office throughout the liturgical year.

Brought to you by
More from

Books & Manuscripts