Lot Content
COVID-19 Important notice
Read More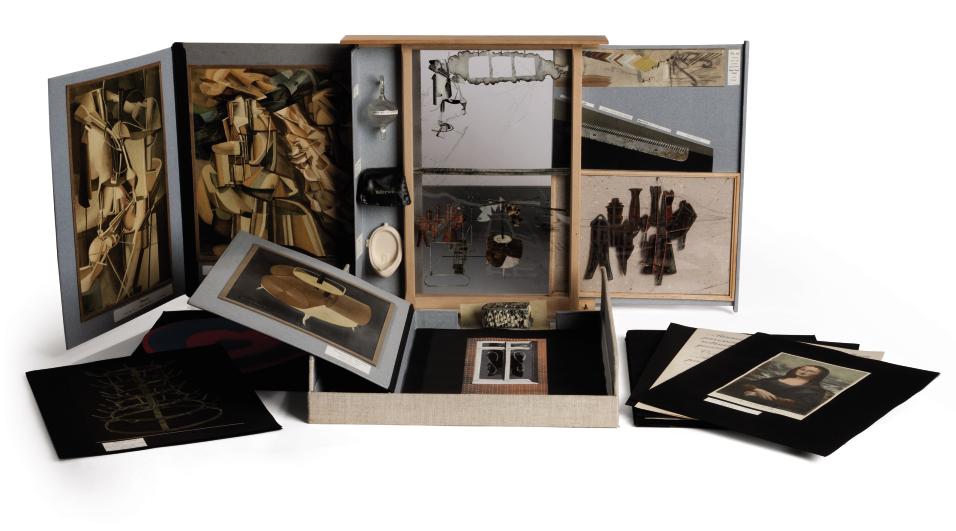 No VAT will be charged on the hammer price, but VAT payable at 19.6% (5.5% for books) will be added to the buyer's premium which is invoiced on a VAT inclusive basis
MARCEL DUCHAMP (1887-1968)
De ou par MARCEL DUCHAMP ou RROSE SÉLAVY (la boîte-en-valise)
Details
MARCEL DUCHAMP (1887-1968) De ou par MARCEL DUCHAMP ou RROSE SÉLAVY (la boîte-en-valise) boîte à tirettes en carton recouverte de lin beige contenant des répliques miniatures d'oeuvres, 68 pièces (photographies et documents) hauteur: 40 cm. (15 2/3 in.) Largeur: 37.5 cm. (14 2/3 in.) Profondeur: 9 cm. (3 1/2 in.) Exécuté en 1958 dans une édition de 30 exemplaires de la série C (70)
Literature
A. Scwartz, The Complete Works of Marcel Duchamp, New York, 1997, vol. II, p. 764, no. 484 (illustré).

Special Notice

No VAT will be charged on the hammer price, but VAT payable at 19.6% (5.5% for books) will be added to the buyer's premium which is invoiced on a VAT inclusive basis
Post Lot Text
A LINEN BOX CONTAINING 69 MINIATURE REPLICAS AND REPRODUCTIONS; EXECUTED IN 1958 IN AN EDITION OF 30 FROM THE SERIES C.
Sale Room Notice
Veuillez noter que la boîte contient 68 pièces et non 69.
Please note that the box contain 68 items and not 69.

Brought to you by
Eloïse Peyre
Administrateur
More From

Collection de Madame Darthea Speyer, une Américaine à Paris (Vente Sans Prix de Réserve)