Lot Content
Global notice
COVID-19 Important notice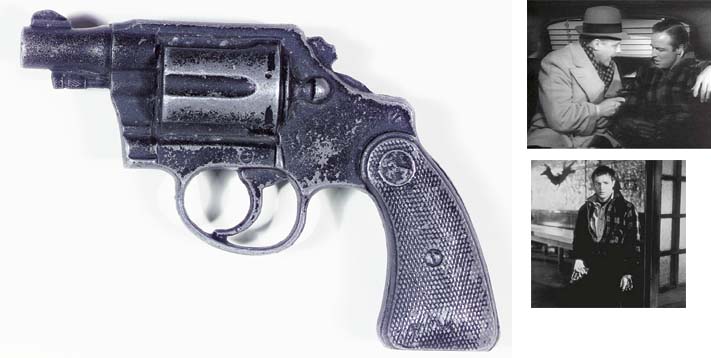 MARLON BRANDO PROP GUN FROM "ON THE WATERFRONT"
COLUMBIA, 1954
Details
MARLON BRANDO PROP GUN FROM "ON THE WATERFRONT"
Columbia, 1954
A weighty prop metal handgun painted black that Brando used as he portrayed ex-boxer Terry Malloy, the role that won him a Best Actor Academy Award among the many others the film won including Best Picture (Sam Spiegel), Best Director (Elia Kazan), Best Screenplay (Budd Schulberg) and Best Supporting Actress (Eva Marie Saint). First seen in the movingly poignant (and famously quotable) "I coulda been a contender" scene in the back of the cab when Charley, as portrayed by Rod Steiger, pulls this gun on Terry, it makes additional appearances; Brando carries it as he's on his way to Johnny Friendly's, the corrupt union boss portrayed by Lee J. Cobb, and then he brandishes it in front of Father Barry, as portrayed by Karl Malden, in Friendly's club. An inventory label from Encore Studios appears on the base of gun.
Please note that most of the original black paint has worn off the surface, giving the gun a vintage patina.

;
More from

Entertainment Memorabilia