Lot Content
COVID-19 Important notice
Read More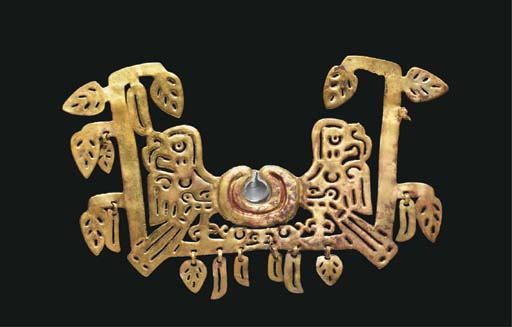 ORNEMENT DE NEZ EN OR
CHAVIN, ENV. 900-600 AVANT J.C.
Details
ORNEMENT DE NEZ EN OR Chavin, env. 900-600 avant J.C. Important ornement de nez réalisé dans une plaque aux motifs découpés représentant deux condors encadrés d'éléments végétaux sur lesquels sont suspendues des pendeloques à motifs floraux. Traces de colorant rouge. Largeur: 12.5 cm.
Post Lot Text
CHAVIN GOLD NOSE ORNAMENT
CA. B.C. 900-600

Of hammered, openwork gold with two addorsed condors with sweeping tail feathers and large recurved beaks within an ornate floral frame composed of pierced petals, pendants below and with remains of red pigment.
;
More From

ART PRECOLOMBIEN