Lot Content
COVID-19 Important notice
Read More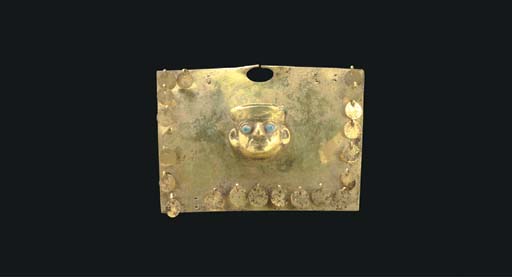 PROVENANT D'UNE COLLECTION D'OUTRE ATLANTIQUE
ORNEMENT NASAL EN OR
DÉBUT DE LA PÉRIODE MOCHICA, ENV. 300-100 AVANT J.C.
Details
ORNEMENT NASAL EN OR Début de la période Mochica, env. 300-100 avant J.C. Plaque en or de forme rectangulaire ornée sur sa bordure de pendentifs circulaires et décorée en son centre d'une tête de dignitaire aux joues généreuses travaillée au repoussé, aux oreilles rabattues, aux yeux incrustés de turquoises et portant une coiffe quadrangulaire. Largeur: 8.5 cm.
Provenance
Collection Lawrence Witten

Post Lot Text
EARLY MOCHICA GOLD NOSE ORNAMENT
CA. 300-100 B.C.

Of rectangular shape with a central repousse head of a dignitary with full cheeks, ears to the sides, turquoise inlaid eyes, and wearing a traditional four-cornered hat, the perimeter surrounded by circular danglers.
Sale Room Notice
La provenance de ce lot est la Collection Lawrence Witten.

The provenance of this lot is the Lawrence Witten Collection.

;
More From

ART PRECOLOMBIEN